Engagement rings: a guide
It's probably the most significant piece of jewellery you'll ever buy and the options can be overwhelming – we explain everything you need to know about choosing the perfect engagement ring.
Brush up on the basics…

To avoid being bamboozled by jargon when hunting for engagement rings, read up on the "four Cs" – the criteria used to grade diamonds. Carat represents weight; Clarity refers to the number of imperfections (ranging from Internally Flawless to Included); Colour is graded in alphabetical order from D – Z, D being completely colourless and considered the best, and Cut refers to the shape. "Try to buy a diamond that is in the D-G colour range, and in the flawless to VS2 clarity range," advises Boodles director James Amos.
….But don't get fixated

They're a useful guide to a diamond's quality, but don't get hung up on the 4 Cs. It's all about the individual stone. At any budget you might have to compromise on one or more of these areas, so consider what's most important to your beloved.
Suss her style

Engagement rings don't have to mean a diamond solitaire; strike the balance between timelessness and taste. "It should be timeless, elegant and still reflect a bit of her personality," says jeweller Phoebe Coleman. Match the metal to her current jewellery: is she a platinum, yellow or rose-gold kind of girl? If she hankers after expensive handbags and Louboutins, chances are she'll want a ring that carries designer cache: Tiffany & Co, De Beers and Cartier are all a good bet, but be prepared to fork out for a prestigious name. If she lusts after colour, don't feel constrained to traditional diamonds: emeralds, rubies, sapphires or opals make beautiful engagement rings too.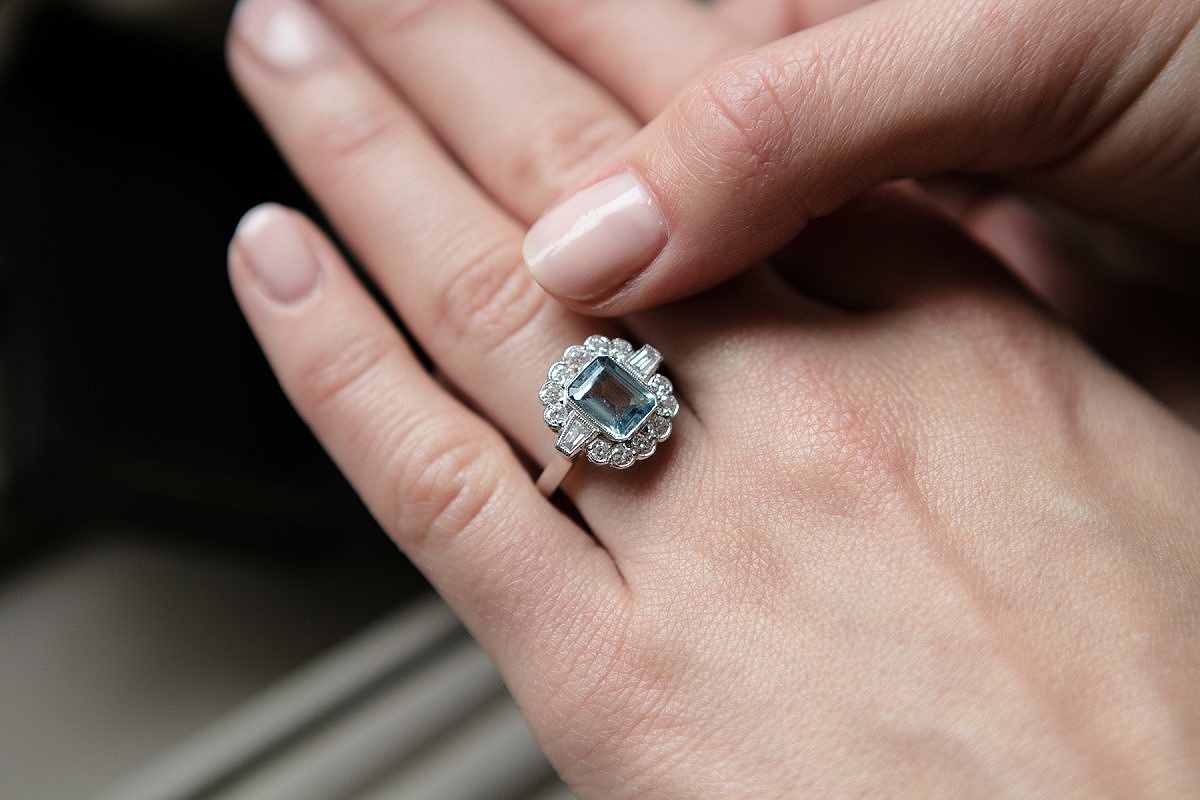 Find out the fundamentals

Some women have an aversion to cushion-cuts; others wouldn't say yes to anything other than a halo (a circle of small diamonds around the inner stone). Speak to her nearest and dearest, casually canvas her opinion on her friend's engagement rings; it's worth doing some sleuthing to unearth the essentials.
Consider the practicalities

"Think carefully about what she does for a living and in her spare time," advises Phoebe Coleman. "Get something that fits with her lifestyle; does she go to the gym or drive a lot? That will put a lot of strain on the ring," adds Omar Vaja of Bentley & Skinner. Consider how the ring will fit with her wedding band; very large stones may leave a gap between the two bands or require a curved wedding ring to be made to measure.
Commission your own

There's nothing like creating something completely unique. "There are many talented, independent jewellers who welcome your input and help you make the right choice," says Kamilla Ruberg of the eponymous London jewellery boutique. What's more, most independent designer-makers will be able to source diamonds at more reasonable prices than Bond Street's big names. Be savvy though – do your research to make sure you're getting what you've paid for and don't be afraid to barter.
Keep it in the family

If your granny left you an engagement-worthy treasure, lucky you. Don't despair if it's not your beloved's style, though. Hattie Rickards specialises in re-setting family stones and breathing new life into treasured possessions – far preferable to them gathering dust in a safe somewhere.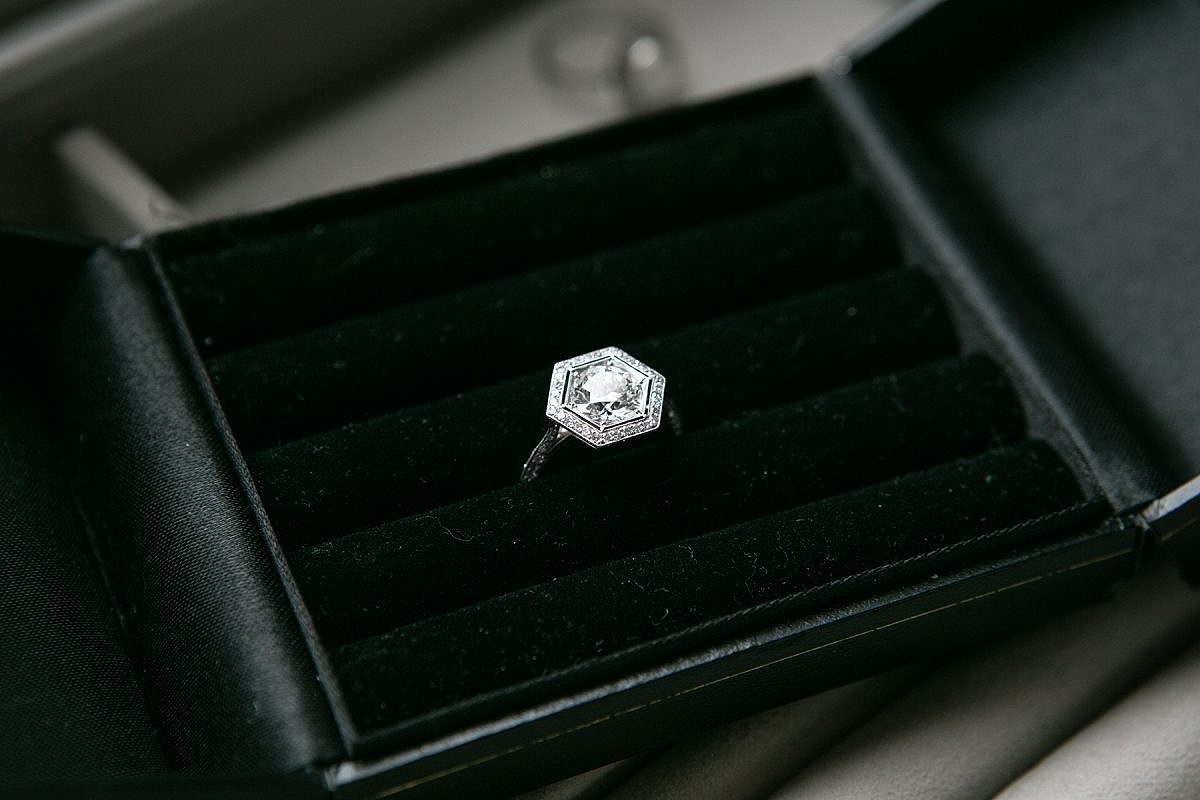 Think vintage
Due to technological advances in the way diamonds are cut, vintage engagement rings tend to have a more subtle sparkle that's appealing to many – not to mention a unique back story. If choosing vintage, make sure it's not too fragile, advises Omar Vaja of Bentley & Skinner; "Avoid delicate settings from the 1700s that are foil-backed and avoid organic materials like pearls because they lose their lustre over time. There are some beautiful Victorian, Edwardian and Art Deco rings that are built to last."
If you can't find a vintage design to your taste, Hancocks have developed a contemporary range of one-of-a-kind rings featuring high quality old cut stones. It is the best of both worlds, as no two old cut stones are the same, meaning the ring is unique to you.
Go down the cautious route
If your fiancée-to-be has very particular taste, we don't blame you for being afraid to take the plunge. Some women dream of designing their own ring – they're the ones who'll wear it for the rest of their life, after all. A smart compromise is to propose with a stone of your choosing, then work together to shape it into the ring of her dreams.
Push your budget

"Tradition dictates that an engagement ring should cost twice the buyer's net monthly salary," says Boodles' James Amos, "but our advice is to spend what feels right – there's no need to start married life in debt!" Annabel Davidson, Vanity Fair's jewellery editor, advises the 'wince test': "You want to wince just slightly when making that transaction. If you can comfortably afford it, you're not spending enough."