Style notes from a San-Francisco based necklace collector.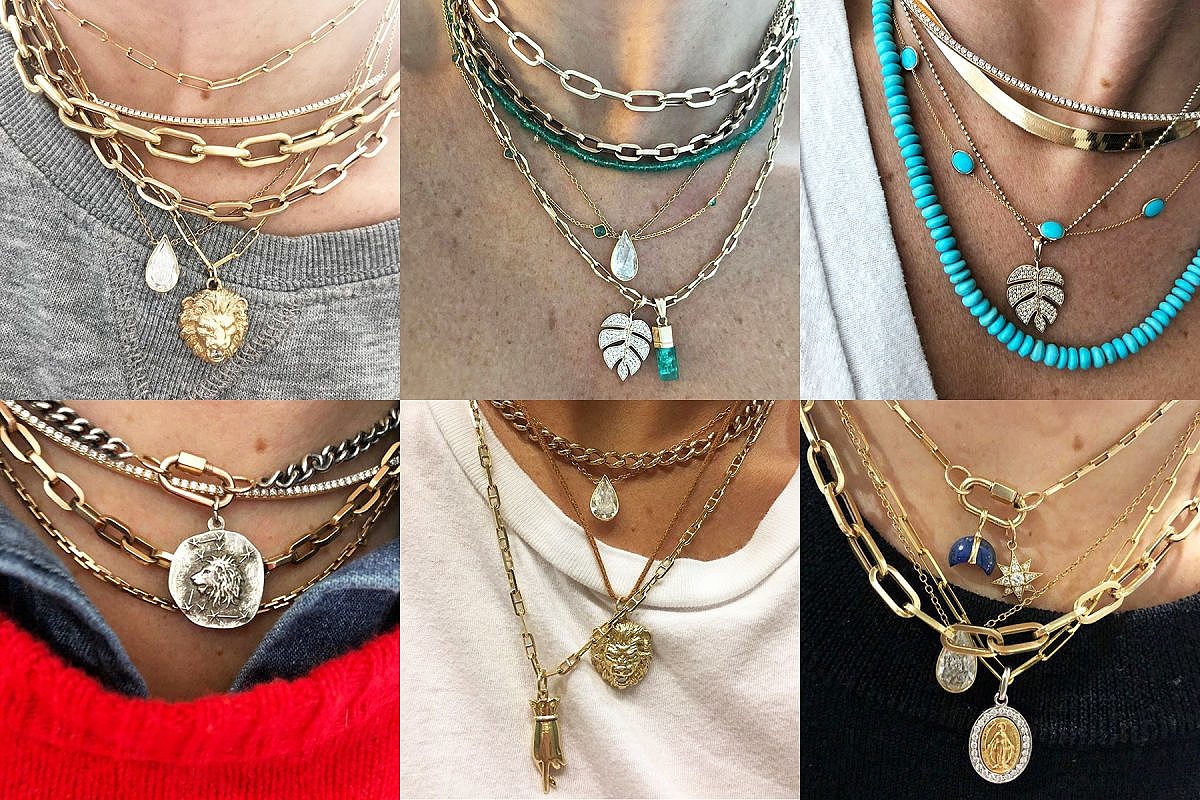 Artist, mother and GIA-educated jewellery designer, Dominique Wesbecher, founded her instagram account, @henrydominiquejewelry, four years ago, when her son was born. Originally a personal project to document her lust-worthy necklace collection via simple close-up images, she has quickly garnered a 23k-strong following; jewellery lovers who wait in anticipation for each new neck styling post.
In the first of our Jewellery Box Dispatches (a remote version of our jewellery box feature), we talked to the San Francisco-based necklace lover about personal style, special pieces and buying jewellery for yourself.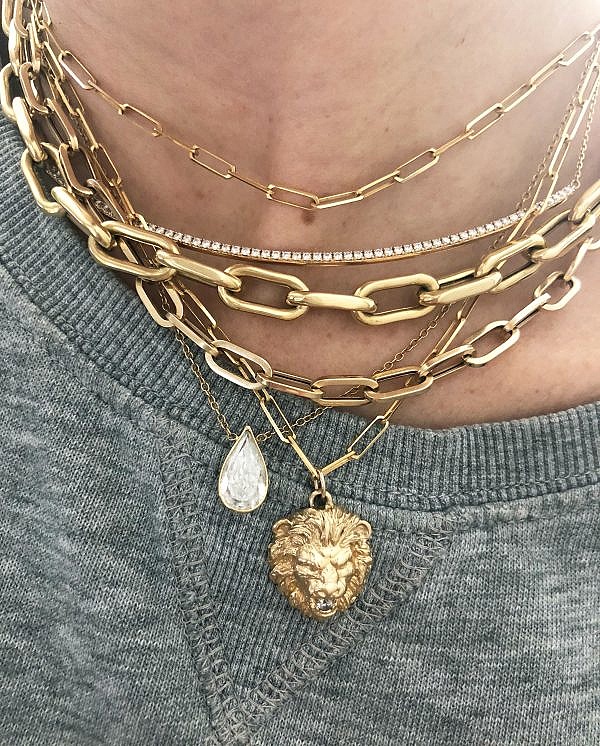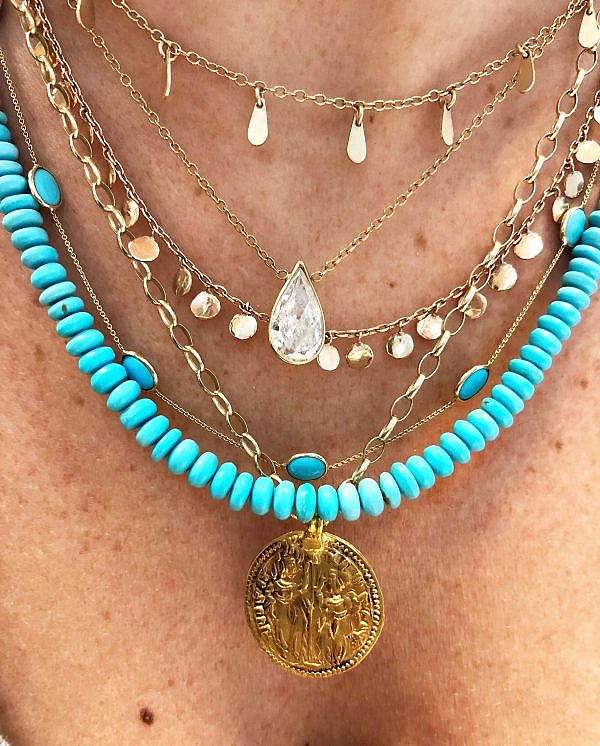 Tell us about yourself?
I'm half-British, half-Italian – born in London. I went to boarding school in Gloucester and then in Switzerland. I lived in London and Istanbul before moving to New York to marry my husband, recently we moved to San Francisco.
Where did your love of jewellery come from?
My mother – I can't remember a time when she wasn't wearing jewellery. She's Italian, and was always wearing necklaces, bangles and rings, and she would layer them in such a cool way, long pieces, short pieces, silver, gold.
Why necklaces?
I used to be a ring person, then a bracelet person, now I'm a necklace person. I change my necklaces according to the weather – right now I'm really into turquoise and opals. Other people buy a new wardrobe each season, I buy new jewellery. I'll start the day with two necklaces and add more throughout the day. I add, or take away, but I don't ever take off all my jewellery.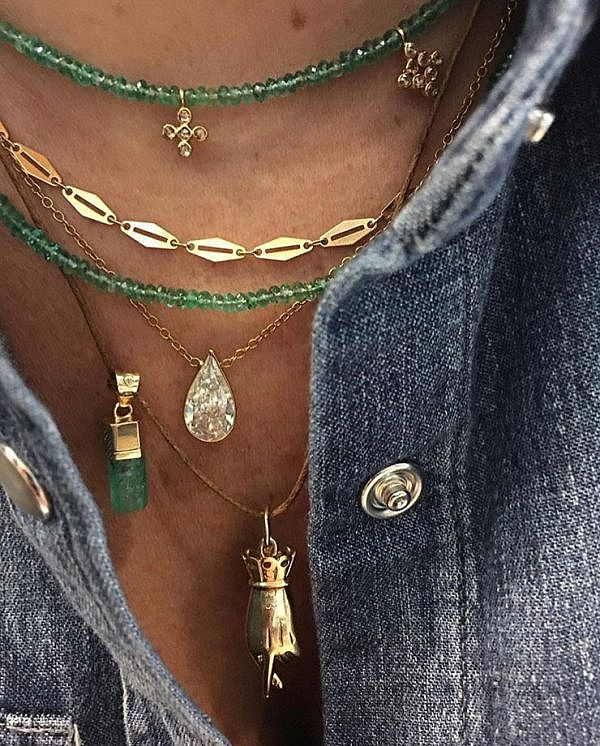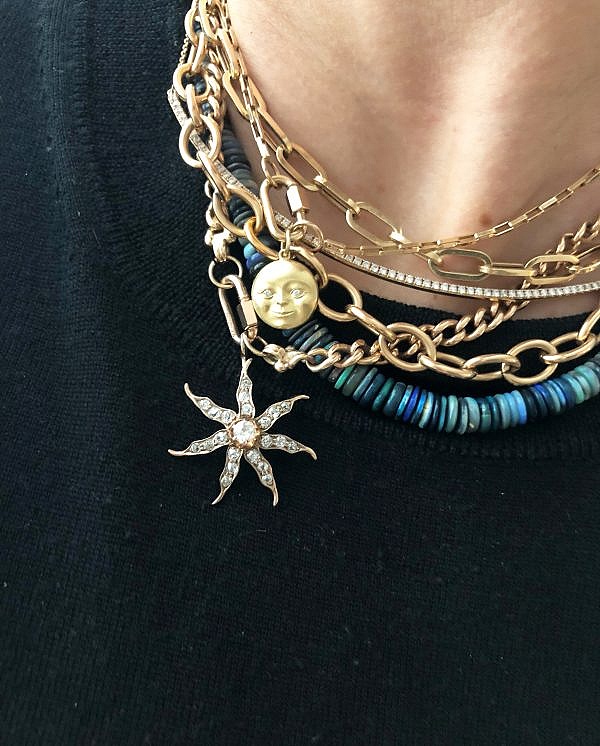 You buy a lot of jewellery for yourself, do you feel differently about pieces that were given to you versus one that you have bought?
I think it depends on the piece – if it has a story, it always means more, whether you bought it or someone gave it to you. I bought myself an Anthony Lent Moon Face pendant recently – my three-year old son said he would give me the moon for Mothers' Day, which I thought was very romantic, so that's a special piece for me.
When you started your Instagram did you imagine that people would love your style so much?
I started this page after I had my son. People always said to me: I love how you wear your jewellery, so I decided to share what I was wearing on Instagram. At first I shared everything but I realised that I was getting a lot of attention for my necklaces so I became more focused on that.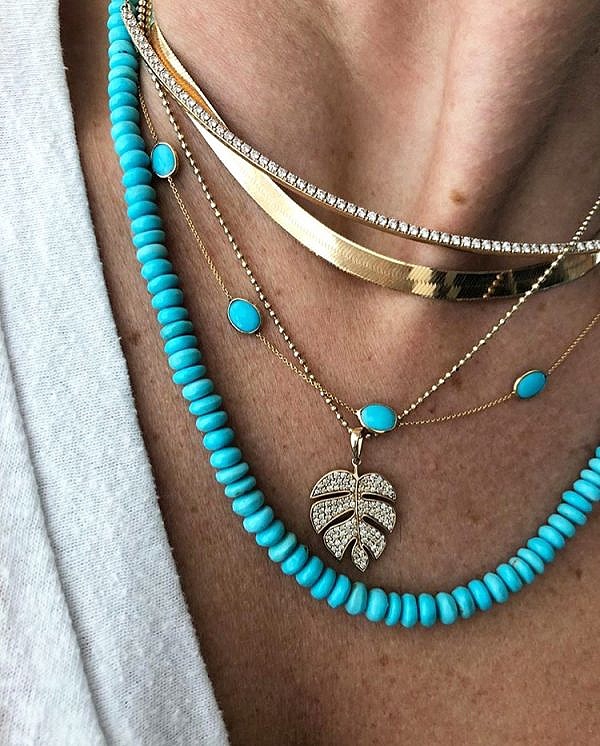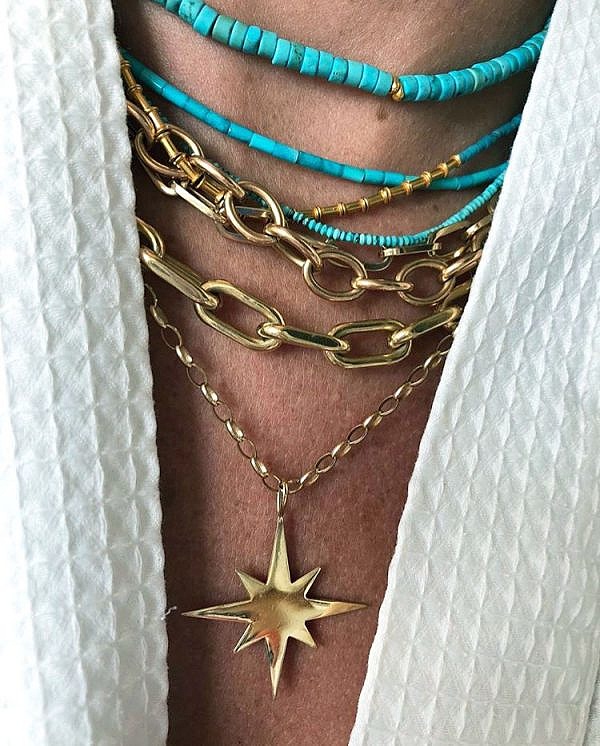 Do you feel that you've built a community?
I meet a lot of people on Instagram – it's fun to have that friendship. Last year I was at a jewellery fair and a women said 'I love your diamond necklace', then she looked at it more closely and said, 'Are you Henry Dominique?!' She had been following my account for years and recognised my necklace.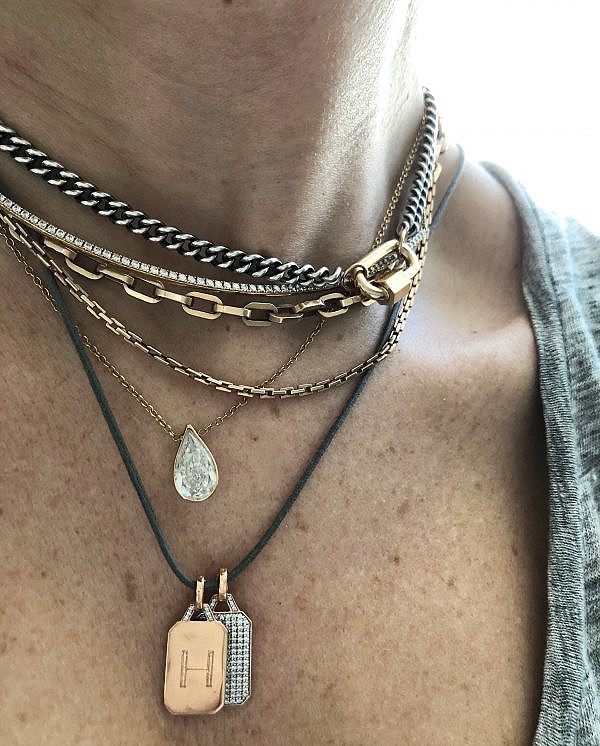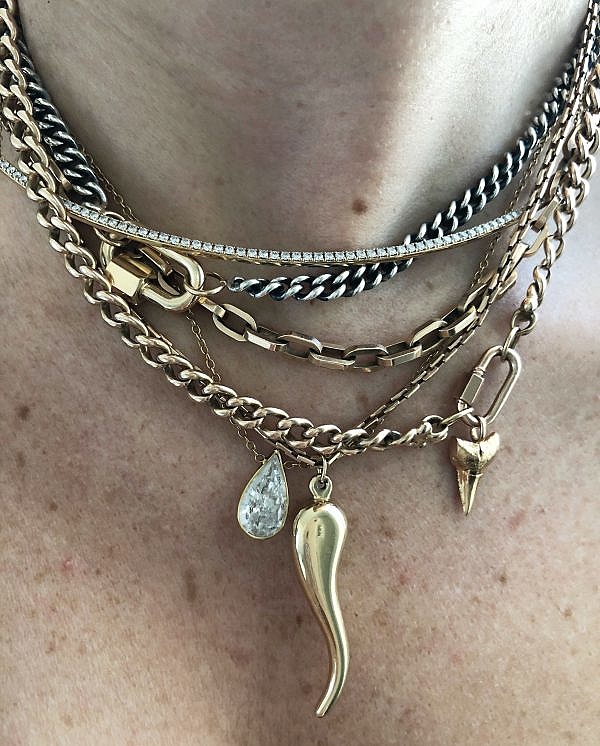 And you are a painter, is that something you've always done?
My mum is an artist, so I get it from her. I had a business called Dudeca, making diamond jewellery in London after studying at the GIA. I made my mom a bracelet and she was in a store in Geneva and a woman asked where she got it. My mum called me and said she had an order for 15 bracelets! When I moved to San Francisco there was so much going on, I put the business on hold – I'd love to start it up again one day.
What are your favourite pieces in your collection?
I have three. One is my Cartier Love bracelet – I made a bet with my husband, when I was pregnant – I thought we were going to have a boy, he thought we would have a girl as both my sisters have girls. And we said that if I had a boy he would buy me the love bracelet – it's a reminder of how grateful and happy my son makes me. My pear shape diamond that I got as a push present is extremely special to me. The other piece is a pearl necklace which my dad gave to my mum and she passed on to me, with a lion clasp. She gave me that over ten years ago. Who knew that my son was going to be a Leo?! Another important piece is a very large rose gold round chain necklace – it's the first chain I ever bought myself, it started my chain obsession.