Choker: the 1990s necklace we're wearing now
After years of long, layered, boho chains, the return of Nineties fashion means the choker is back in the fine jewellery fold. We take a look at the trend coming from the runway to your jewellery box…
It's official: the Nineties are back, and so is their accessory of choice. Back then, spiked dog collars adorned the necks of The Craft-channelling goths, preppy Clueless types sported bejewelled velvet bands, and everyone else wore those little plastic "tattoo" chokers. The latter inspired French jeweller Anissa Kermiche's "Tatouage" design chicly rendered in black gold and diamonds. "I always loved wearing my plastic tattoo choker, so I decided to design a hyper luxurious version for fancy parties or weddings," Kermiche says. "I love the allure a choker gives to a woman's posture." Elsewhere, she splits a pavé-diamond circle in two with a line of flat-backed pearls, in a choker inspired by, of all things, a Moroccan pastry (above).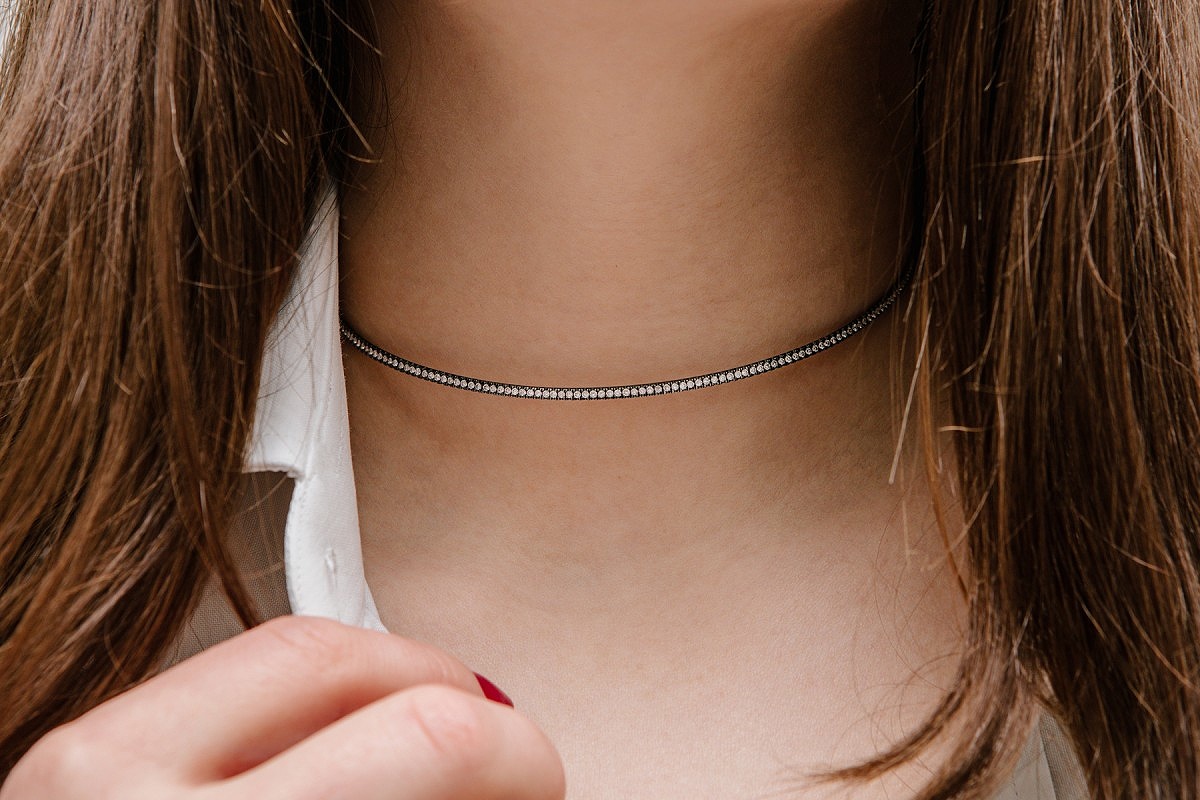 Bar choker by Diane Kordas, £5,690
A choker worn by her teenage daughter was the starting point for Diane Kordas's diamond vine design, in feminine rose gold or black gold for an edgier vibe. "It looked really cute and I wanted to create a choker that was also young and fun, but not too casual that you couldn't wear it in the evening," she says. Alongside her bar necklace (above) she now plans to launch a range of leather pieces adorned with her signature pop-art motifs.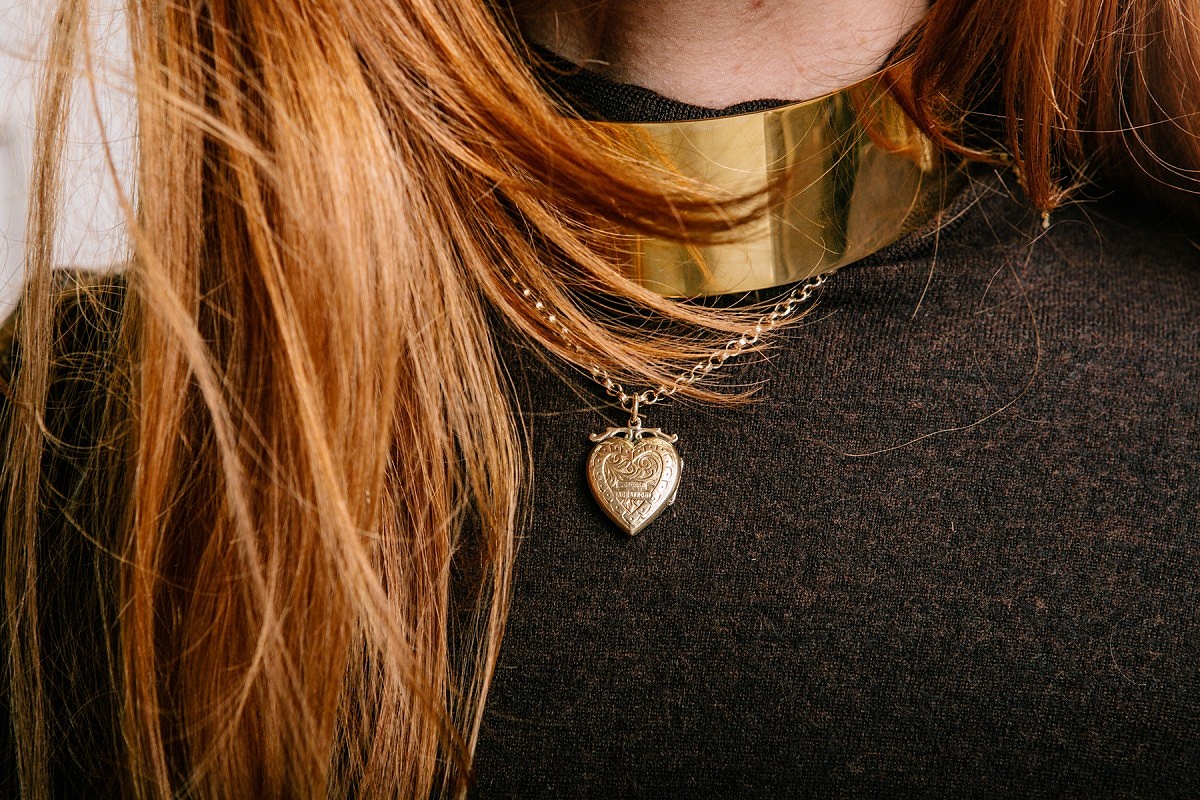 Marnie Necklace by Moxham, £110
So there's definitely a resurgence going on. From simple silver hoops slipped over polo necks at Dion Lee to Chanel's regal pearl dog-collars, chokers were one of the standout jewels of the autumn/winter 2016 catwalks. And the accessory's history dates back far further than the 1990s: Anne Boleyn was depicted wearing one adorned with a B, while Queen Alexandra popularised elaborately embroidered styles in the 19th century.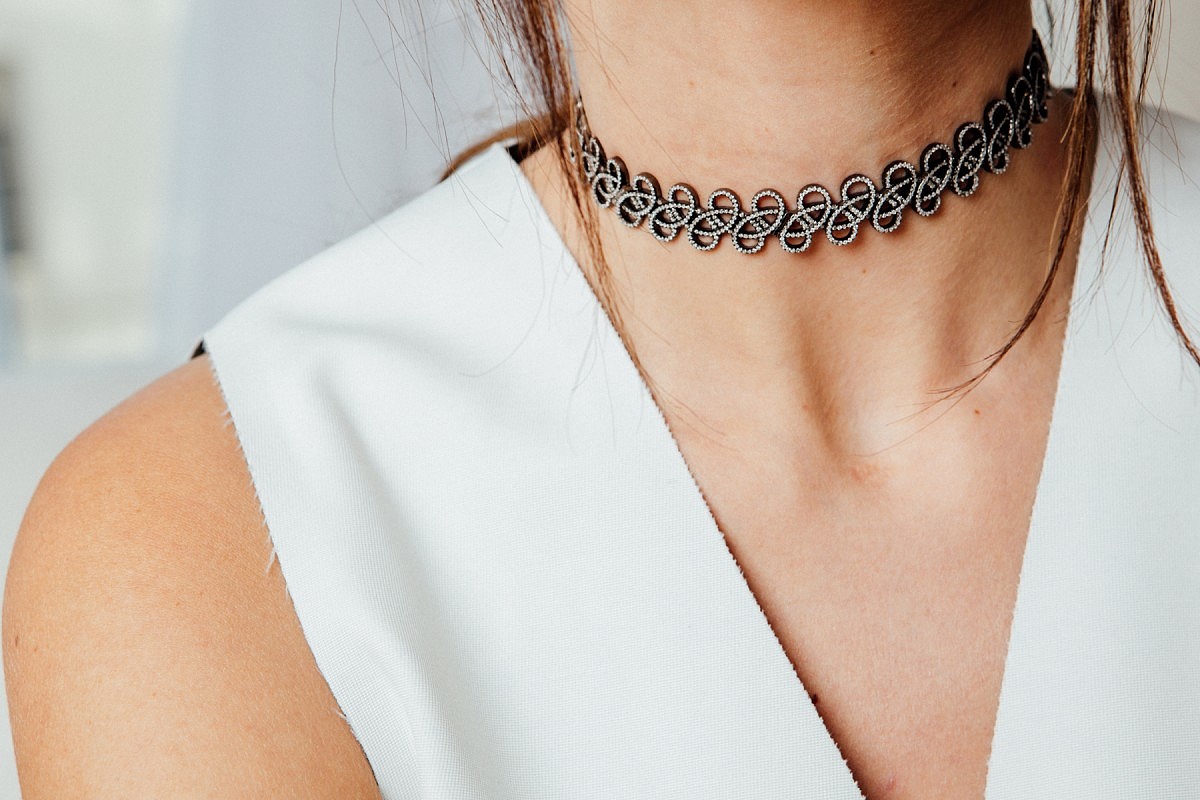 Tatouage choker by Anissa Kermiche, £12,000
LA-based Carbon & Hyde's range of chokers have also gained a cult following thanks to its addictive Instagram feed of diamonds layered around the throat on delicate chains and grungy leather straps.
London based designer Sarah Noor's open neck cuffs, rest lightly on the clavicle, making the style more wearable than ever. They bring a contemporary edge to simply-cut blouses or t-shirts: fresher than fussy layered necklaces.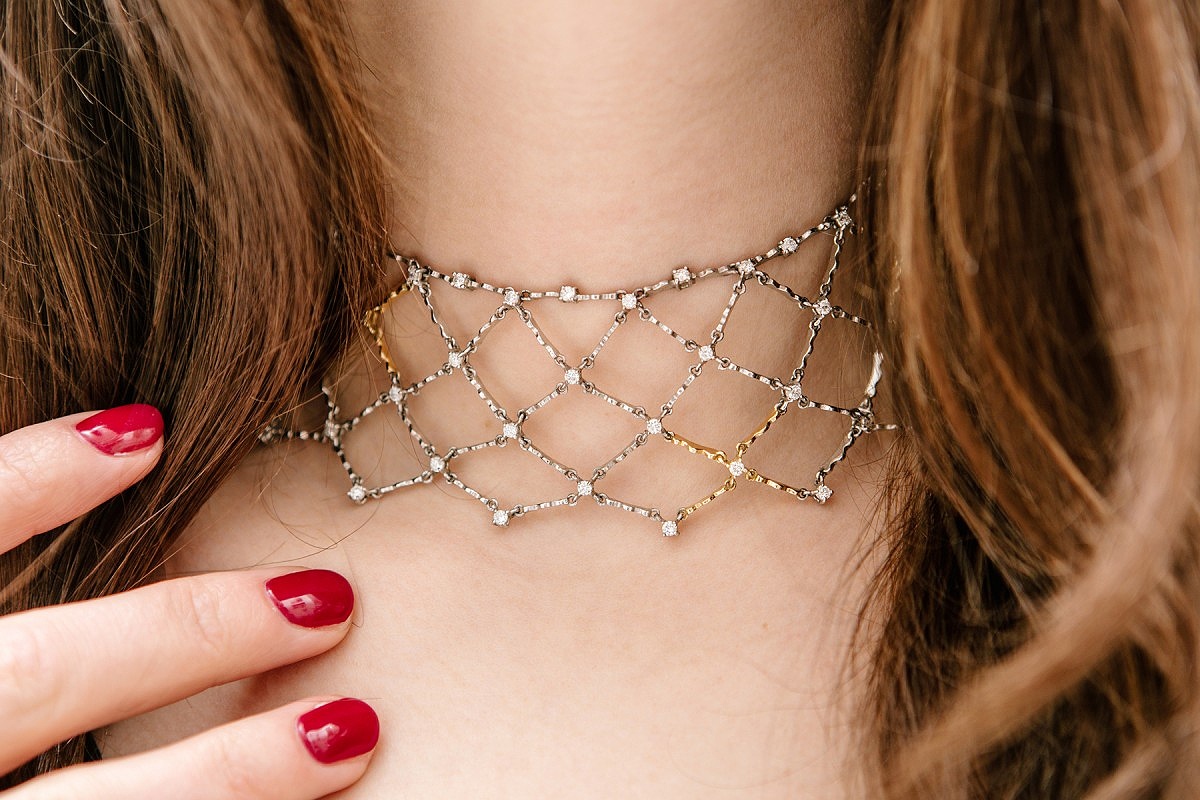 Choke-R by Gaelle Khouri in 18ct Yellow Gold and White Rhodium Silver set with White Diamonds, £4,069
For evening, more precious chokers have an immediate wow-factor. "The neck is one of the most sensual parts of a woman's body, so a choker is the ultimate piece to project your femininity," says Lebanese jeweller Gaelle Khouri, whose designs range from a bejewelled centipede crawling around the neck to an elegant web of fine white diamonds (above). "Depending on a woman's personality, a choker can take on a gothic edge or a more classy edge – I love the versatility."