When we first spotted Fernando Jorge's jewellery at London Rock Vault we were drawn to his stand like a moth to a flame. His space was minimal, constructed from concrete and shiny black perspex pillars displaying the most breath-taking selection of jewellery. His work is all hand crafted from 18k gold and beautifully sculptured stones in the most vivid and stunning colour palette from his native Brazil. In the one and a half years since he launched his first collection his jewellery has gained much critical acclaim and world- wide recognition. We met with Fernando in his studio flat where he talked to us about desire, attraction and sensuality.
What is the main inspiration behind your work?
The first thing I had to do was take a moment to understand what jewellery was about and why it existed in the first place. There are so many meanings added to jewellery in civilization but on the other side there is also a very basic raw desire to wear something because you are attracted to it. For me if you find something you want whether it is a stone you find on the ground or an expensive piece of jewellery it should be about pure attraction. This is the reason I chose to use very sensual organic shapes inspired by the female form. I was playing with the stereotype of women in Brazilian culture where there is a lot of attention to the body and how women look. It's not just about being skinny, sometimes it's about being voluptuous, not being afraid and excepting who you are. There is a very positive side of how women relate to their bodies in terms of sensuality rather than sexuality – there is a difference. I decided it was about finding a balance, stripping away the history at the same time as being respectful to it so it was fresh and cheeky but not vulgar. At the end of the day what it comes down to is playing around with beautiful shapes in gold and stones to find desirable forms.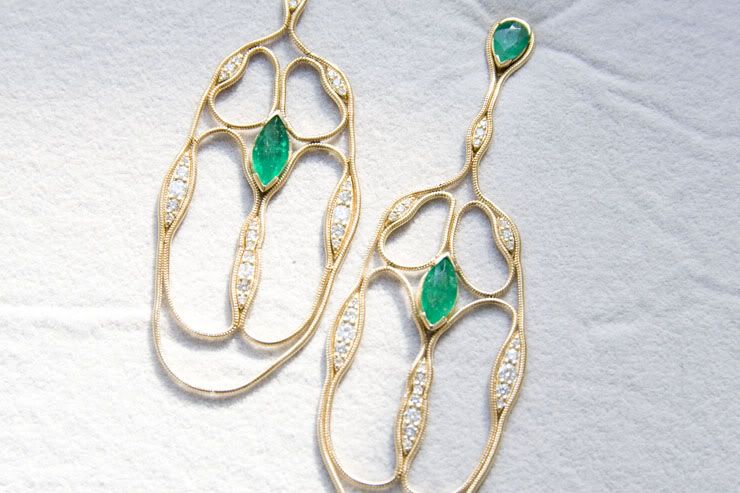 Your latest collection is the 'green series', what made you choose green?
With the first collection I was referencing the body so the stone choices were fleshy, brown and red. The second collection was all about fluidity so I used mutual colours that were a bit mysterious. With the fluid diamond collection I decided to bring a bit of colour into it because I was breaking free from the concept. I was already creating desirability, sensuality without having to refer directly to anything so it became more about the jewellery. Whilst I was looking for stones for the latest collection there was a moment of nationalism because in Brazil the colours are green, yellow and blue.
Where do you source your stones?
All my jewellery is made up in Brazil and I fly back there to work closely with the craftsmen. I have been to the gem shows in Central Brazil where I made great contacts. I have two or three guys who I work with depending on the stone or cut I am looking for. I go with them to find the rough materials that can then be carved to my designs. I try to have as much of an idea as to what I am looking for but sometimes when I get there I find a beautiful stone that will change everything. It's like a treasure hunt in the most chaotic part of San Paolo. It's such a contrast to the polished shops and meetings I have here in London. It's really wild and sad sometimes when you see some of the poverty on the streets but it's an exciting place.
Is it quite hard to maintain the quality and the colour of the stones?
All my pieces are limited edition as no two stones will ever be the same. People buy into the exclusivity of owning a completely unique piece.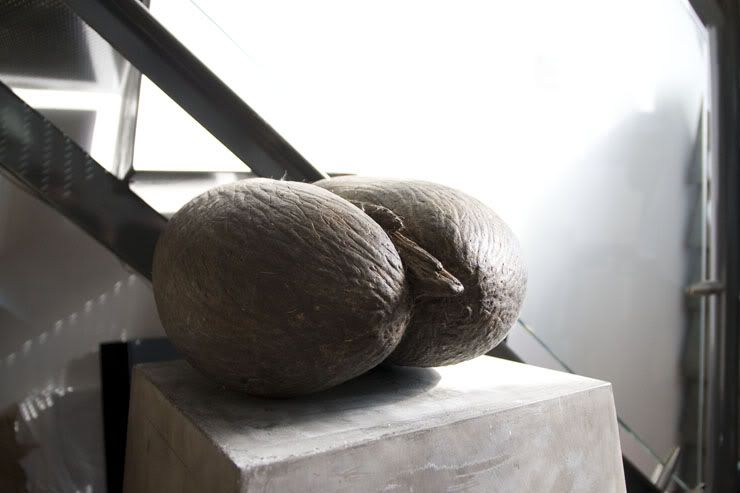 How did you get into jewellery in the first place?
I always loved drawing by hand and had an attraction to collecting beautiful objects from when I was really young. I was studying engineering and thought it wasn't quite right for me so I went into product design when I was nineteen. Towards the end I started an internship working at a large jewellery manufacturer. They had a team of eight goldsmiths and I was doing design illustrations for them. After that I went to work for Carla Amorim for five years where I had a more design orientated role. I had so many ideas so whilst on a trip to London I decided to do a masters in jewellery at Central St Martins. A month later I was enrolled and living in London. I had all these pre – conceptions of design. My tutor Simon Fraser tried to shake it out of me and made me question everything a lot. We had a great relationship which was great and eventually it all came together.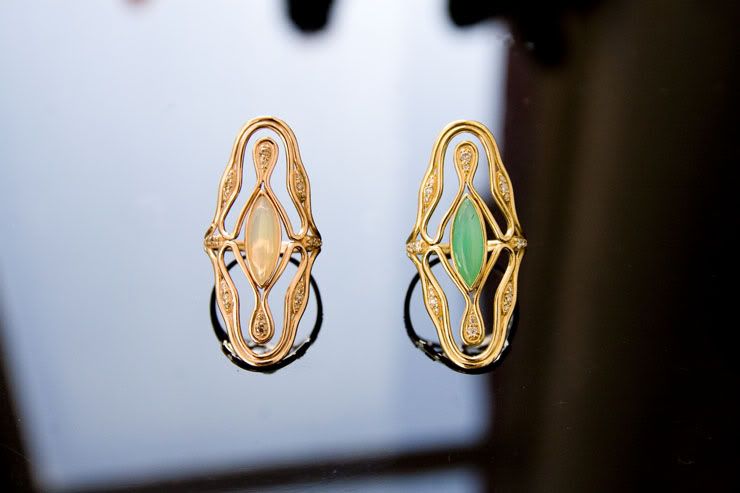 You have been hugely successful since finishing your MA. What is your biggest achievement so far?
They are getting bigger so it's hard to say. Getting my first job was a highlight, my first customer, my first exhibition, going back to Brazil and getting some recognition there. London fashion week was amazing and there are more exciting things to come.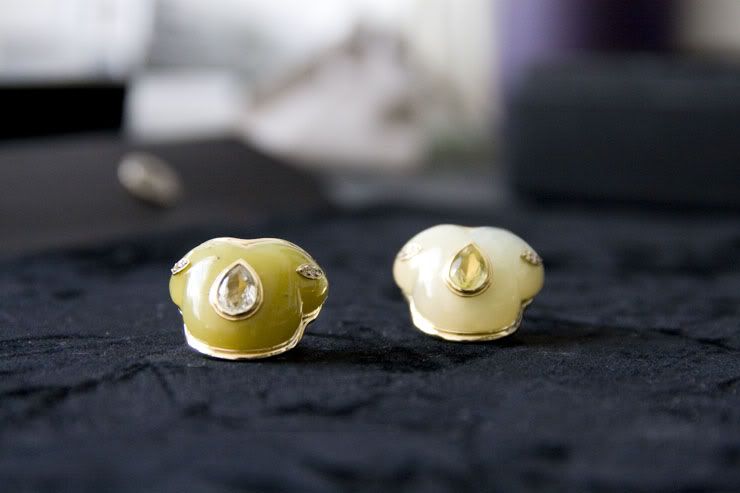 You were chosen to exhibit at London Rock Vault at Fashion week. Tell us a bit more about that.
I was one of the youngest brands exhibiting at LFW so it was really important for press. It was a prestigious event so it was big validation to be part of it. I got some exciting new stockists who will be launching my collections soon which is great as it gives you more flexibility when designing as you already know where the pieces are going to go.
What was the idea behind your latest lookbook?
With the latest collection it was all about taking the style of my first collections and bringing more of London to it so I decided it was important to work with a British model and stylist to create the lookbook. The elegance is still there, the sensuality is still there but with a slightly more androgynous and grown-up London feel.
What's next?
There is a new collection on the horizon. There are some exciting collaborations to be confirmed and I am currently looking to move into a proper studio. I have been saying for a while that I want to take my work to Brazil and I was recently featured in Vogue Brazil. It's really exciting in Brazil at the moment so I don't want to miss out even though I am here the majority of the year.