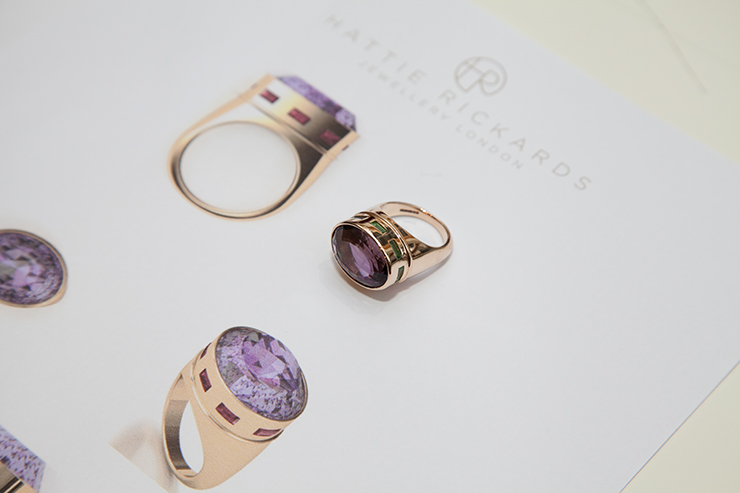 Following the official launch of Hattie Rickard's bespoke ring service earlier this year we were invited to meet with Hattie and one of her customers Rosella Brambilla, to get a glimpse of the process behind a very special commission. Hattie's intuition and ability to distil her customer's thoughts enables her to come up with something that is completely unique to them. Commissioning a bespoke piece of Jewellery is an intimate and personal experience so we are honoured to share Rosella's and Hattie's story with you.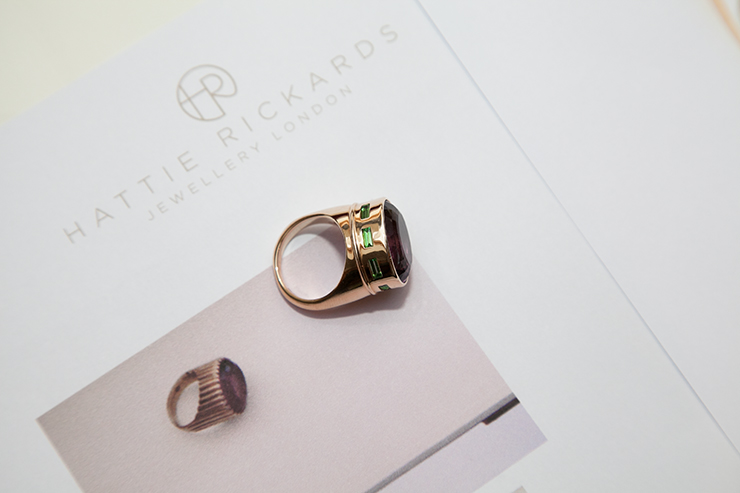 Rosella:
I first met Hattie when I bought one of her enamel rings. As I got to know her work, I fell in love with some of the more chunky pieces. They made me think about a ring that had belonged to my Mum (pictured with the ring above). It had a beautiful amethyst set into it but I never wore it because it was a bit old-fashioned.  I mentioned the ring to Hattie and we started talking about how we could transform it.
Hattie:
Normally customers don't know what they want when they come to see me but Rosella knew my work well and loved the Bantam ring, so we decided to take that as a starting point. We already had the central stone from her Mother's ring so that dictated the shape and dimensions of the new ring. The amethyst was well worn by Rosella's mother so we polished it up which gave it new life. We also had a certain amount of gold to refine which was great as it saved money and enabled Rosella to carry the sentimental value with her.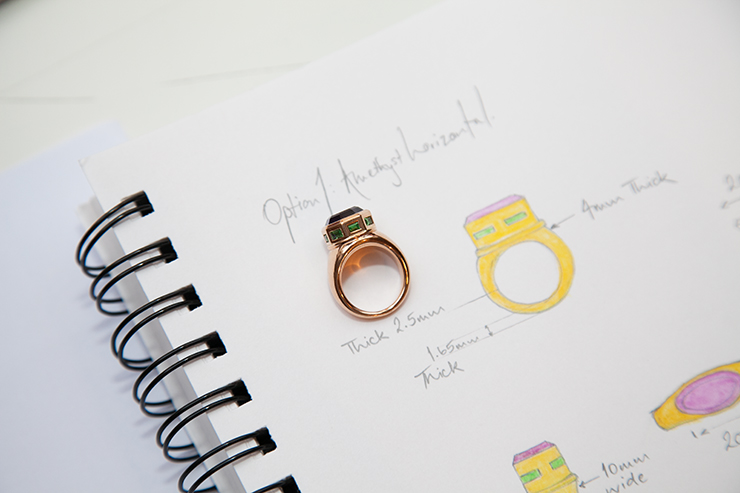 Rosella:
For me it was really important that all the materials that made up my Mum's ring were being used in a new design that I could then wear all the time.
Hattie:
That is always the next step – working out what wear the customer wants to get out of their ring.  Is it a cocktail ring, a showstopper or something that needs to be discreet or for everyday? Will it be worn alongside other rings? What is the customer's lifestyle and what colours do they wear? All of these factors determine the shape, size, cut, setting and stones of a design.
Rosella:
Initially we were going to surround the stone with red garnets as red is my favourite colour but Hattie suggested we go for the green instead because the contrast would make the piece so much more interesting.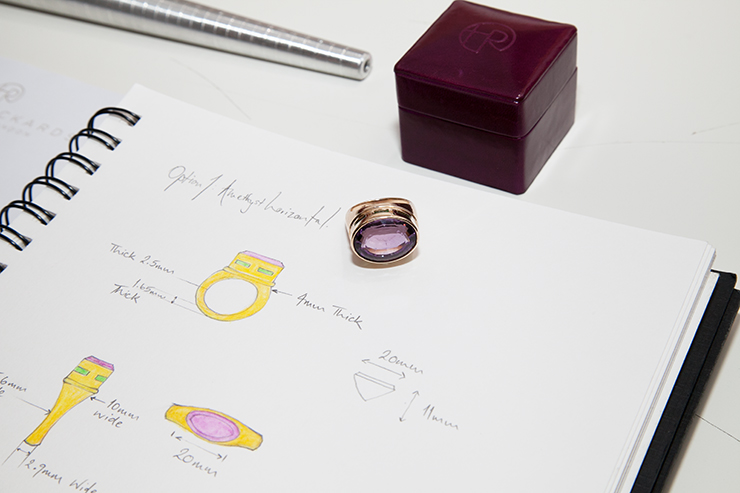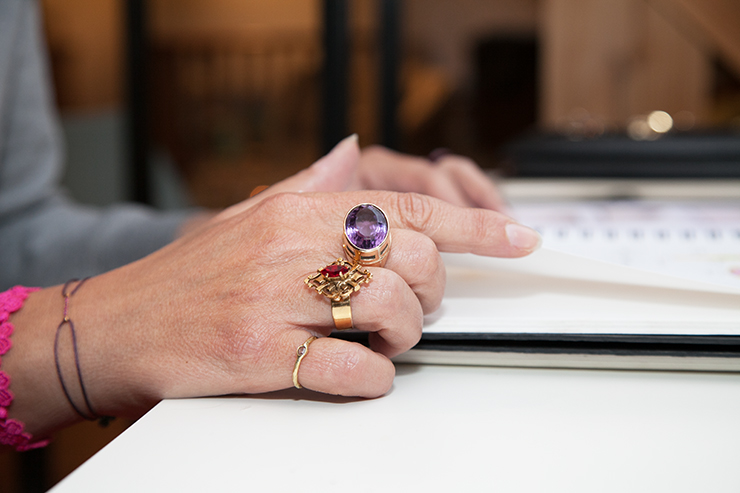 Hattie:
I always make sure that I allow the client to specify what they want – it is important that I sit back and listen to their ideas and then interpret them into my design.
Rosella:
Working with Hattie was great because there was a good balance between me trying to figure out what I wanted and getting great guidance from Hattie who knows what is possible technically. I generally know what I want but she was able to guide me through the process so that I ended up with something that I really loved. I really enjoyed working together – it is so much more personal than going into a shop and buying something that was already there.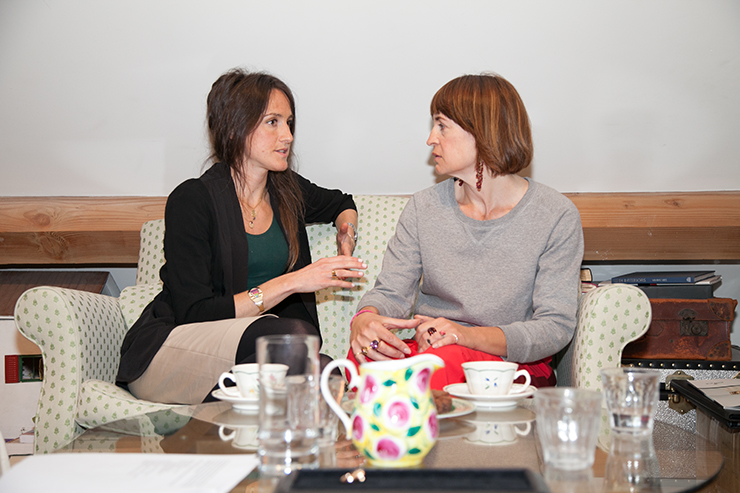 Hattie:
It is really important to me that the client gets to see every stage of the process. Once the design was approved by Rosella, we then built a 3D technical drawing on the computer which allows the design to be seen and approved from all angles before being made in wax. Once the wax was made we are able to refine the design before casting it in gold, polishing it and setting the stones.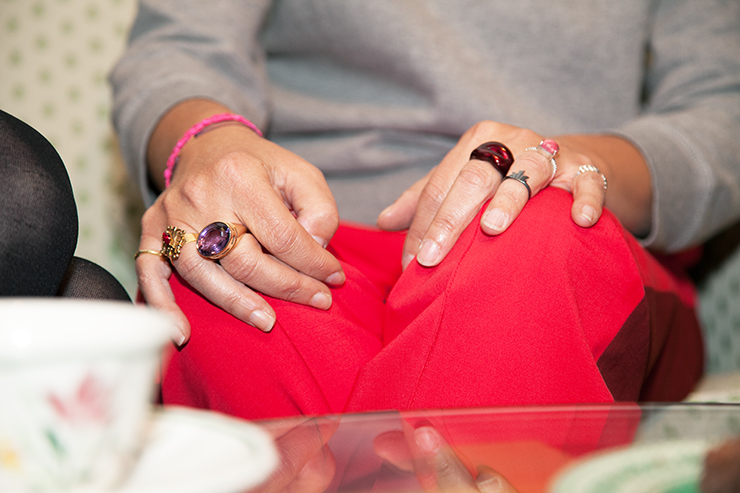 Rosella:
I am really pleased with the result.  My mother's ring was something that I used to look at but now I wear it all the time. There is history behind it but it has been reshaped into something that is very modern. I get so many compliments on this ring and it is very special for me to be able to say it was my Mum's.
Hattie:
It is so lovely to hear that my customers are pleased with the results. Working on bespoke jewellery with customers is the highlight of my work – it allows me to be a lot more creative because every person is so different. It is not just about selling them a piece of jewellery it is about building a relationship and working closely with them to create a piece that is really personal to them.