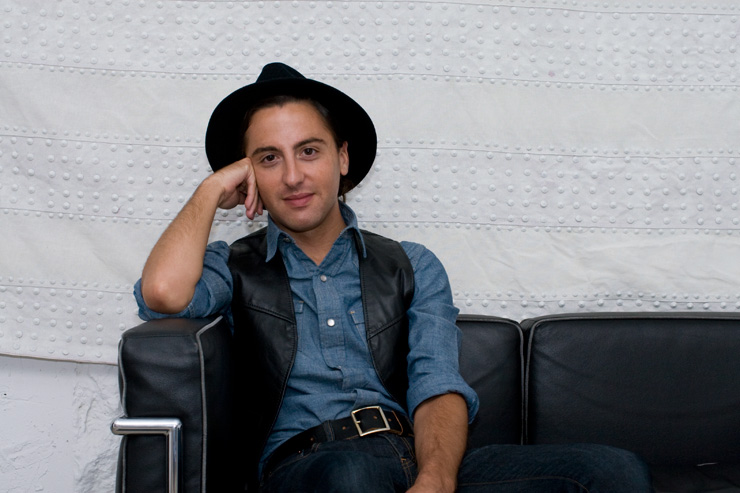 New York based designer Eddie Borgo needs little introduction despite only launching his first collection in 2008. Gaining international recognition for his innovative take on costume jewellery, he embraces traditional techniques with the same finess and attention to detail that is normally attributed to fine jewellery. Driven by passion and inspired by the culture of New York Eddie Borgo is a true inspiration. During our recent trip to New York we were delighted to be invited to his Soho studio where we talked about his 'core' collection, the heritage of jewellery and the support he has received from the fashion industry.
What is your educational background and how did you get into making jewellery?
I moved to New York thinking I was going to make clothes.  For a long time I tried but I wasn't very good at it. Throughout my education I was really drawn to adornment.  I studied art history in college where I became fascinated in the idea that you could differentiate between a clan or tribe by the jewellery they wear.  Whilst making clothes I kept returning to accessories and I started assisting a few different stylists who were asking me to make custom pieces for editorial shoots. At this point people weren't focused on the credit or where you could purchase something; particularly not jewellery, which hadn't become such a sellable category.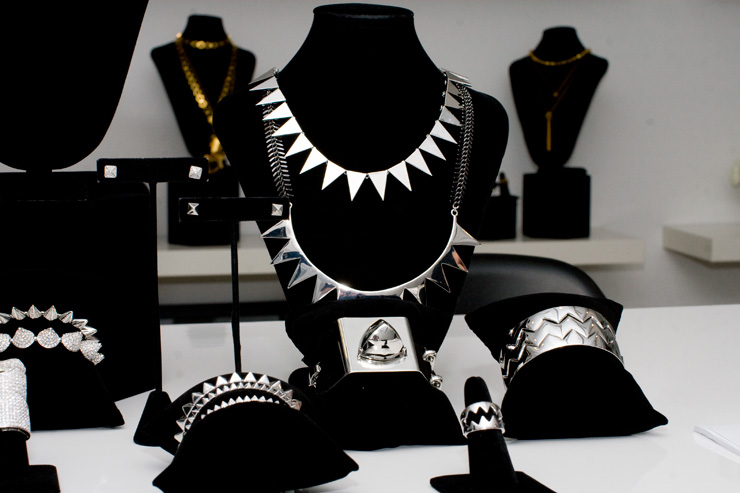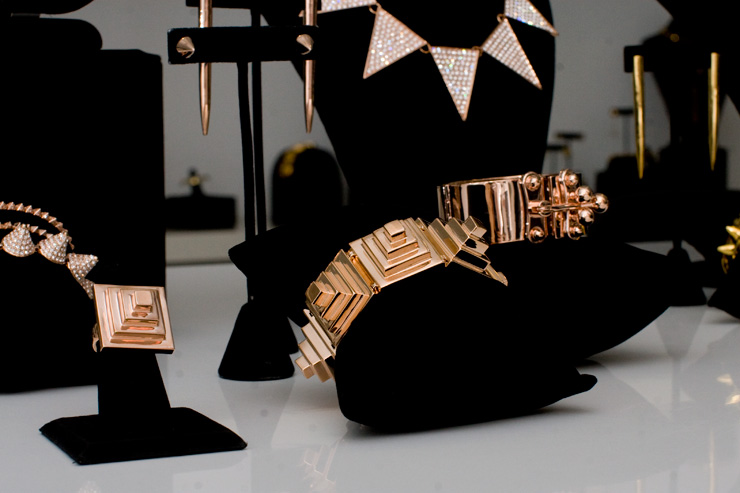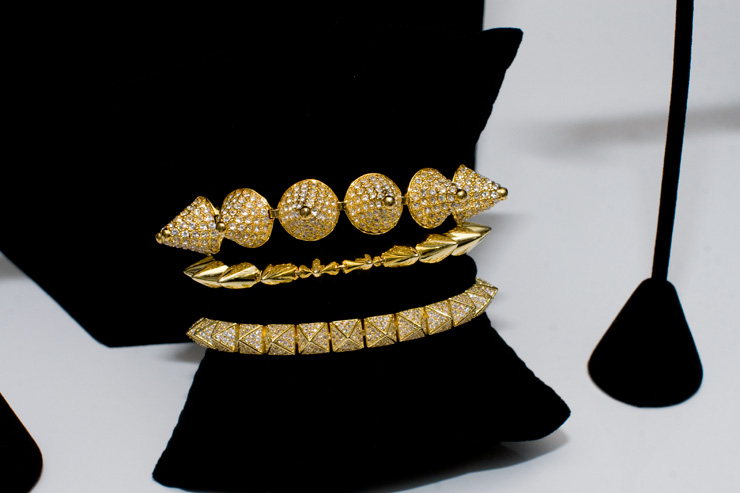 How did this develop into your first collection?
The magazines started to request information and through this I kept getting approached by designers to create runway pieces.  I decided it was time to learn the techniques needed to to create a piece of jewellery, so I went to Providence in Rhode Island and worked with various different metal smiths. Simultaneously Philip Lim asked me to make the jewellery for his show. He wanted me to attach my name to it, which was a big turning point for me because I hadn't considered doing it until then. I began to put my own collection together whilst working on Philip's runway pieces. When Phillip paid me, I was able to produce a small 10-piece collection for Spring 2009, which we launched at Barney's New York, Joyce in Hong Kong, Collette in Paris and Liberty of London.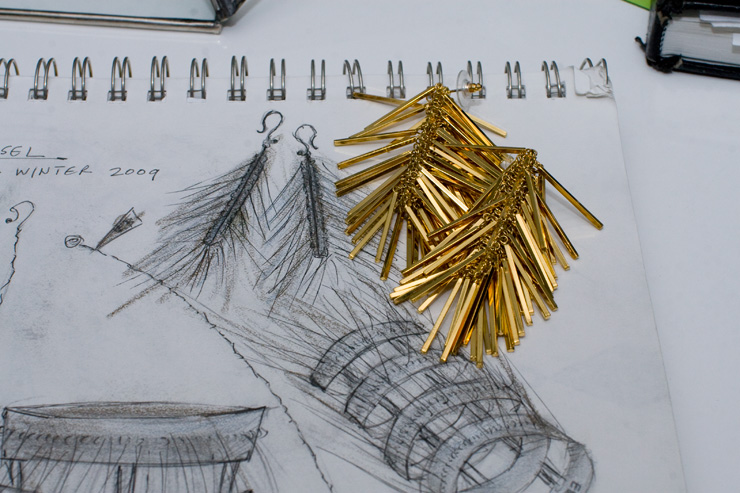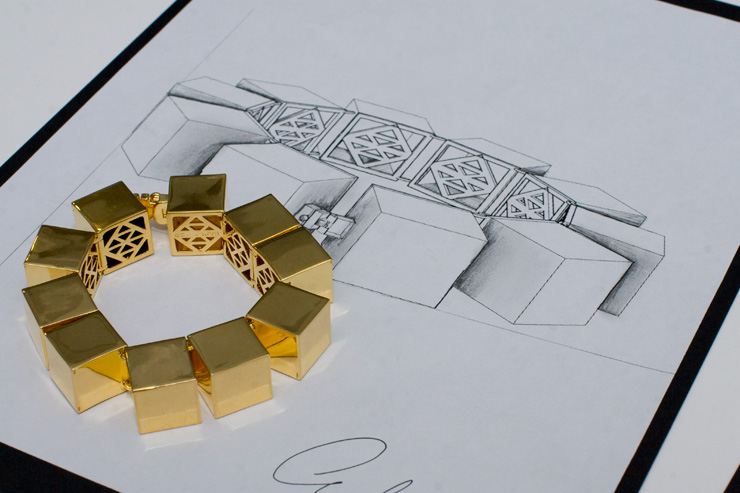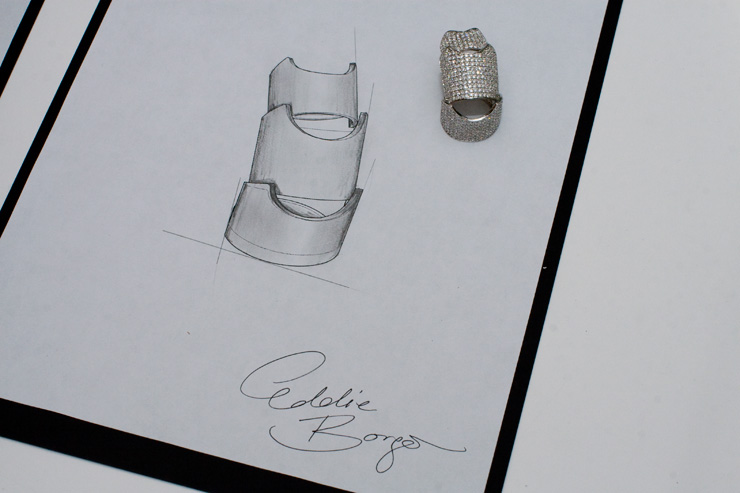 You are now stocked at 90 doors worldwide which is a huge achievement in four years. How have you got to this point?
We are still very much a start up company but we have grown really organically with the support of some amazing people. A grant we received through Vogue and Tiffany meant we were able to move into our current office space. We started the company with no outside capital so it was really rough for the first two years. We were in a space that was 240 squared feet and there were ten of us in there by the end. Most of the editorial we receive is the support of friends and people I consider to be in my extended family. The writers on the editorial side are as valuable to us as the editors are. The retailers are another group of people who have been unbelievably supportive of us. When you communicate to the buyers what your shortcomings are, they really understand and want to help you to succeed. That has been really up lifting for us.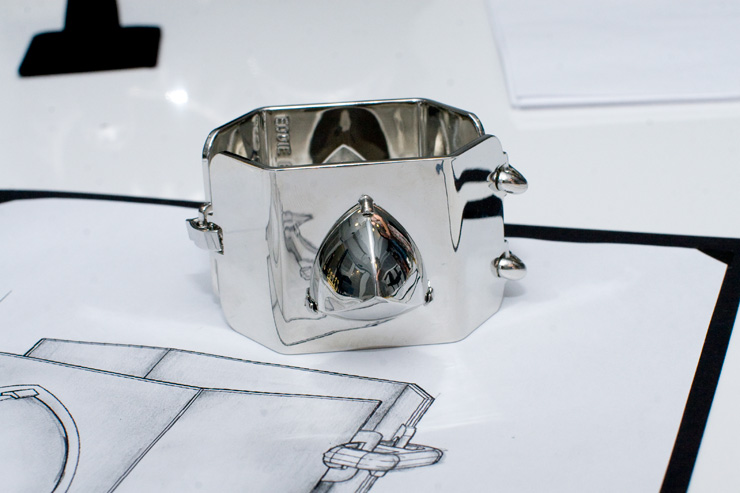 What is it that you love about costume jewellery?
There is something really attractive about it because certainly in the US there is a real history there. You have all the original costume jewellers of the sixties like Eisenberg, Trifari, Napier who originated from Rhode Islands. Desigers like Largerfield and Dior also had their jewellery made there. The sixties was exemplary of a time where it was very fashionable to invest in costume jewellery which always comes around when economies are coming out of a depression. People invest in things that have an impact in terms of fashion but aren't as expensive. I think that this time around, the interest from people lies in the fact that you have an immeasurable amount of materials you can work with. We have used materials from ebony and pine, brass, aluminium, cut crystals, to semi precious stones and silver. That combined with technology means you see excellent results that look modern and fresh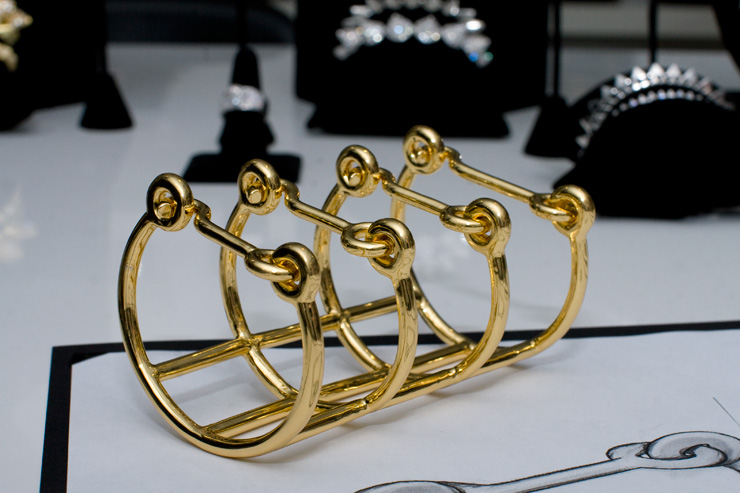 Where do you place yourself in the jewellery world?
It is actually something we talk to our retailers about a lot. It is hard to place us at retail, as we didn't sit very well with what they refer to as costume jewellery and we obviously can't be placed with fine jewellery. They have now created departments within retail establishments globally where they categorise us and other people as designer jewellery. We tend to sit next to runway jewellery in place like Harrods or Harvey Nichols. Our collections are fashion collections in a sense, as we deliver them on the fashion calendar five times a year as well as men's twice a year, which is really unique for a jewellery company.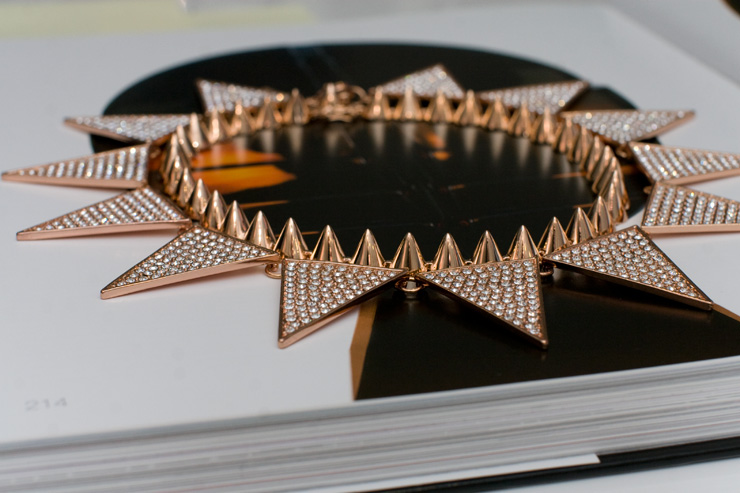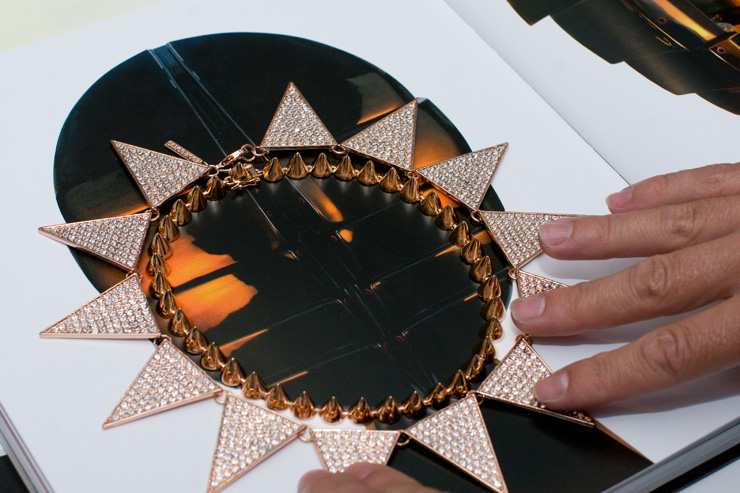 How would you describe the core collection at Eddie Borgo?
We had to evaluate what our core collection was by looking at the identity and language of the brand. We are really well know for our hingework that is more typical of fine than costume jewellery, our two-tone and tri-tone plating and our closures. The core is made up of pieces that are both instantly identifiable as Eddie Borgo and have had a high sell-through. The pieces come from classic silhouettes with paired down geometry; the idea being that geometric shapes never really go out of style. You can place a triangle, pyramid, sphere or cube at any moment in time because these shapes have always existed. By taking these core silhouettes and stripping them down to their foundation, you get the natural beauty that is contained deep within a decorative element.  By identifying this, we can create something timeless.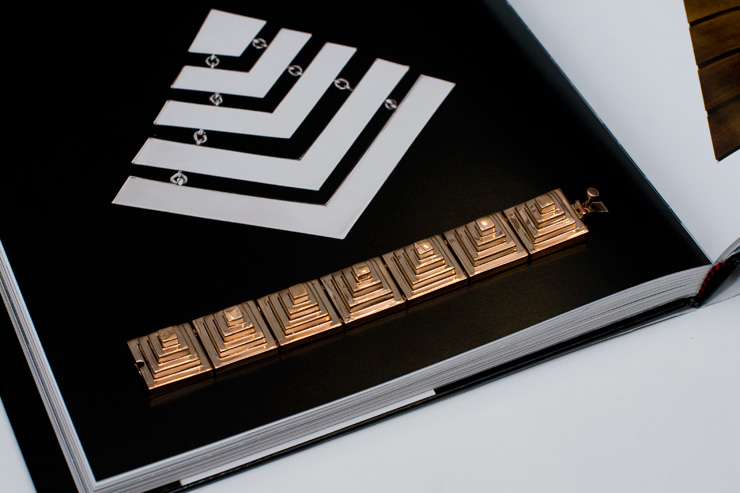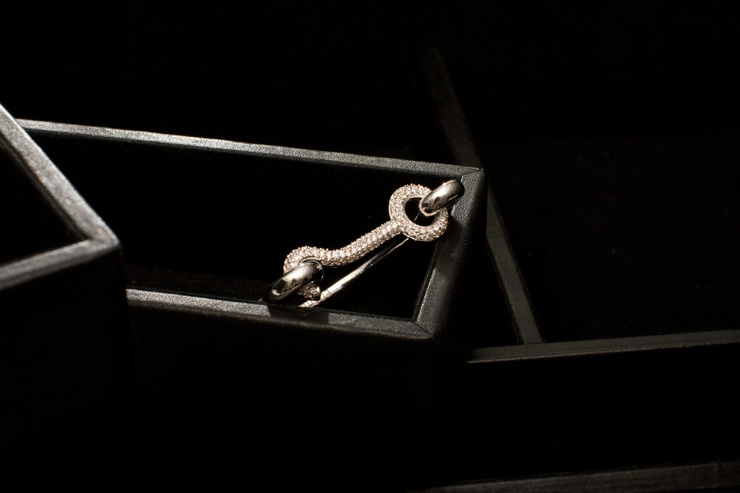 You have been involved with the fashion industry since the off but some designers we speak to feel that the two industries are coming closer together. Do you think that people are becoming more aware of designer jewellery?
I think that jewellery as a category is definitely coming up. There was a moment in time when it was all about the status handbag and then the status shoe. Those things have carried through but now jewellery can't really be ignored, so it's an interesting time.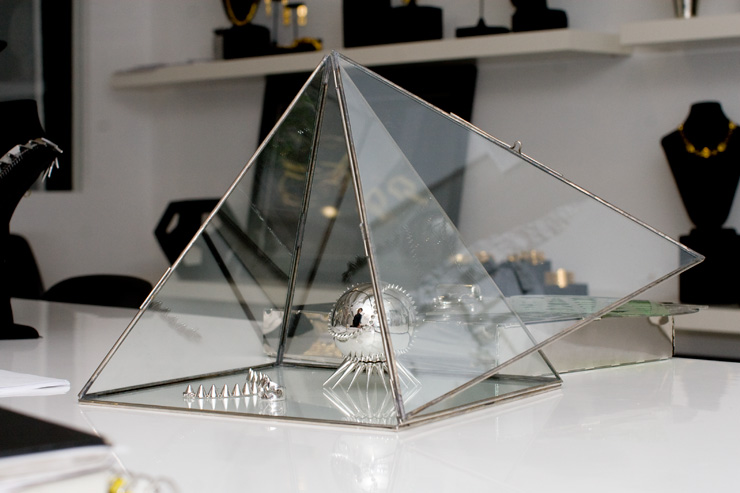 Do you have to cater for different markets in the different countries where you are stocked?
Absolutely. In the US our girl is rock and roll, she's tough so she likes lots of gunmetal or silver where as in London our girl is a bit more feminine and wants only rose gold and pavé stones. We only ship large-scale, gold pieces covered with pavé crystal to the middle east as they like anything that mimics fine jewellery from a distance.  Scanlan & Theodor in Australia stock our more streamline jewellery and also invest in our men's collections our girl there likes much more paired down jewellery. Our Paris girl loves anything in coloured pavé. It's been really interesting to learn thos as a young designer because even our clients at Holt Renfrew Toronto and Vancouver want different styles.  At first I was under the impression I would just be responsible for delivering a beautiful collection each season but today I realise it would be irresponsible to not be as involved in the business aspect of what we are doing. If you listen to the clients you find out what they like and don't like. We take it all to heart and we try to consider our customer because without her we don't have a brand.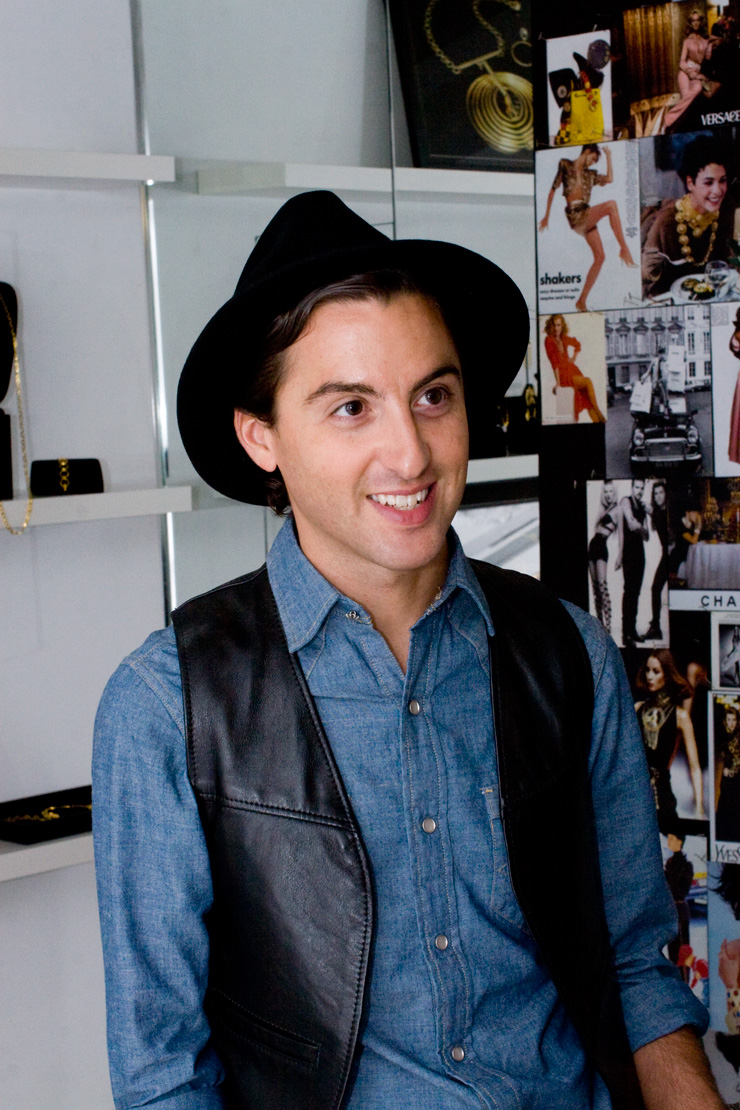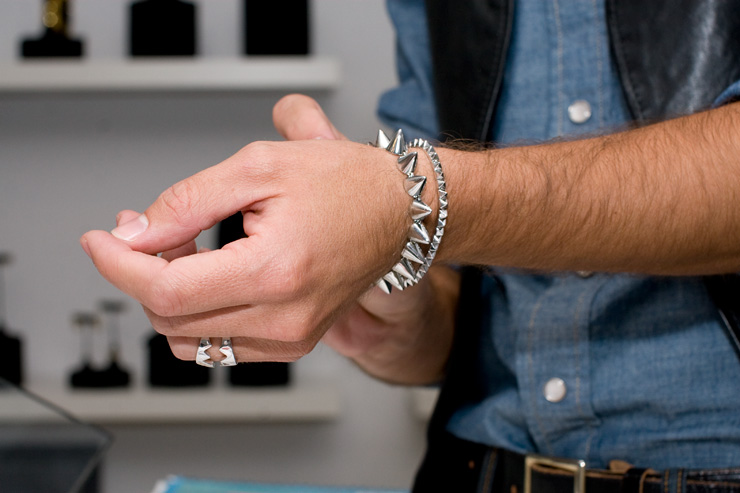 How would you describe your personal jewellery style?
There are three pieces from the collection that I always wear. I keep one set here and a set at my apartment.  I like pieces that are comfortable to wear and easy to take on and off.  I think there should be a classic aspect to jewellery. I want to wear jewellery that will go with anything I wear.