Introducing AURUM of London, a collective of the most talented new jewellery designers on London's scene today. Rachel Boston, Kasia Piechocka, Karen Rothwell, Michelle Oh and Ayako Kanari launched Aurum with a showcase of their work last Thursday.
The event was more than just an opening of a jewellery pop up shop. Having spent our university days at Central Saint Martins together it was an incredibly rewarding moment for five young designers, of whom have battled the hardships of today's climate to realise their dream of designing and making their own jewellery.
The shop on 8 Monmouth Street was bustling with life. The barefooted violinist Tim Gill filled the room with enthralling music as the guests sipped on wine and ogled at the precious jewels displayed in vintage casings.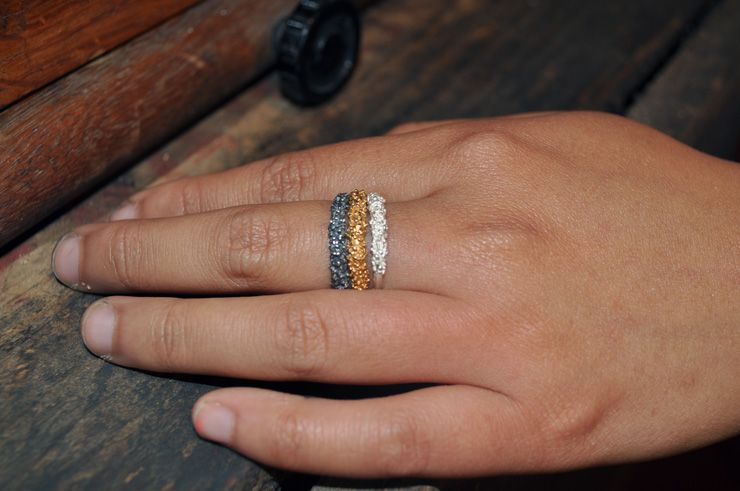 All five designers have something unique and beautiful to offer.
Michelle Oh is an Indonesian born designer takes her inspiration from everyday life and transforms her experiences into incredibly intricate organic pieces of jewellery.
'The man who loves fishing' is a stunning collection inspired by Kasia Piechocka's memories of her father. Based on fishing equipment Kasia she creates lustrous, luxurious pieces that will empower her wearer.
Karen Rothwells' 'Kubwa' collection is a result of her extensive travels in the search of finding traditional materials and techniques. Mixed with her modern design aesthetic Karen creates truly unique pieces that have a worldly feel to them.
Ayako Kanari believes that the concept behind her piece does not need explaining as the design speaks for itself. Ayako is an incredibly patient maker, which serves her well and is evident in her delicate braided pieces.
Rachel Bostons' collection 'The Protector' takes the aggressive forms of beetles and scorpions. Juxtaposing fierce stings with a luxurious finish she infusing them with sophistication and a rock 'n' roll edge.
To say I am proud of their achievements would be an understatement. Well done ladies, you've done a fine job!
Visit their pop up shop on 38 Monmouth Street, Covent Garden. The shop is only up until the 13th of June.
Words and Photographs by Jewellery Designer Sammie-Jo Coxon