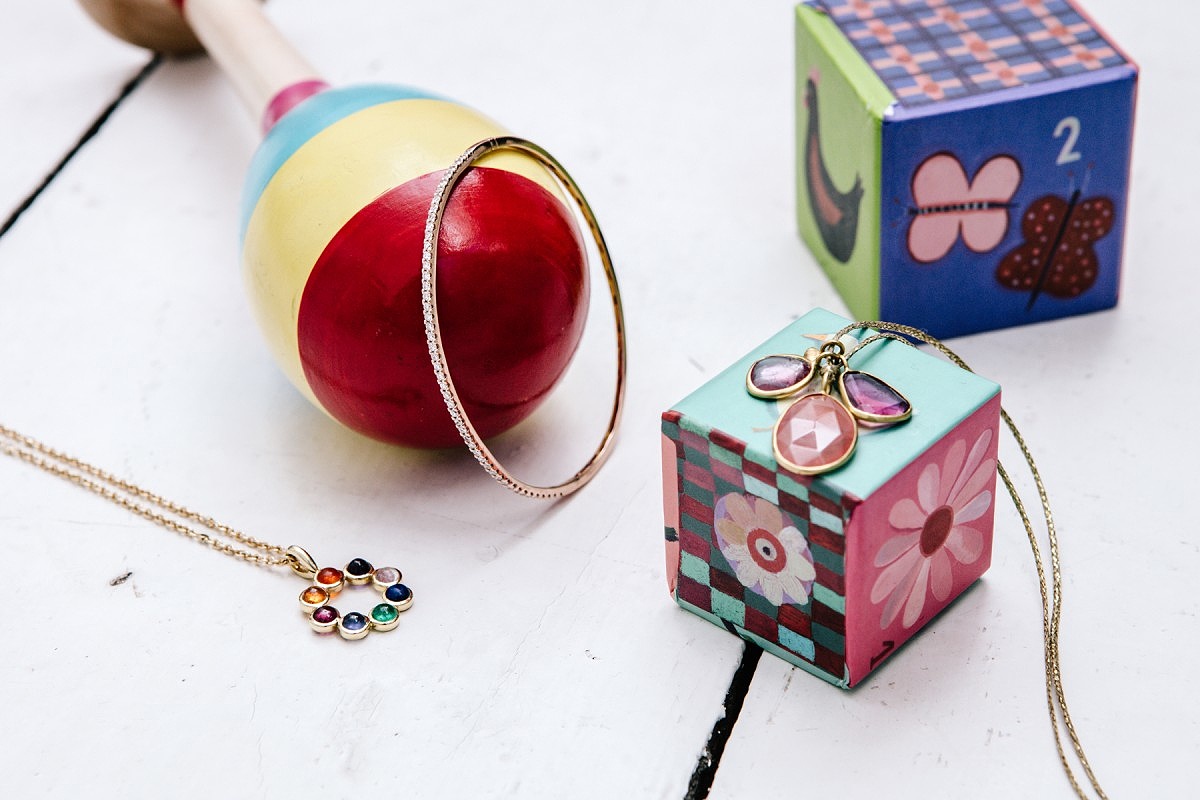 Ok, the term "push present" may not be everybody's cup of tea, but we're wholeheartedly for the idea of celebrating a new baby with something small and sparkly.
Generally given to the mother by the father just after the birth, the American import has become an increasingly popular way to mark a new arrival, not to mention a well-deserved "thank you" after pregnancy and birth. Whether you are expecting a bundle of your own or know somebody who is, here's our guide to choosing the perfect push present.
Make it personal
A life-changing milestone calls for something meaningful. Consider a jewel featuring the birthstone of the new arrival (a full list of birthstones can be found here); one that can be personalised or engraved with his or her initials or date of birth; or go down the traditional route: a blue stone for a boy and pink for a girl. Jessica Naylor-Leyland's Set in Stone pendants are another adorable option; custom-made with gemstones which correspond to each letter of the new arrival's name (e.g. aquamarine, morganite and yellow diamond for Amy).
Know her style
Whether she'll want to wear it every day or save it for special occasions, make sure it suits her personal style and complements existing jewels such as her engagement and wedding rings. Before the arrival of Saint West, Kim Kardashian blogged that she had her eye on a diamond choker by Lorraine Schwarz as a push present from Kanye. Your budget may not stretch that far but it's worth making a note of designers the mum-to-be likes (a nose through her Instagram should give a good indication). You have several months to nail it, so start sleuthing.
Keep it in the family
A new arrival is the perfect excuse to pass on a family jewel. After her son was born, jeweller Sophie Bille Brahe received her mother's traditional pearl necklace, which sparked a whole new line of edgy pearl jewellery. If you're lucky enough to have precious heirlooms to give, it's worth having them certified and cleaned up to their sparkling best beforehand. And check with the benefactor if they'd mind the stones being re-set – this opens up a whole new world of possibilities, allowing you to reshape it into a contemporary heirloom of your own.
Leave room to grow
Charm bracelets make an ideal push present as over time you can build up a whole life's worth of trinkets which can one day be passed on. For an alternative take on the theme, Carolina Bucci's covetable new Life Pendants are punched with holes which can be filled up with diamonds or gemstones of varying sizes. The designer created it for her own 30th birthday (filled with diamonds up to 0.30 carats), but we think it makes the perfect gift to chart a new chapter of parenthood, too.
Work together
The great thing about a push present is that, unlike an engagement ring where most couples opt for an element of surprise, you have several months to choose or create the perfect jewel together. Whether you re-set a family jewel or start from scratch on a bespoke piece, seeing your design come to life as you get ready for the new arrival adds an extra layer of excitement. Sure, a new baby is precious enough itself, but a meaning-filled, custom-made jewel is the sparkling icing on the cake.