The appeal of the Leap Year proposal

Warning: count(): Parameter must be an array or an object that implements Countable in /srv/users/indtl/apps/indtl/public/wp-content/themes/indtl4/parts/layouts/post-advanced.php on line 25


So you've been going out for a few years, in fact since the last leap year. You've been on numerous holidays together, from safaris in Africa (where Prince William proposed) to skiing in Whistler (where Seal proposed to his now ex-wife Heidi Klum). You've dropped the necessary hints and he still hasn't got down on bended knee. You know that he is the one, and pretty certain that he is 'ditto' (Woody Harrelson to Demi Moore in Indecent Proposal) … so what are you waiting for?
Today, Monday 29th February, is traditionally the day when girls can propose to their beloved. A survey carried out for Goldsmiths, the UK's largest luxury high street jeweller, shows that 94% of unmarried men think it is ok for a woman to propose although only 4.5% would want to be proposed to on this day, and 25% would rather a watch to a ring. Ruth Benford of Goldsmiths says "we'll be looking out for women popping in to pick up an engagement watch to ask that all important question." However Tiffany & Co., which globally sells millions of engagement rings per year, has an attractive band ring in both platinum and rose gold with round brilliant diamonds which could be perfect if your (fingers crossed) fiancé is one of the 24% who'd wear rings.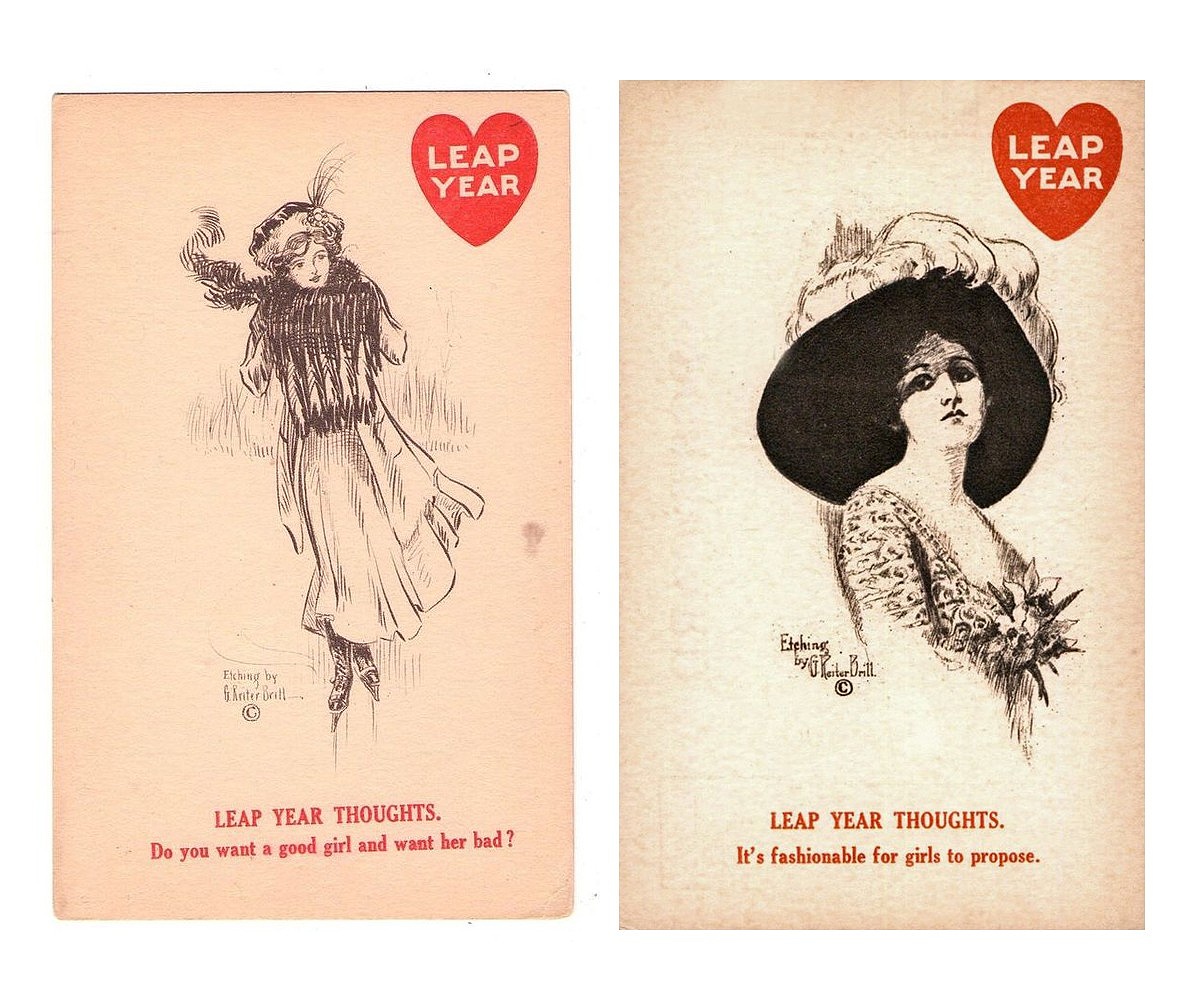 Leap Year Thoughts postcards via. pintrest
The date itself has had many traditions tied to it ever since Caesar changed the calendar in BC46 to compensate for a discrepancy with a solar year of 365¼ days. But without doubt this chimerical custom, with Celtic roots (originally Irish, then Scottish), is the most famous. Needless to say, there are a few stipulations to the custom: the girl should wear a scarlet skirt and if he declines then he must buy twelve pairs of silk gloves to hide the fact the girl won't be wearing his (reciprocated) ring.
In 1904, the first leap year of the last century, New York Times columnist Dorothy Dix wrote 'The Leap Year Proposal', a treatise, with advice as to what, and what not, to do:
"The Leap Year girl […] must use great tact…[…]. There are times when a man is rushed, or tired, or hungry, when it is simply courting disaster to ask him anything. When a woman is happy she seldom inclines to matrimony. It is when she is weary, has had a bad lunch […] that she yearns for a ring and will marry any man who asks her. A woman should be proposed to when she is down on her luck; a man, when he is pushing his luck." Mrs Dix also decrees that writing a letter is a fatal mistake, "it lacks the magnetism of trembling hands and anxious eyes, and quivering lips" and might reach the man with his business letters, "No American man is sentimental in banking hours and […] no woman can compete […] with the price of stocks or wheat, or lard."
Of course, most of us, have moved on from those days and wouldn't dream of waiting for an anomaly in the calendar, let alone allow our lips to quiver in nervous anticipation or expect to compete with wheat. And we'd not be alone. It is well-known that Zsa Zsa Gabor proposed nine times (all of whom said yes) and Pink did the next best thing after streaking across a race track – holding up signs, respectively, "Will you marry me" and "I am serious!", while her motocross boyfriend was speeding around. And of course if you're a queen, every day is Ladies Privilege Day (another of the date's names) after all it could be deemed as treason should you be refused, needless to say both Queens Victoria and Elizabeth II were accepted.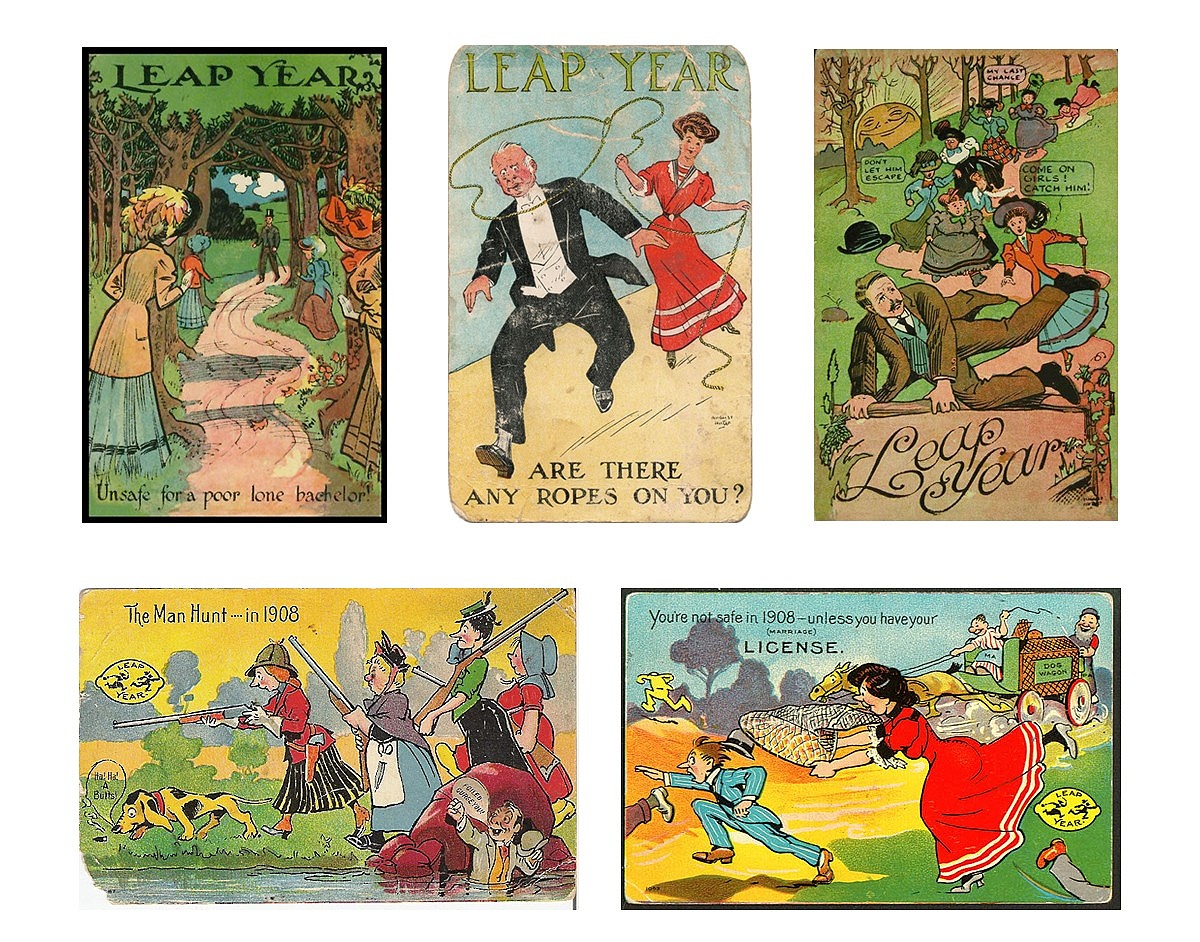 Leap year postcards from the 1900's via Pintrest
But despite the 'privilege' there has always been an element of chauvinism and women who attempted it were mocked and belittled. In fact the Leap Year after Mrs Dix's thesis on the subject, America had embarked on a postcard frenzy and 250 different Leap Year varieties were made, most of which used humour to dissuade women from exercising their prerogative to propose, including a woman pointing a gun at her intended's head.
But how can we win? Women have so often been ridiculed, and indeed dumped, for nagging and in the first chapter of her book 'I Do But I Don't', Kamy Wicoff describes the intense expectation of herself (and her mother) that a weekend away would be the moment her boyfriend of three years popped the question; he even produced a jewellery box – yet inside there was just a pair of earrings.
Yes. It was traditionally the man's prerequisite to ask as he had the primary economic power, however nowadays with many women earning as much if not more than men, we have never had more of a right to do the asking. But as the century old sage recommended more that 100 years ago:
"One thing the Leap Year woman must bear in mind. She must play fair. Under no possible, circumstances should she propose marriage […] unless she can take care of him in the same style in which his father has been accustomed to support him."
So give it a go, after all if you don't ask you don't get and with all the stunning showpieces in the windows of both the High Street and Bond Street, it is definitely a risky privilege worth taking - after all there is nothing in the tradition that says you don't get a ring just because you're the proposer.
Josie Goodbody is the author of The Diamond Connection and a freelance watch and jewellery editor. You can buy her first novel on her website. The second one, To Catch a Cat, is out in the Summer.
Inspiration for him & for her...