Cannes Film Festival 2013, cameras flash as Marion Cotillard makes her way onto the red carpet. Her graphic Dior 'Cruise 2014' gown paired with a towering updo and stunning Chopard jewels turn heads. The micro-paved earrings and cuffs she wore were from the Green Carpet collection, Chopard's initiative to implement a transition towards ethically sound jewellery. The unveiling of the Chopard Green Carpet series (seen above) was the result of Caroline Scheufele, co-president and creative director at Chopard teaming with Livia Firth, founder of the Green Carpet Challenge and creative director of ECO AGE Ltd, the London-based unique brand and corporate consulting firm working at the cutting age of sustainability. Nicola Giuggioli, founder and CEO set up ECO AGE Ltd in 2009 in London: 'Sustainability has always been something that I have been passionate about. I decided to set up my business when I realised that, regardless of the many sustainable solutions and practices developed in the last few decades, most were not known, used or even considered despite having excellent business cases and highly improving the quality of the work environment and output', he says. It just takes the realisation that responsible actions can go hand-in-hand with profitable economic outcomes. One does not exclude the other.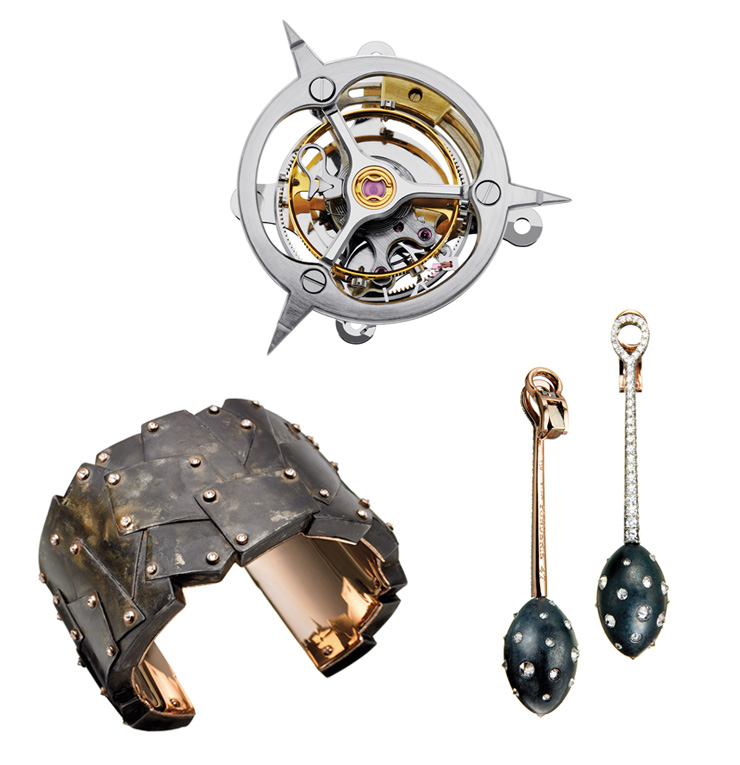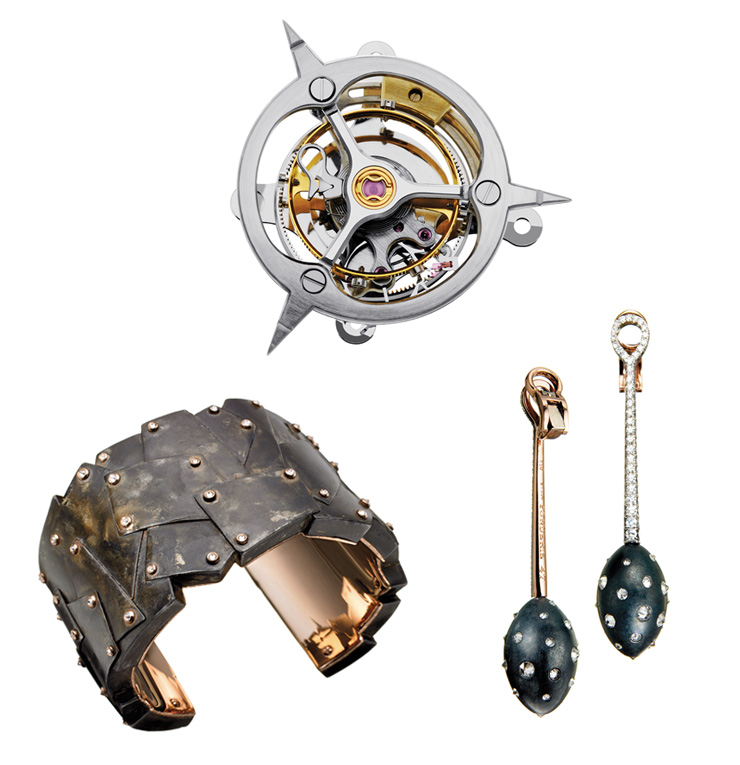 (Limited edition watch of 20 designed by Adrian Glessing and produced by David Candaux; Fonderie 47 steel, diamond and 18k rose gold Cuff and Fonderie 47 steel, diamond, 18k rose gold and platinum Earrings designed by James de Givenchy)
New York-based Peter Thum, the founder of Fonderie 47 and more recently Liberty United has also wholeheartedly embraced sustainability this time by confronting the proliferation of weapons through the ultimate up-cycling challenge: removing AK47 assault riffles from African conflict zones (hence the name Fonderie47), and salvaging the components and metals resulting from their destruction. Expert craftsmen and designers then tailor precious watch and jewellery pieces using the recycled metals.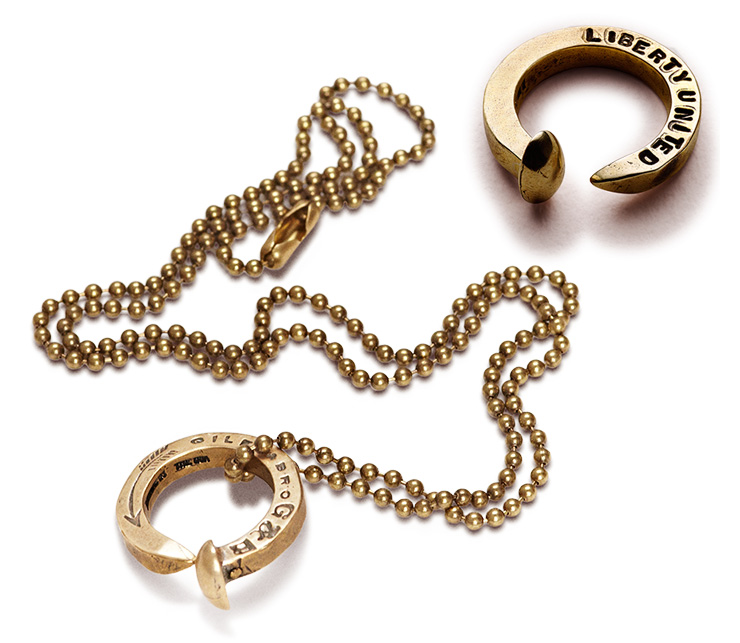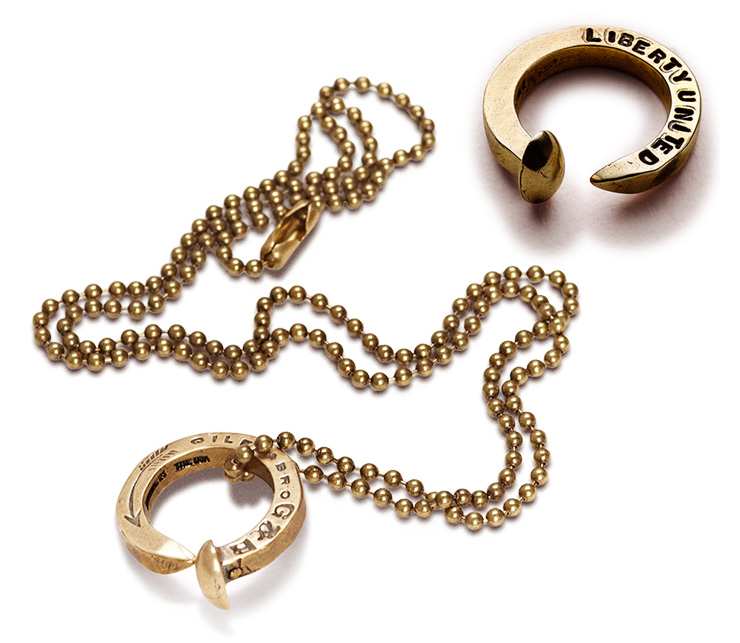 (Brass and Bullet necklace and ring from the Railroad Spike collection designed by Philip Crangi for Liberty United)
Recently, Peter and his wife, Cara Buono, actress and humanitarian, have taken their mission even further. Gun accessibility and the surge in illegal riffles is out-of-control and plaguing America, so one way to shift what is a disaster into a burgeoning hope is to transform illegal guns and bullets from US cities into jewellery. Teaming with Giles&Brother designer, Philip Crangi, Liberty United's first collection includes gunmetal bangles, rings and necklaces that are each engraved with the gun serial number as well as the company's motto 'remade in the U.S.A' – a clever way to convey optimism, love for both artisanship and their country.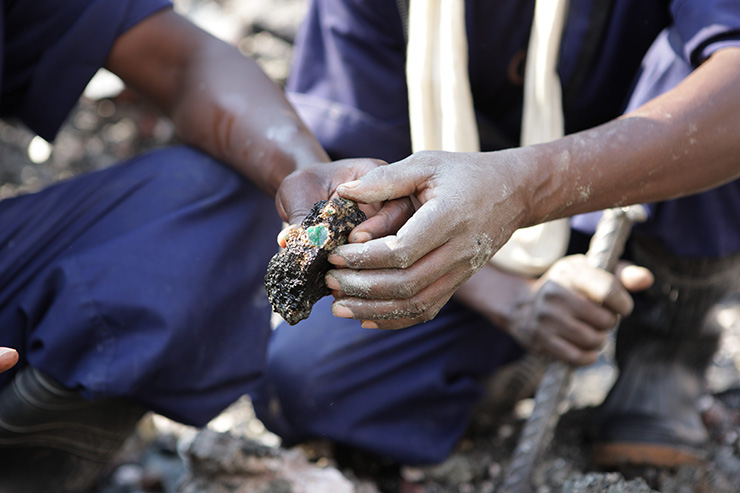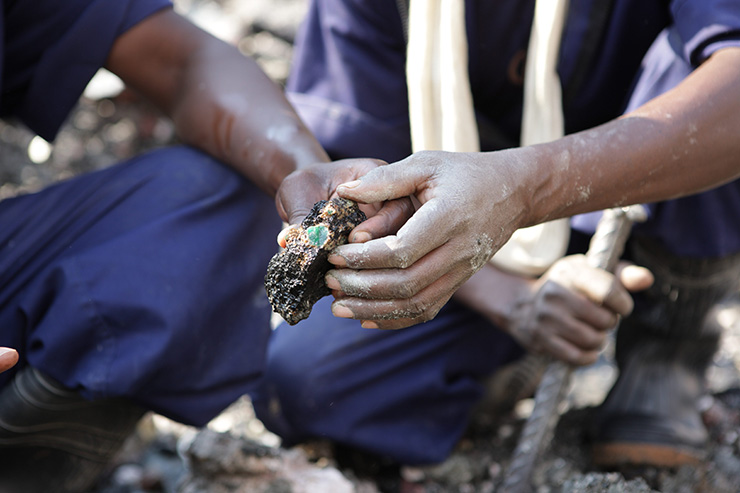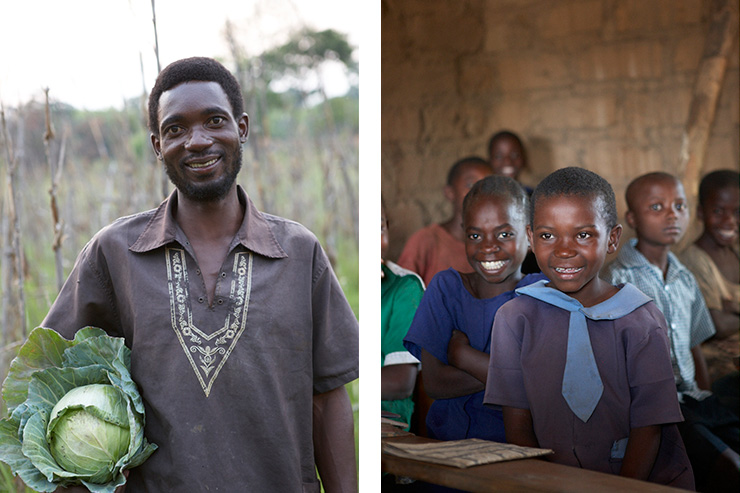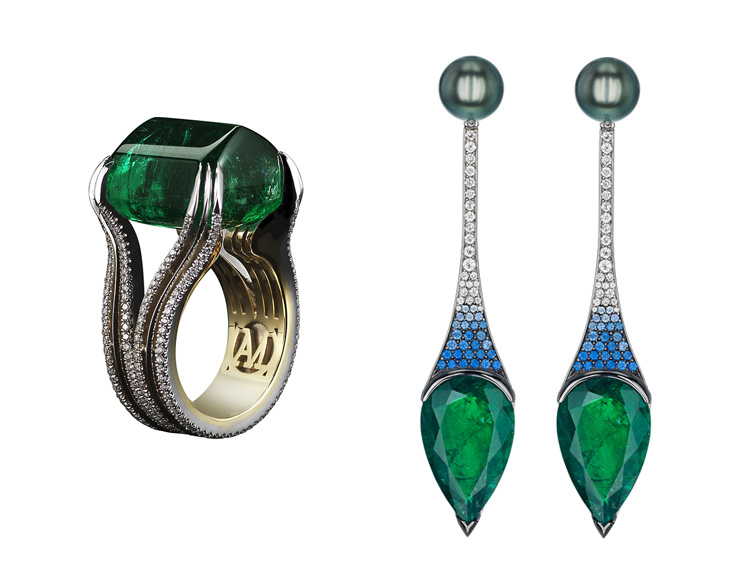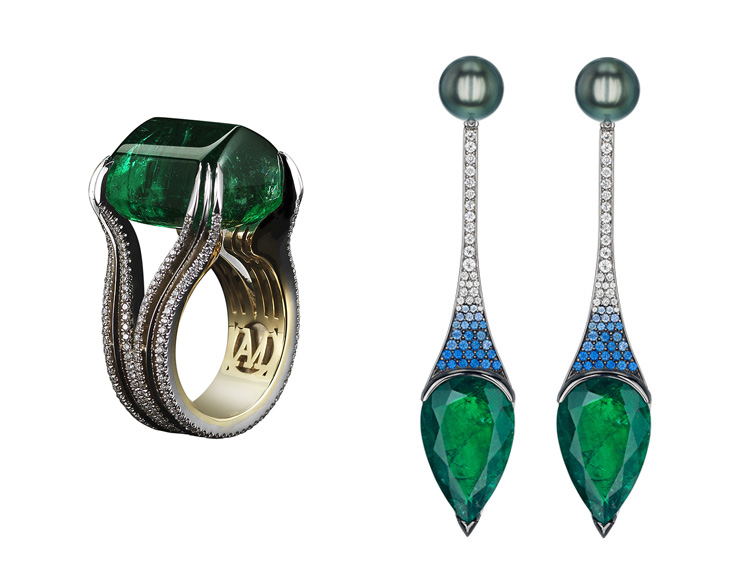 (Raw emerald being mined; working with the local community; Zambian emerald ring designed by Alexandra Mor and earrings by Shaun Leane both in collaboration with Gemfields)
In the UK, Gemfields, the world's largest producer of rare coloured gemstones, is another corporation contributing to the same change in perspective. For once it is a mining company – a fact that would seem antonymic to sustainability at first sight – and one that is set to be the role model for all mining companies. 'At Gemfields we take compliance with regulatory guidelines as a given, a starting point; however we aim to go much further. We are not interested in ticking boxes; we want to create a tangible, unarguable case for the benefits of corporate social responsibility. We want to be seen as good citizens of the world and, in particular, of the communities in which we operate', Ashleigh Stirling the company's communication and PR manager, says. None of the projects has been imposed on the community – they are only agreed on after consultation and discussion with all interested parties'. Gemfields supplies 20% of the world's high quality emeralds, and amethysts from Zambia as well as rubies from Mozambique, and some major jewellery brands are clients: sustainability, responsibility and beauty, all rolled into one.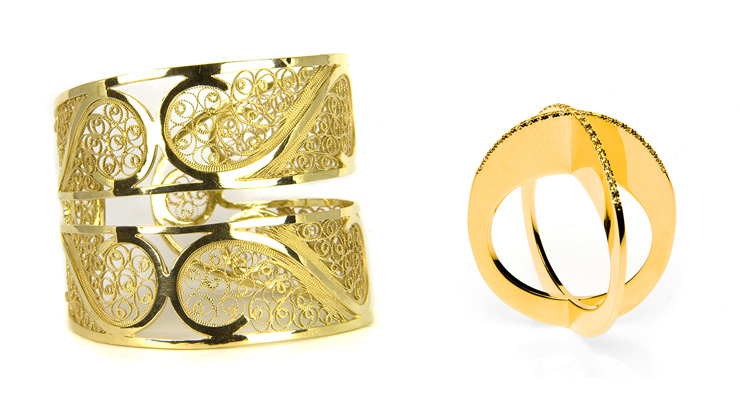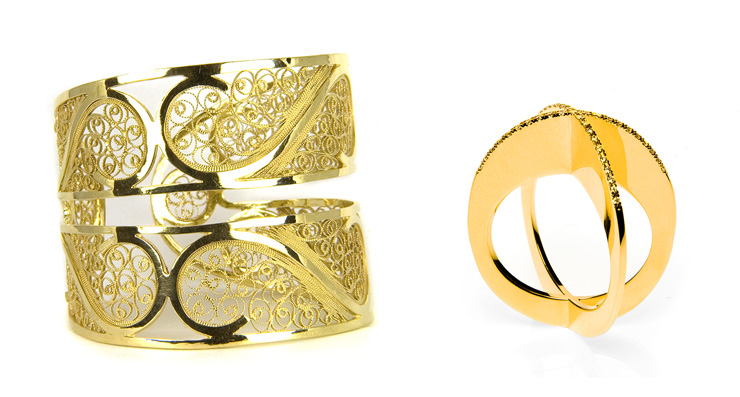 (Arabel Lebrusan 18k yellow gold Filigree Links bracelet and Diamond Sequin ring)
Further good news is that one does not need to break the bank to own covetable, sustainably made jewellery, and hereby pave the way for affordable ethical consumption as seen with the affordable Liberty United range. Back in 2005, Spanish-born, UK-based Arabel Lebrusan was travelling internationally as a freelance jewellery designer, getting to see the world of manufacture and to witness the lack of working condition standards within the industry, as a result. 'I thought back then "I have to do something to change this and to raise awareness about these issues"', she notes. One of the first Fairtrade gold licensees since 2011, Arabel focuses on two lines of action when implementing sustainability in her work: first, through the sourcing of the materials and second, through the techniques she uses. 'Sustainability means that everything is more expensive, however if we all would be doing the same, sustainable jewellery wouldn't have to be more expensive', she ponders.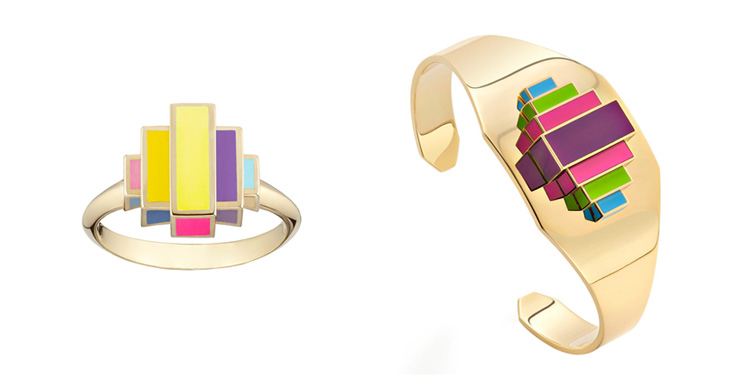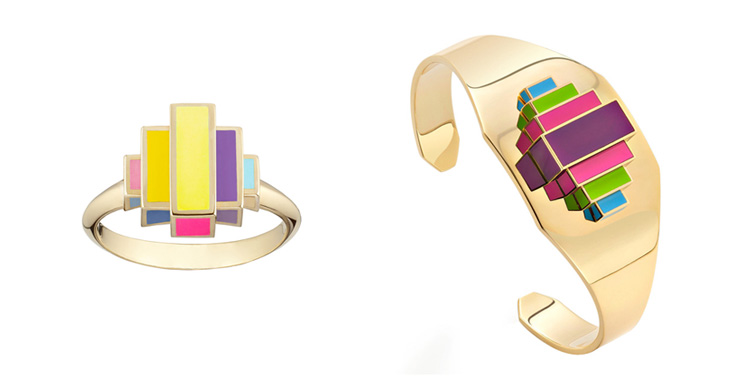 (Hattie Rickards 18k Strata ring and Enamel Baguette cuff commissioned by LoveGold)
The limited supply of sustainable resources (especially gemstones) is an obstacle that could sometimes derail the plans of a sustainably minded designer, and so it can be really time consuming – and a contraindication for any faint-hearted type – to identify the sources. Hattie Rickards is a British designer who knows this all too well. 'My jewellery is not fully sustainable yet but I have decided to start by sourcing more sustainable gold and decided that the Fairtrade gold offered the most simple and scalable answer. Firstly I needed to source Fairtrade gold which took a lot of research but once I had found the mine, I then became one of the first 20 licensees of Fairtrade Gold in the UK so it was then a case of finding the manufacturers here in England who could import the Fairtrade gold and then produce my designs', Hattie explains. Fairtrade gold comes at premium cost but this means that the miners receive a Fairtrade premium payment, which is democratically reinvested in community projects and improving miners' operations.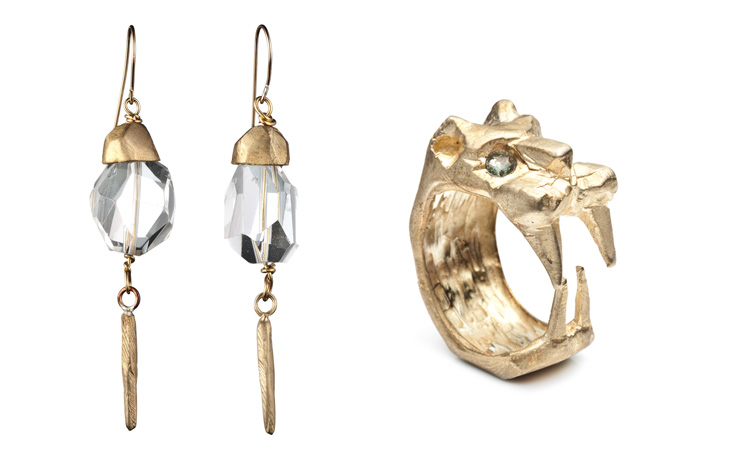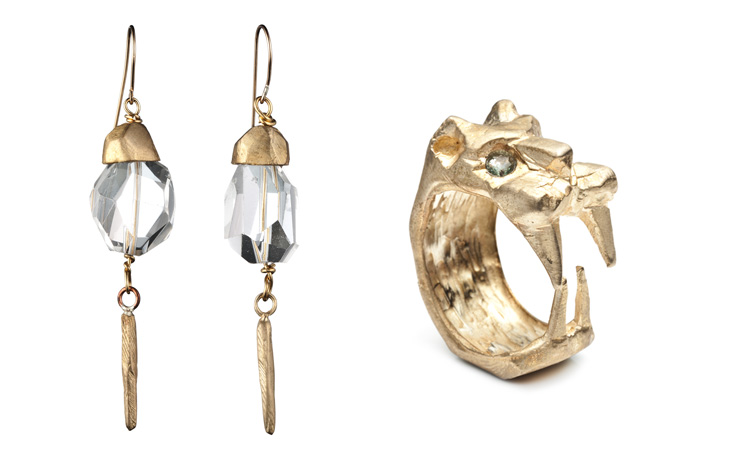 (Natalie Frigo Daggers and Crystal earrings and Saber Toothed Cat ring)
New York-based Natalie Frigo would completely agree, as this talented designer is herself a proponent of the absolute importance to know-what-you-buy. 'How great it is to own something that is cared for from start to finish', Natalie quips. 'In the short run, it is more expensive to have jewellery made locally and to ensure your stones are mined and cut from protected workers. But the alternative is not an option. Why have something "beautiful" that harmed people along the way?' she says. Her epiphany for using sustainable materials came when she heard that mining one-ounce of freshly mined gold creates 20-30 tons of waste. 'Is that one of the craziest things you have ever heard?' she says, 'considering a gold ring is usually around ½ an ounce, it doesn't make sense that we don't change our mining practices. Once I started searching out recycled metals for jewellery, I found out about some of the problems with commercially produced stones (unsafe working conditions, children forced to work in near-slavery conditions as lapidaries because of their excellent eye sight, non-living wages, etc.); and when you think that recycled gold is absolutely indistinguishable from mined gold, it is easy to switch'.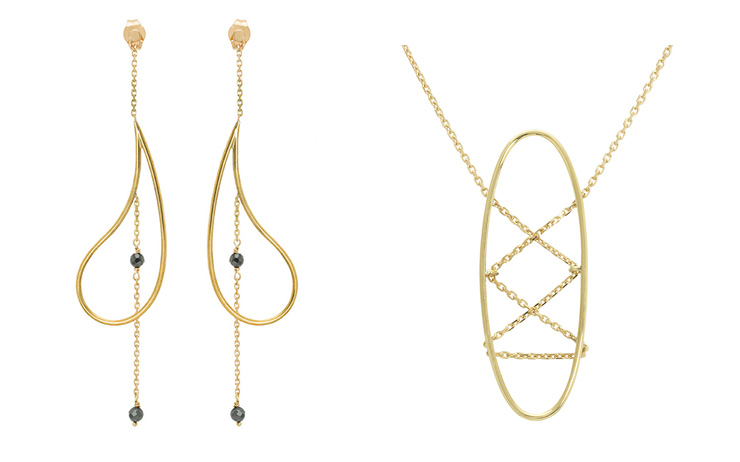 (Little Pépite Corset necklace and Vague BO earrings with black diamonds)
Sometimes the events that lead towards sustainable jewellery design are nothing short of coincidence, or not. French cinematographer and film director, Ilan Teboul is a case in point. Although his father is a maître joaillier and fashion jewellery designer himself, scripts and cameras had always been Ilan's main passions and following his father's footsteps were not his main obsession. This all changed the day he was shooting a documentary about illegal gold panning and discovered to his absolute horror that by using mercury, the ravages of the practice have extreme consequences: massive deforestation, poisoning of the water and ultimately no life can ever grow back on a soil contaminated with the substance. 'I immediately asked myself: how can one make sustainable and sound jewellery? Recycling appeared to be the best option Little Pépite was born', he recalls. The creations are imbued in poetic grace: each piece is a construct of delicate lines and ravishing airiness. Less is more in desirable fashion.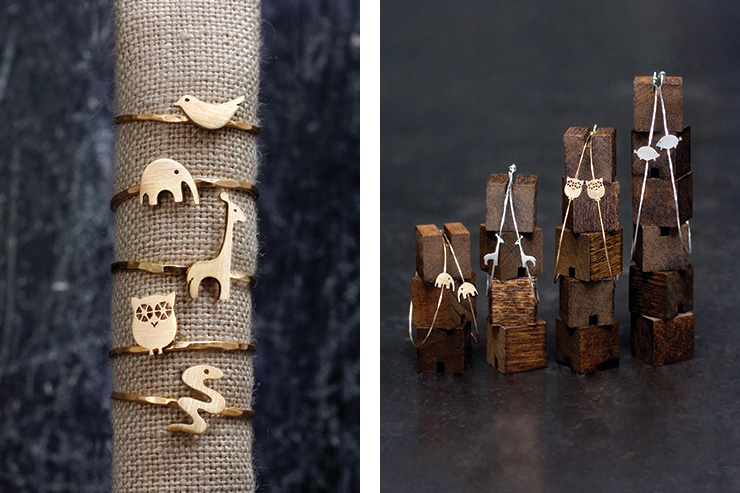 (Rings and earrings from AF HOUSE Miniture Animal collection)
Akiko Fuchigami, the New York-based, Japanese designer behind AF HOUSE, shares this same environmental concern as a way of life beyond jewellery designing itself. 'In 2006 I started to use solid gold that can be recycled, however my shift to full sustainability has been gradual. Each time I see natural calamities in the world, every time I see pictures of wild animal suffering from climate change, every time I see uncontrollable behaviour of mass-production & consumption, I vow to implement sustainable changes in my life and work. This isn't perfect and it is very much a work in progress', Akiko shares. Notwithstanding the simplicity and small scale of the creations that are intrinsically Japanese in all their innocence and prettiness, one of the main decisions for such a 'low key' design is to have a minimal impact on the environment. Akiko firmly believes that the jewellery industry could go sustainable all the way, more easily than the fashion/garment industry in comparison, simply due to the fact that metals are highly recyclable.
Surely it could sound all doom and gloom but we own the power to change things, no matter how cliché this may sound, it is a simple and reassuring truth. So next time you shop for a meaningful piece of jewellery, do some research, ask questions and go for the one that will make you feel truly better about yourself.
This is an extract from an article written by Oliver Dupon for In Detail. Based in Australia, Olivier scouts international markets in search of design,art,craft objects and projects to feature on his blog, Dossier37 , a resource which showcases his passion for artisanship, craft and design. He is also the author of three books: The New Artisans (2011), The New Jewelers (2012) and The New Pâtissiers (2013) all published by Thames and Hudson.
To read the full article download here.