Ear party: how multiple piercings went high end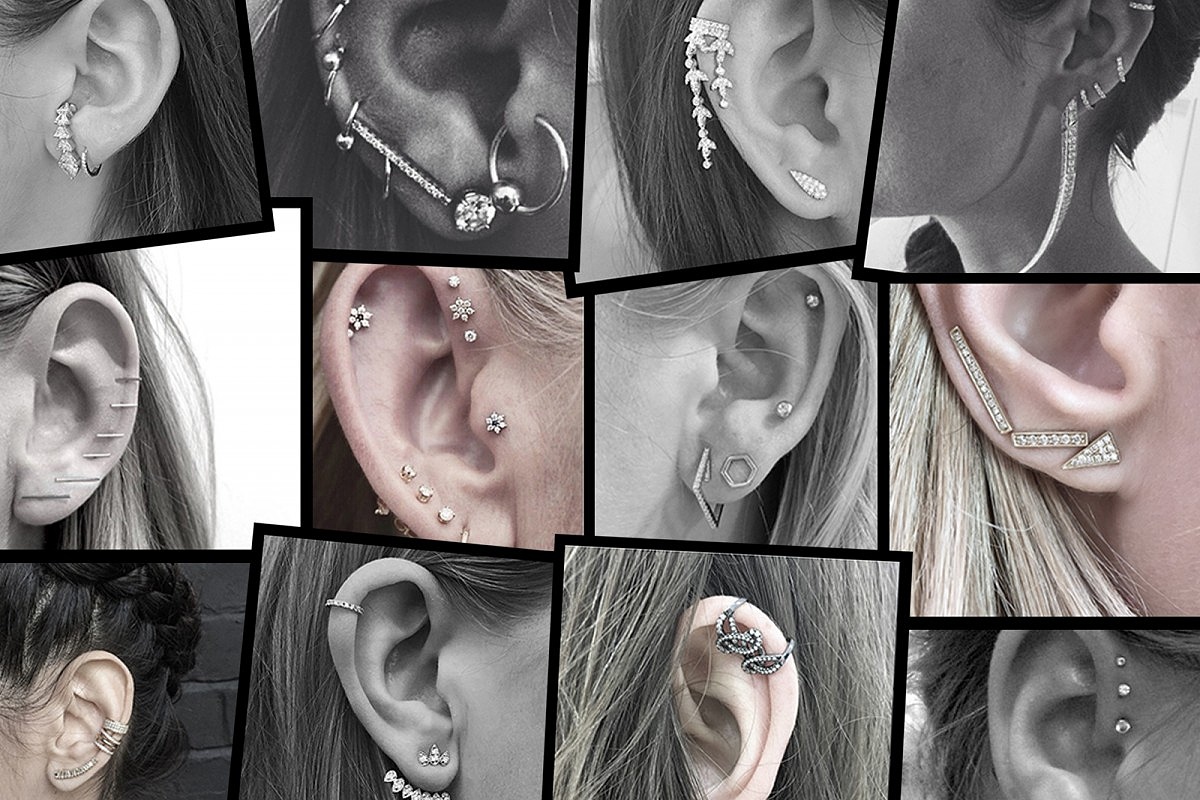 Usually it's the fine jewellery trends that trickle down to the high street. But occasionally the tide turns and trends that originated in street style get picked up by the luxury market. Case in point: multiple ear piercings.
Previously the domain of rebellious teenagers and punks, in recent years the fashion pack have been embracing the pain of multiple piercings, spurred on by a plethora of pretty, delicate ear jewellery. The trend exploded thanks also to social media: "celebrity" piercers in New York such as J Colby Smith and Maria Tash have built up armies of followers, their images of ear compilations (different combinations of piercings and jewels) garnering likes in their thousands.
The mix'n'match trend shows no sign of waning, so it's no surprise that luxury brands are also tapping into the power of multiple piercings. This month (coinciding with London Fashion Week), the aforementioned New York jewellery designer and piercer Maria Tash is holding a 10-day pop-up piercing event at Liberty; bringing a practice once confined to hairdressing salons and regional shopping centres to the 141-year-old department store's prestigious fine jewellery floor.
It follows Tash's pop-up last year at high-end Notting Hill salon Josh Wood Atelier, which drew queues of editors and street style stars eager to have their lobe, tragus, helix or conch pierced by the queen of sterilised needles.
"We were thrilled to be invited inside Liberty's historic walls," says Tash. "People are starting to appreciate the merits of piercing unexpected parts of the ear and very tiny fine jewellery has inspired multiple piercings. We have broken the stereotype that we have to have matching piercings – selling earrings individually has certainly helped. I think the area of the ear where the lobe turns into cartilage will be popular at this pop-up as it is a frequently overlooked part of the ear, as well as the 'tash rook' area."
"The diamond in her third piercing was like an instant facelift."
With delicate designs featuring diamonds, opals and other precious stones, Tash's jewels will be stocked at Liberty alongside heavy-hitters of the fashionable fine jewellery world. Elsewhere, brands such as Maria Black, Hall Collection and Elise Dray provide delicate diamond earrings you can wear every day, while Chelsea-based jeweller Robinson Pelham hosts hugely popular piercing events for its clients.
"One client had seven piercings on one ear, which she filled with tiny multi coloured sapphire Orb hoops," says Zoe Benyon, one of the brand's founders. "We have 16-year-olds in here with their mothers, both fresh from having their ears pierced, and we also have 70-year-old women who have finally succumbed to a life-long desire for another piercing.  One elderly client said that the diamond in her third piercing was like an instant facelift. The popularity of the Orb hoops is extraordinary. We don't usually sell them in pairs; almost every other number except for two."
And if the thought of needles brings you out in a cold sweat? Make like red-carpet stars Eva Green and Alicia Vikander, and accessorise with diamond ear-cuffs by Repossi. All the style credentials of multiple ear piercings, with none of the pain or tee tree oil. Win-win.
The Liberty x Maria Tash Piercing Pop-up is at Liberty from February 19th – 28th. To book an appointment call +44 (0)207 573 9858 or email mariatashbookings@liberty.co.uk. Walk-ins are also welcome.