Vicki Murdock's jewellery
Meet Vicki, the model-turned-print-designer who admits all she really wanted to do was draw "cute things"! We caught up with Vicky to rummage through her jewellery box and talk about her obsession for collecting, her cats and colourful prints.
Walking into Vicky Murdoch's east London home, is like walking into one of the vibrant worlds she creates across the surface of her playful silks. Meticulously curated, a jungle of plants hangs across a balcony wall, whilst another is completely covered in a montage of vintage frames. 'My brand is all about bringing fun into your wardrobe and home' says Vicki who moved to London 15 years to pursue a modelling career. After five years of travelling all over the world for work, she enrolled at Chelsea art college. Obsessed with drawing nature, due to her Scottish roots, she created a rich illustrative language which makes up the unique identity of the brand Silken Favours, which she launched in 2011.Snapped up immediately by Liberty of London, the much loved silks span fashion and home wear.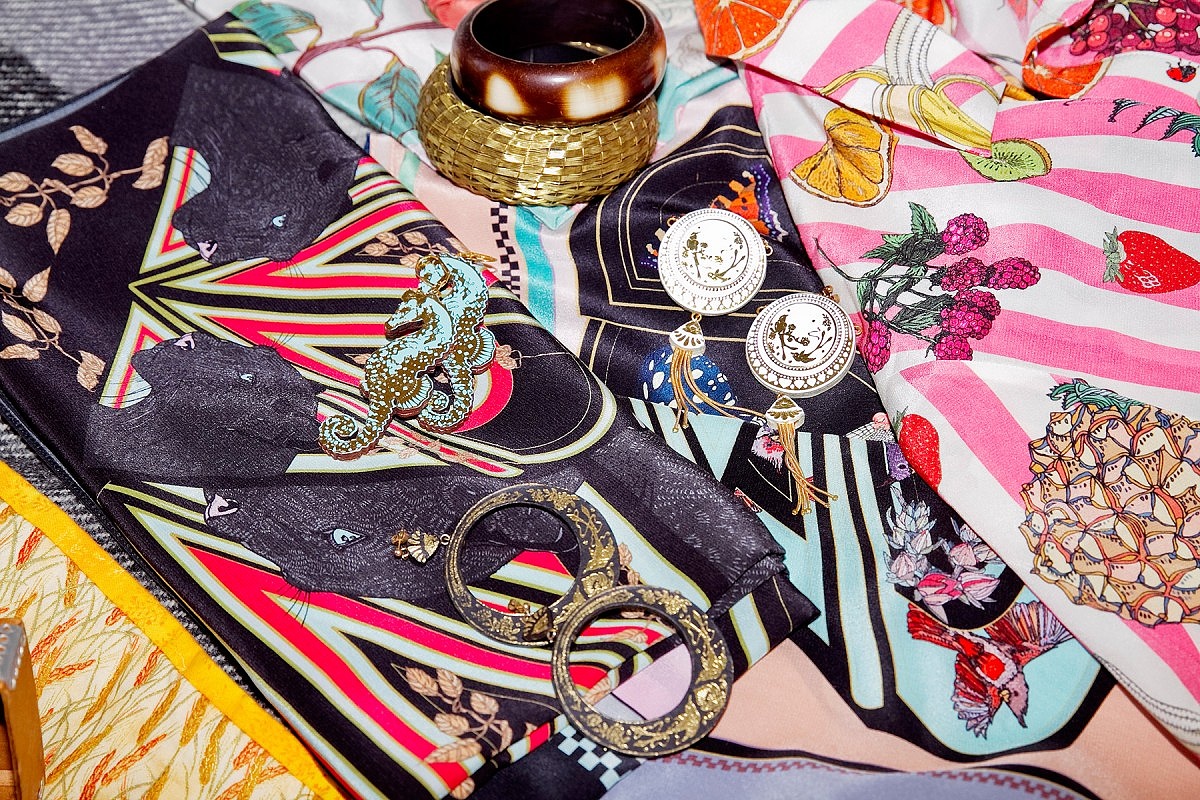 How did you get into designing silks?
I studied textiles at Chelsea art school where I specialised in digital print. When I finished I freelanced creating prints for lots of different brands. I have always been obsessed by making personal presents for people such as a CD or a special drawing, so I decided to make some bespoke scarves for some of my friends. The idea was to give them box that contained a silk scarf that was covered with a print made up of all their favourite things. The idea was brilliant. I started getting lots of requests from people who wanted to buy them for loved ones and Silken Favours was born.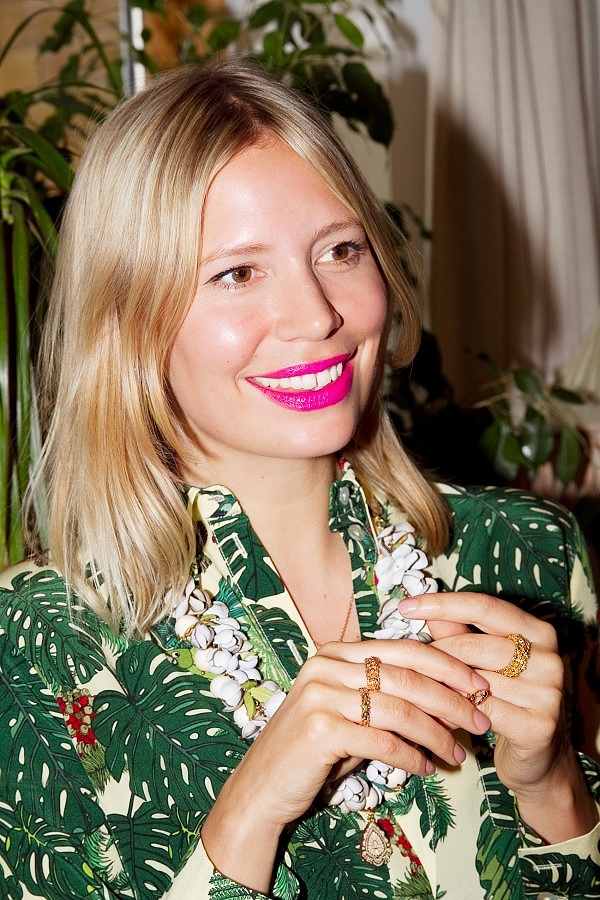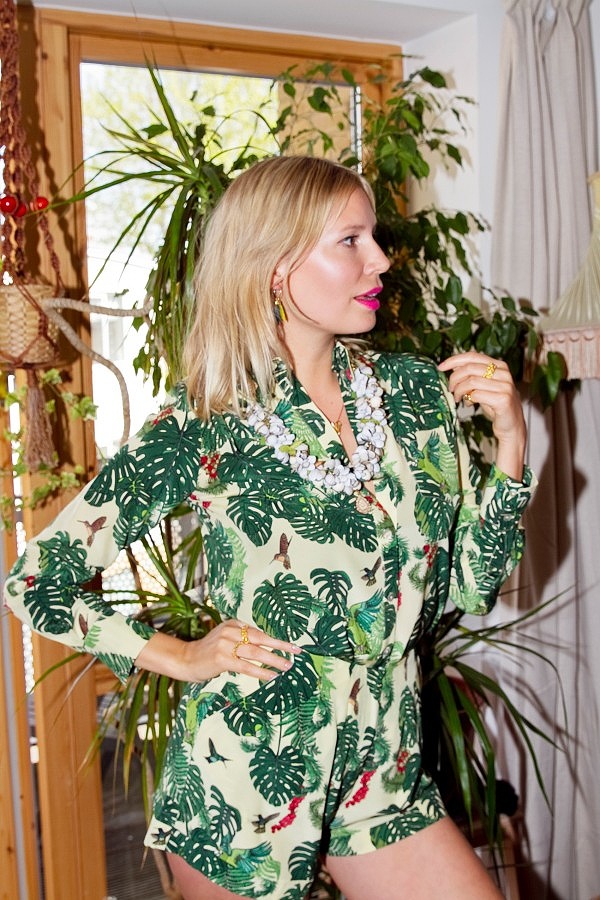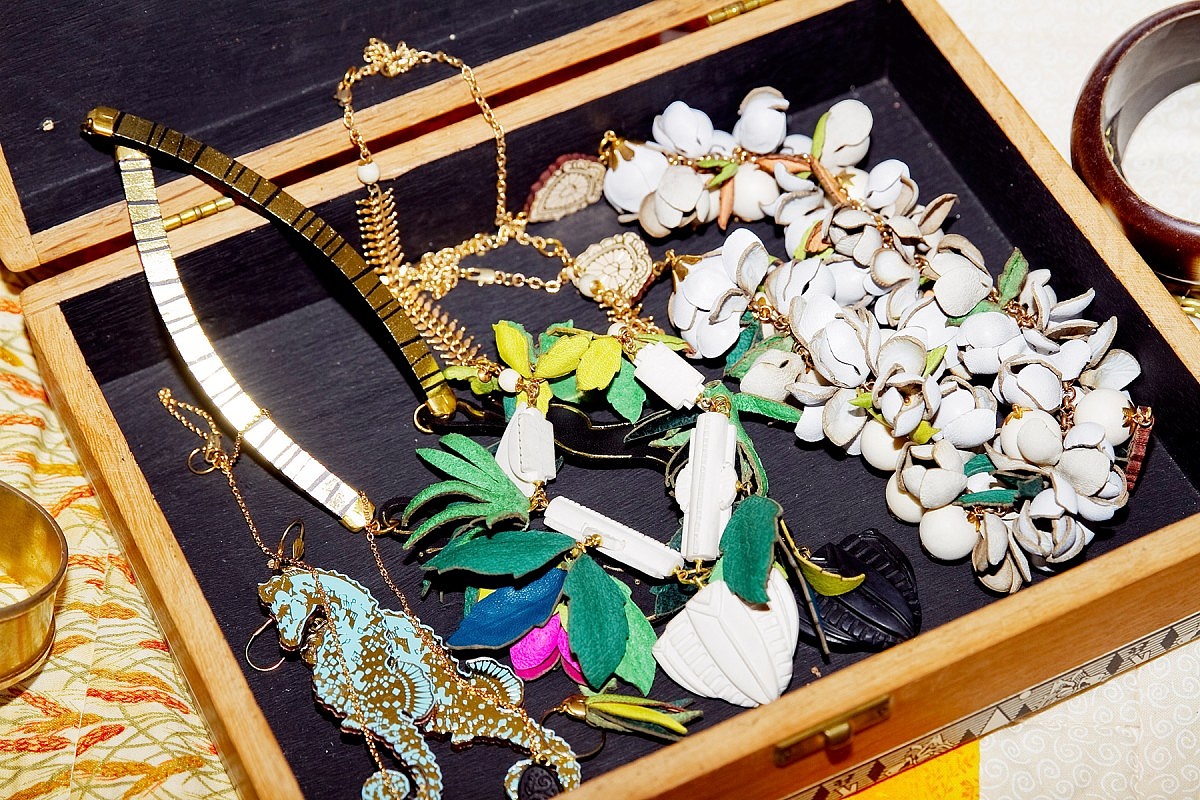 How did this develop into the brand today?
I knew the bespoke concept wouldn't appeal to stockists so I designed a collection of scarves in the same style taking animals as a motif. I took the collection to Liberty four years ago and they took it on the spot. I had no idea what I was doing. Suddenly I was stocked at Liberty, with a full collection of scarves! Since then the brand has grown really organically. I had so much waste fabric that I decided to use it to create cushions and shirts which now sell alongside the scarves. The cushions are particularly popular. Who doesn't want a giant pineapple for their living room?!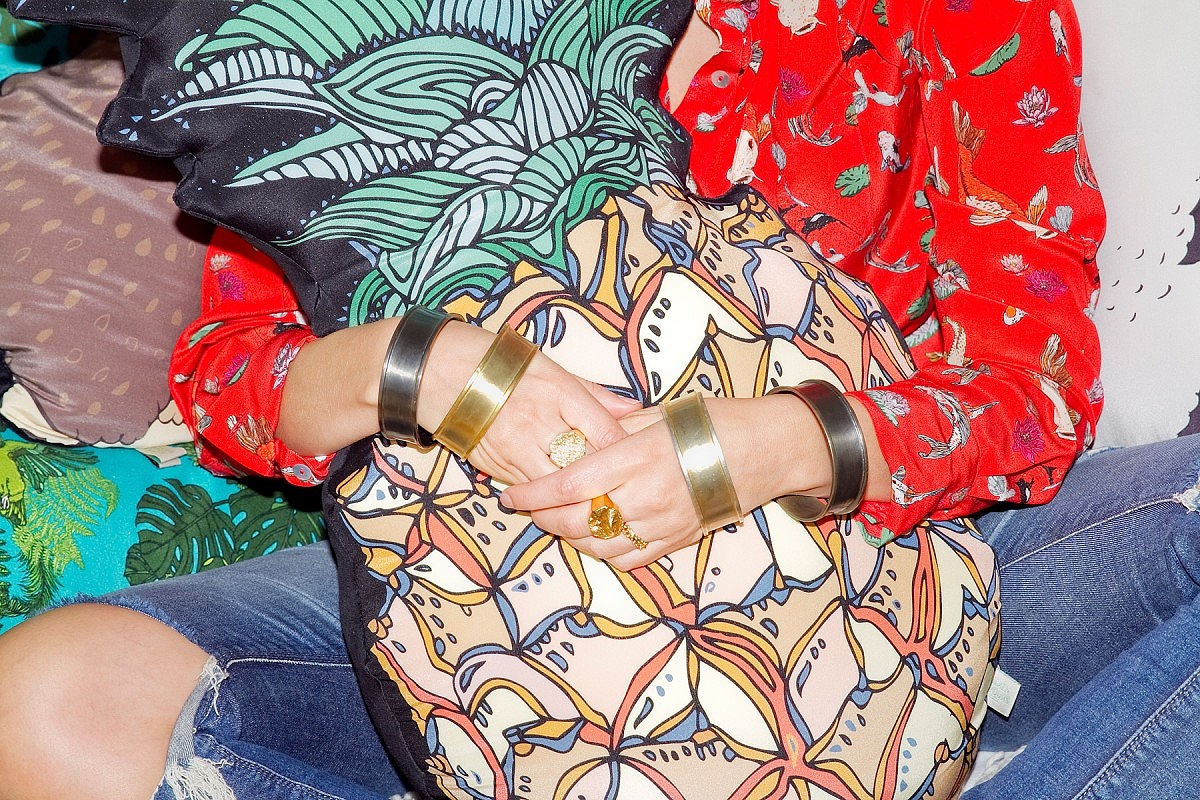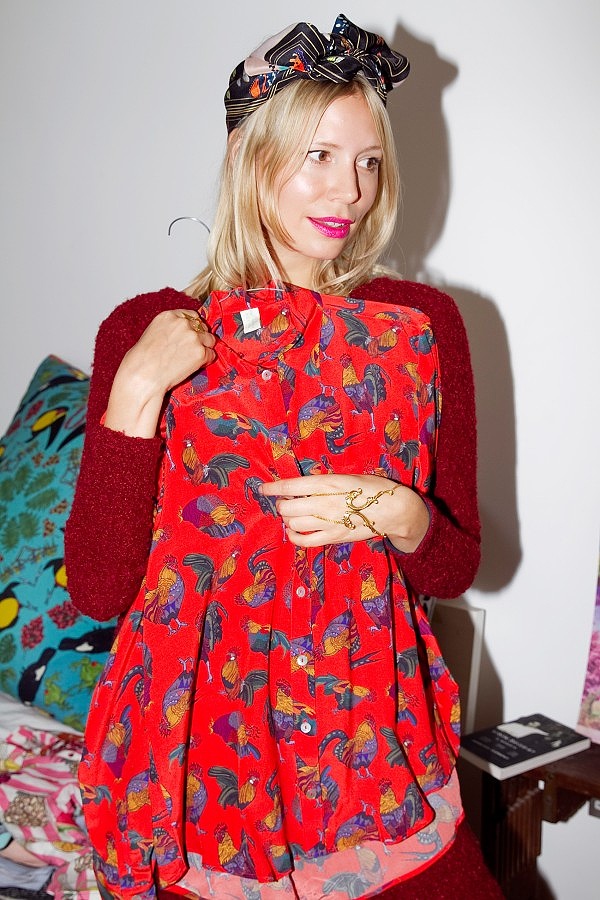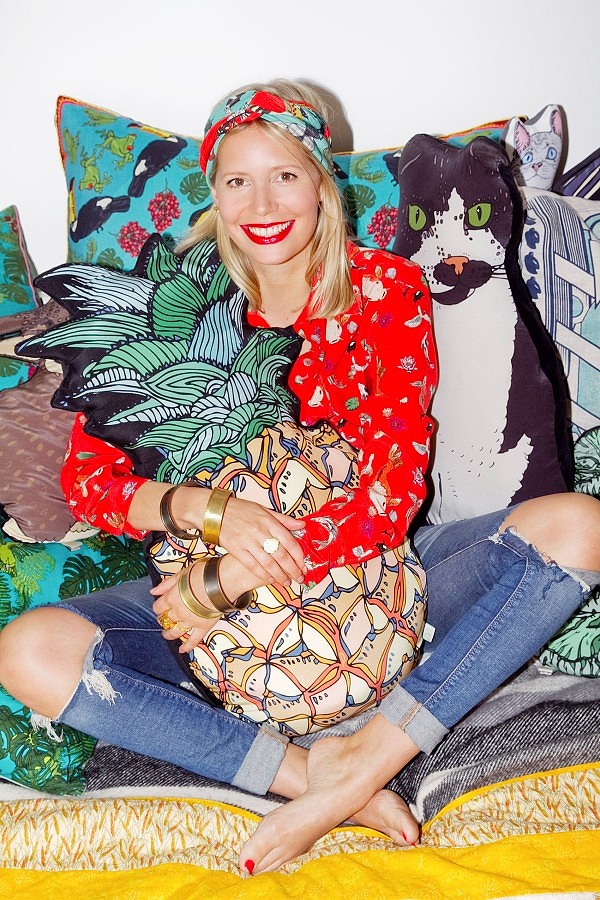 What is the process?
I hand draw everything with a very fine black pen. Every tiny illustration is drawn individually and then scanned into photoshop to be made into a design. The fabric is then printed digitally here in the UK.
Where did your passion for animals come from?
Growing up in Scotland. We went on a lot of Caravan holidays so I have always been obsessed by wildlife and nature. In spring the countryside looks so beautiful. When the blossom comes out or you see animals and birds in the wild it is almost euphoric. I also had two cats when I was little called Calvin and Klein.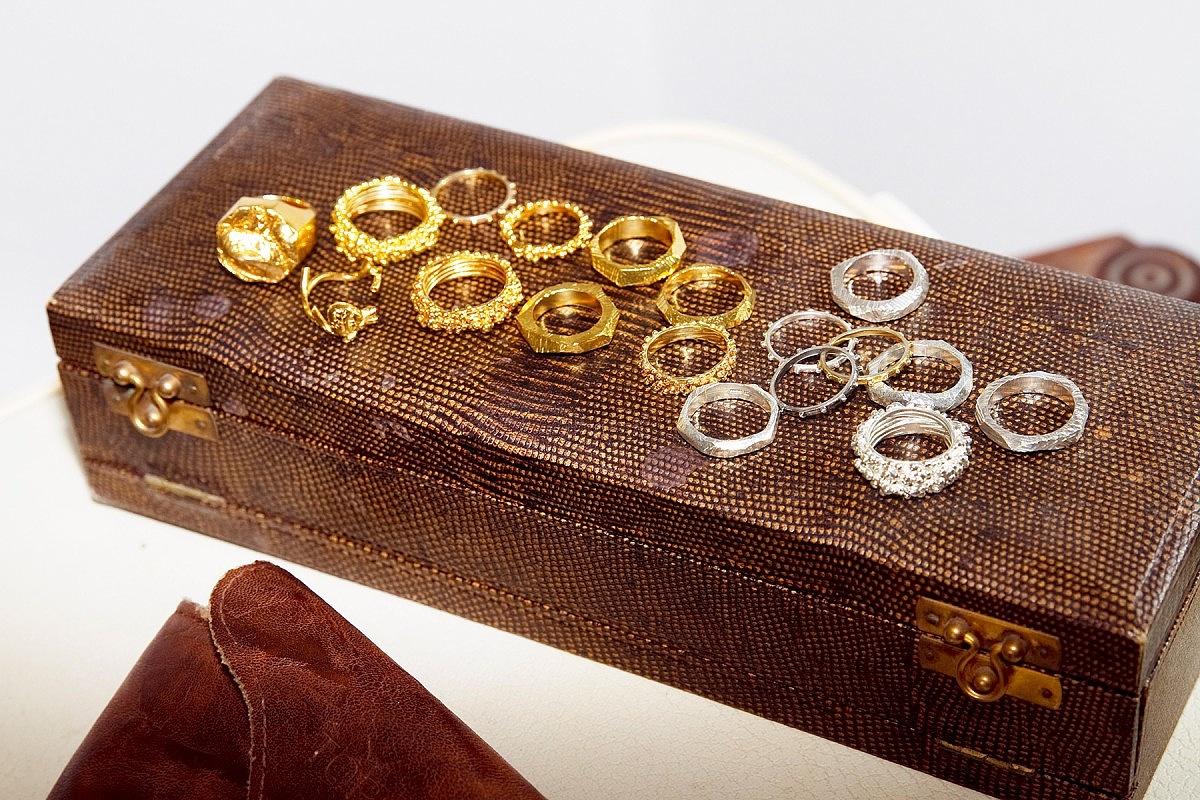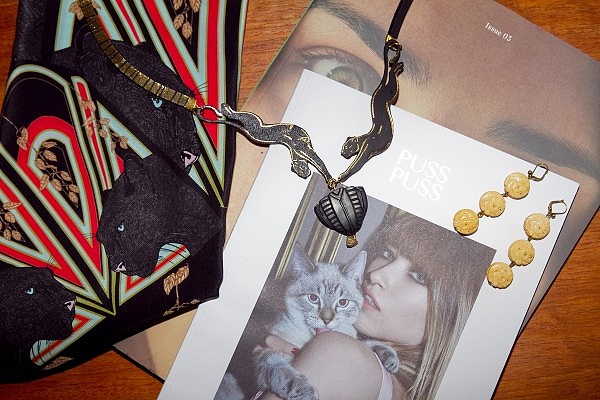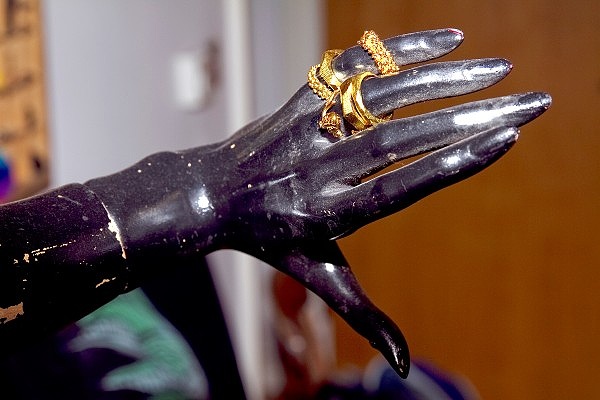 Calvin and Klein inspired your final year project at Chelsea - tell us more about that.
I got hold of a beautiful 1960's Cheltenham caravan and decorated the interior with 42 different cat prints. I designed everything from the flooring, upholstery and wallpaper, to the dresses that hung in the wardrobe. I got my friend to make me a massive cat mask and dressed up as 'The Cat Lady!' I had great fun taking it to festivals with my friends that summer before it was stolen.
Have you always loved jewellery?
Yes. I'm a Magpie. I'm attracted to anything that shines. I am also obsessed with collecting. Alongside jewellery, I have a massive stamp collection and a large collection of brown crookery.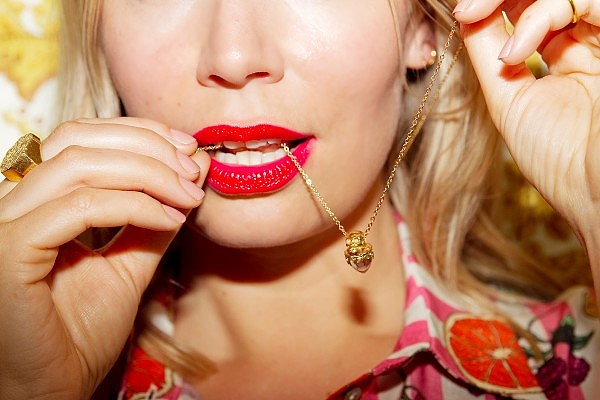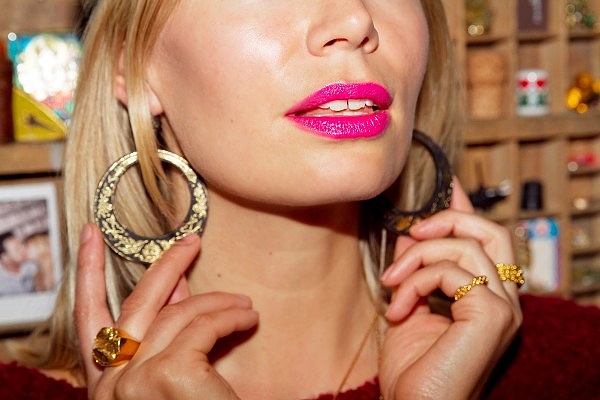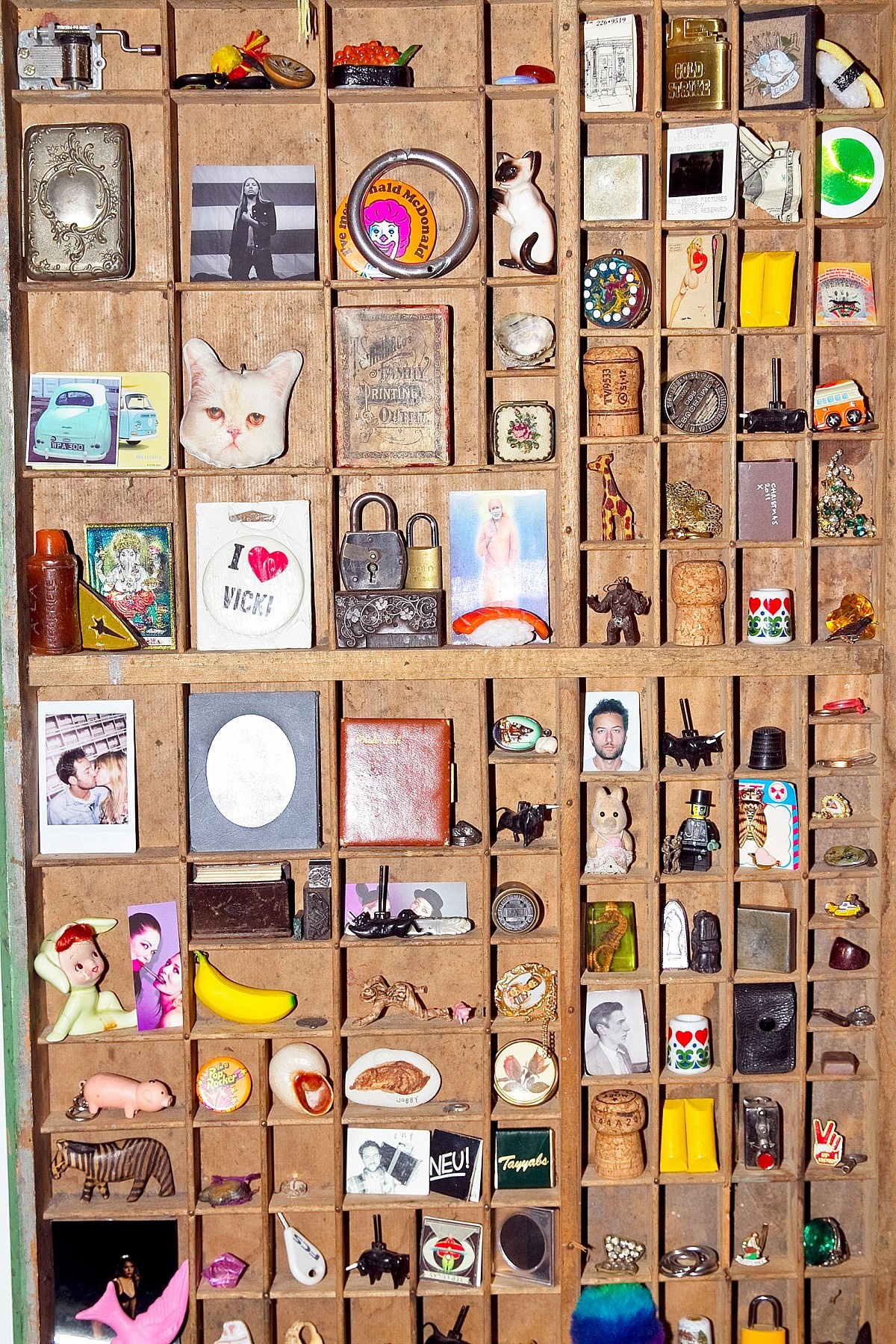 What is your earliest memory of jewellery?
I have a box which contains a tiny elephant bracelet and a child's victorian heart ring. They were given to me by my mum and dad when I was a child and I've treasured them all my life. I remember thinking they were the most precious things in the world. I keep them really safe with a note from the tooth fairy.
How would you describe the jewellery you wear?
I change my style a lot. It's fun to mix things up. I will either pile it all on or wear one statement piece. A lot of the je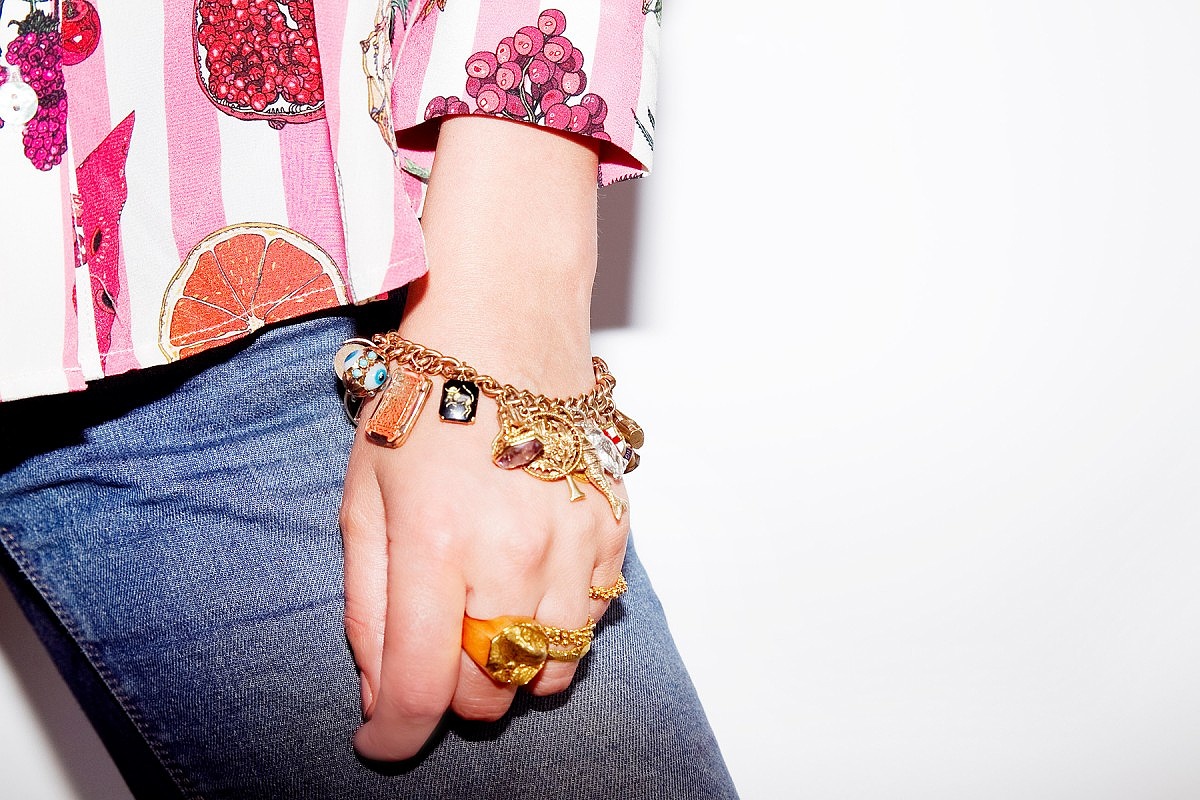 What is the most special piece that has been handed down to you?
My grandmothers charm bracelet that I was given last year when she passed away (above) . She collected the charms all her life. It tells her whole story. It's holds my grandfathers wedding ring, a tiny set of golf clubs because she loved watching the golf and a London charm which she got when I moved here. I wear it for luck. It makes me feel sophisticated, rich and swanky. It creates a wonderful sound when it jingles. If I want to feel confident, I put it on.
Do you have any favourite jewellery designers?
One of my best friends Rosita Bonita, makes really statement pieces out of leather that are embossed with gold. They are really clever designs and they compliment my prints well. I also love east London based brand Odette, who created this amazing hand piece and skull necklace (above) She creates pieces inspired by both industry and nature which really appeals to me
Are there an pieces you are currently lusting after?
Emma Franklin creates the most amazing bespoke pieces I have ever seen.
What is you top jewellery-style tip?
For a special occasion; slicked back hair, sexy little dress and killer statement earrings.