A few months ago we met with London-based (born & bred) jewellery designer Stephen Einhorn in his Islington studio to have a sneak preview of his latest collection which was in the process of being made. Designer to the stars (David Gandy, Eva Green and Johnny Depp to name a few) he creates contemporary designs with a rock n' roll edge. Here he talks to us about his latest collection, designing for Hollywood and why he favours working on rings to Professor Weeto campaigns.
Tell us how you got into working in the jewellery industry?
I have always made stuff. I've done lots of things previously from mould making and electroforming to apparel – my wife and I made clothes and belts in funkier times! I have been in this building ever since I started my own model-making company years ago now!
Tell us a bit more about that.
We made industrial prototypes and models for films and advertising; this was pre-computer so everything had to be made by hand. We worked on really exciting big-budget projects which meant we could experiment with unusual materials but it was really demanding so we worked 24/7. The night before the deadline for a particularly challenging Professor Weeto campaign, the model I was working on fell apart. Instead of trying to mend it, I took an axe to it! At that moment I realised I had to give it up. It had become too intense and I had lost the creative freedom you have when you work for yourself.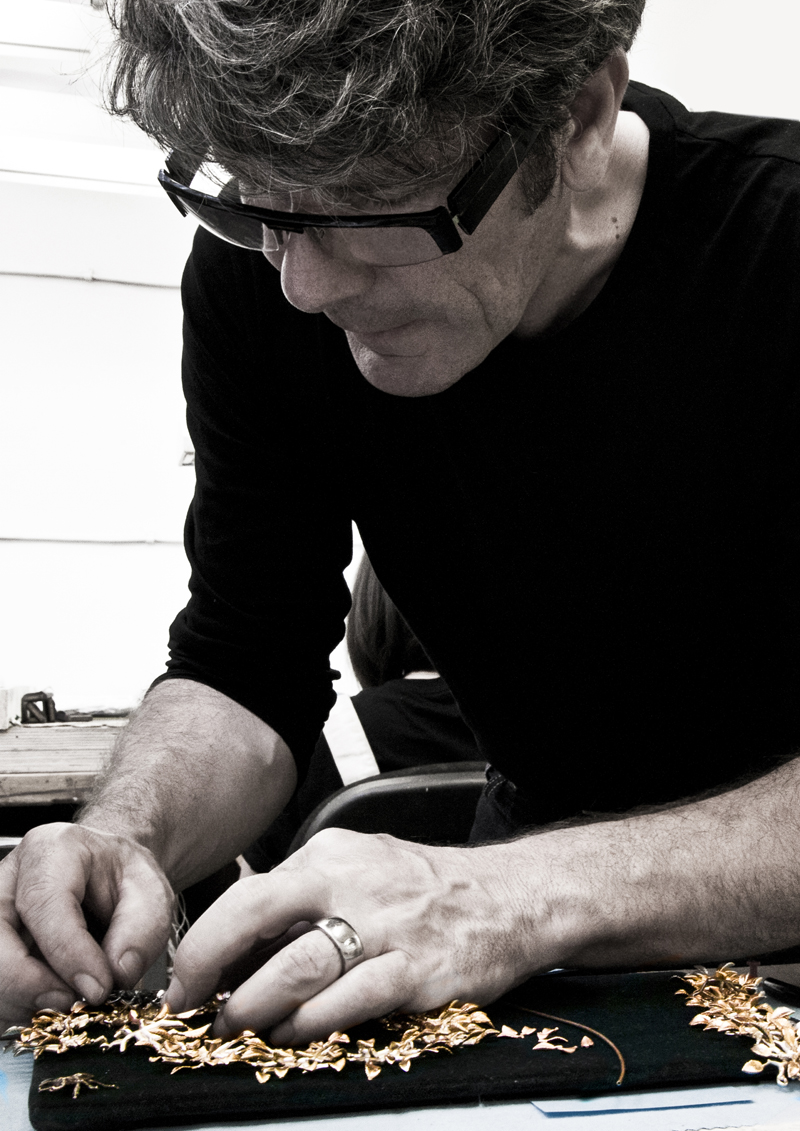 How did it lead on to where you are today?
At first it wasn't just jewellery. I made a bird feeder, a stool that looked like an over sized nail, a spiral corkscrew, four rings and a pair of skull and cross-bone taps. At the same time I was doing small promotional runs and wholesale products for companies like Dell, Paperchase, Paul Smith and Bathing Ape and we had a retail outlet in John Lewis. It was so diverse and I fast realised it wasn't going to be sustainable as I was working on huge projects from this studio and paying London salaries and overheads. Apart from designing and making, which I love – I realised that having a British studio, where I could work and train a team of people was the most important thing to me so I withdrew from everything else and decided to concentrate on our own jewellery brand.
Was it an easy transition?
It was a slow start because I had come from a very money-rich environment of model making. I also suddenly had to think about making things that would last – it didn't just need to be finished on one side and look good in a photograph.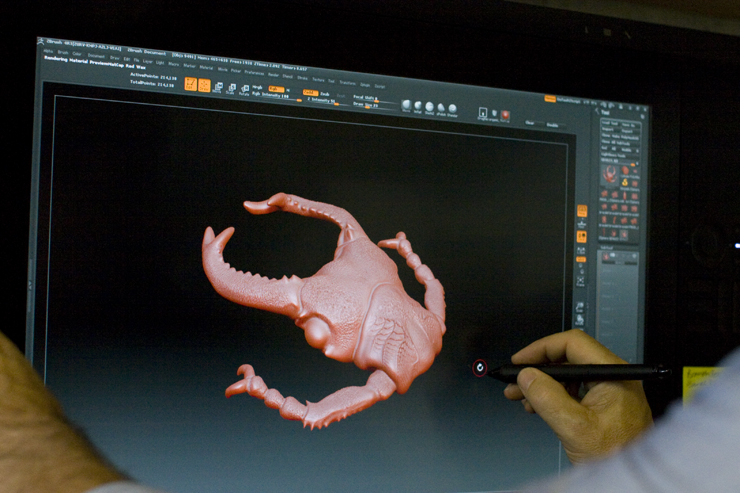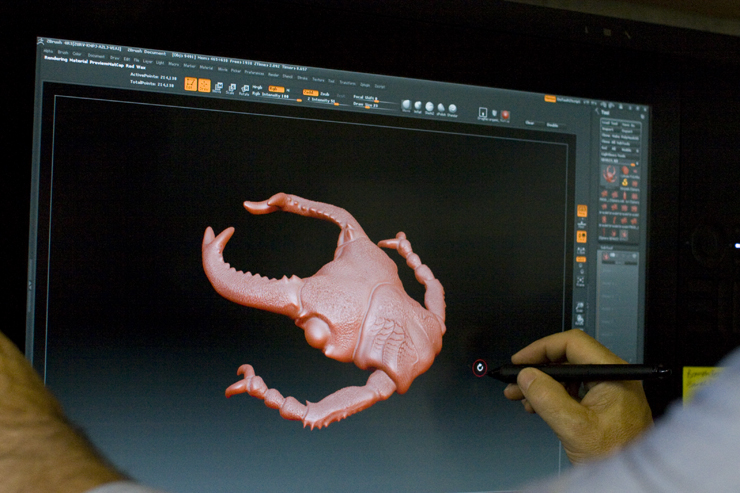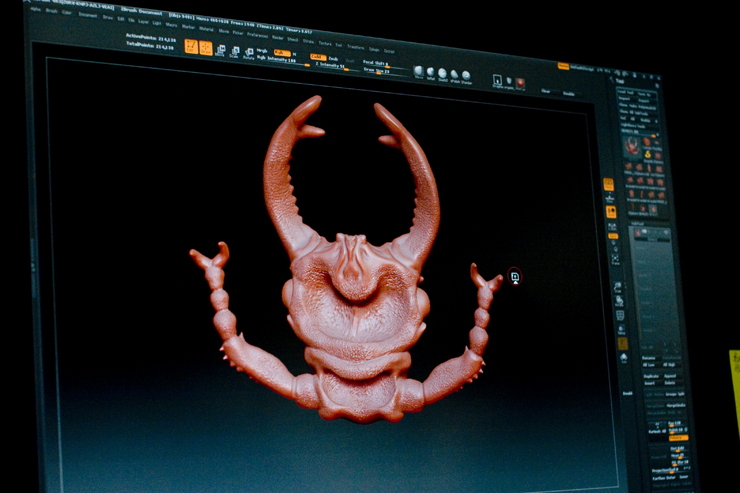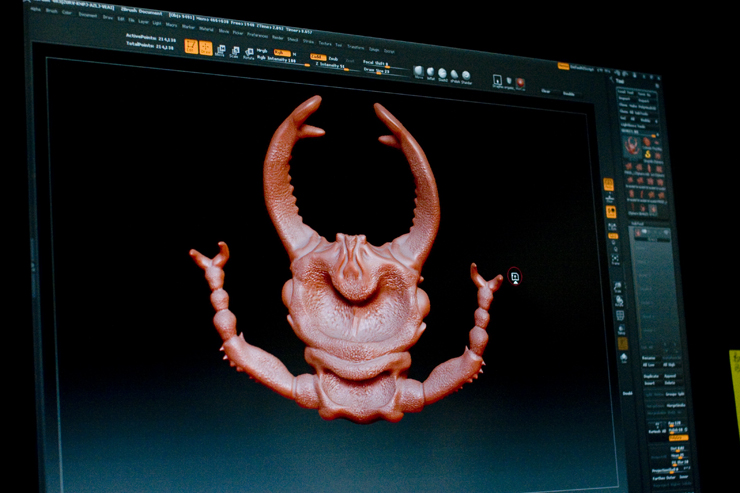 You use CAD to design these days why is that?
Computer aided design has allowed me to carry on designing whilst I run the business. I used to sculpt the prototypes by hand which is very time consuming. I use a computer sculpting program which is much more fluid than early CAD programs which is good as you want to avoid your designs being restricted or led by the technology. The other advantage is you can email the file to a client and show them exactly what a piece is going to look like. I remember the fax machine arriving and think WOAH! Now if I'm creating work for people abroad I can just whiz it over and it looks real – I love it.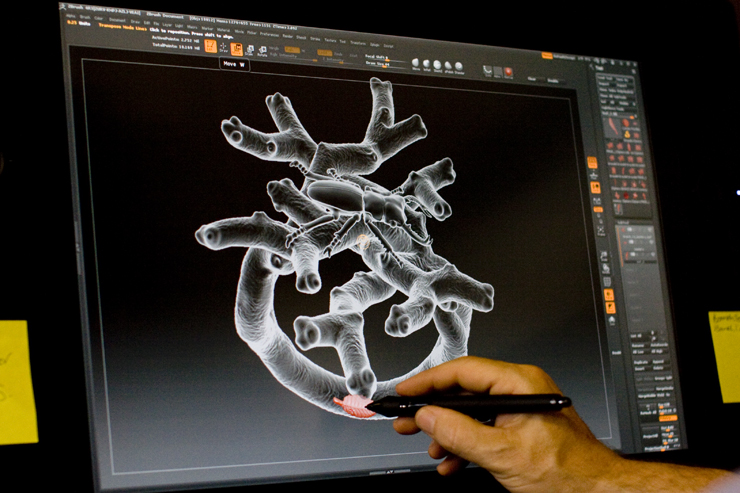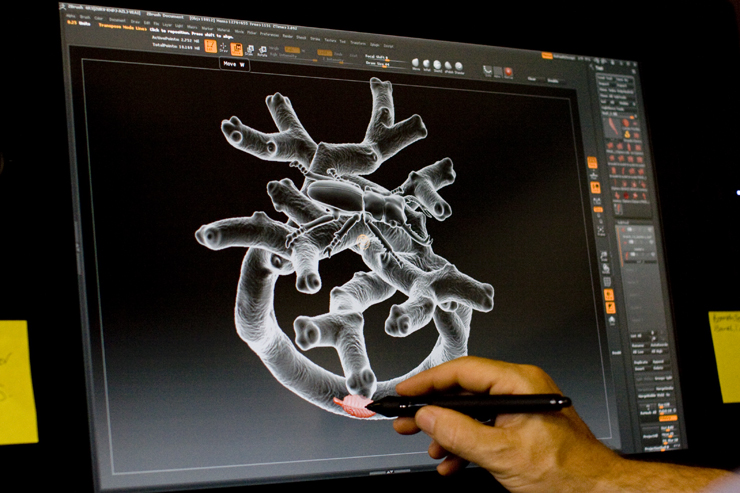 Some people say that an old craft is dying due to the introduction of CAD. What are your thoughts?
I don't think it is dying if you have the in-house studio set-up that we have here. Yes, if you are designing stuff on CAD and just shipping it off to Thailand then I think craft probably is dying but here we use a real mix of old and new skills. All the old skills like stone setting are still done here; in this studio.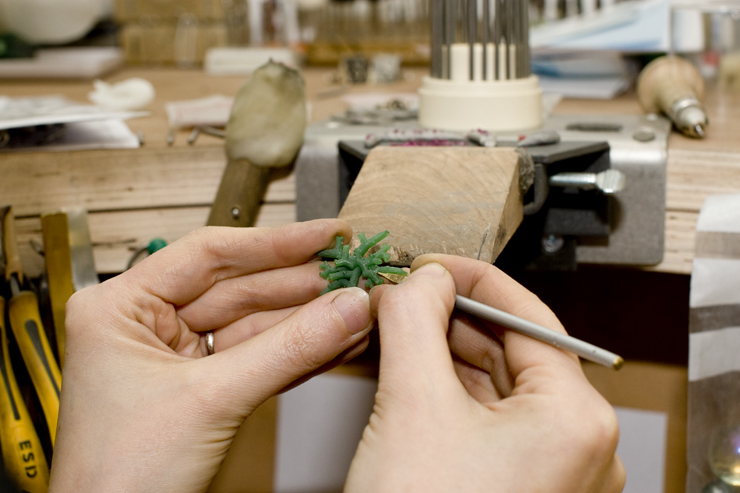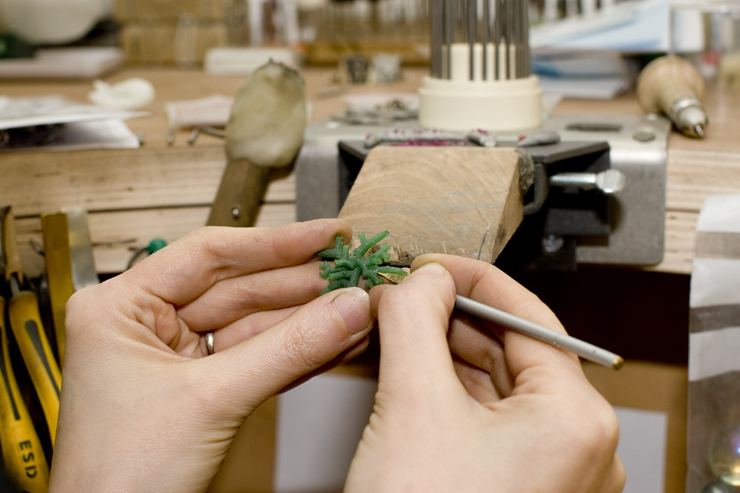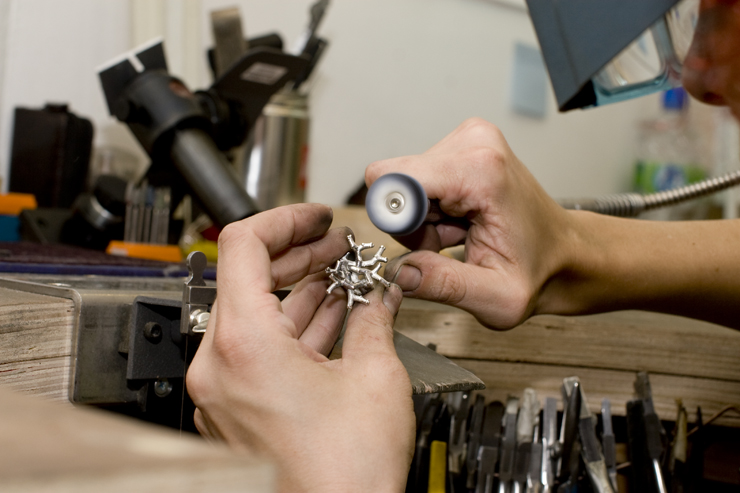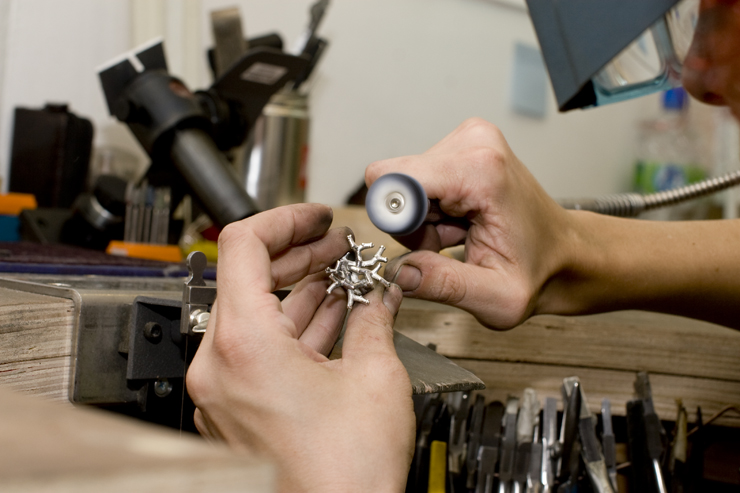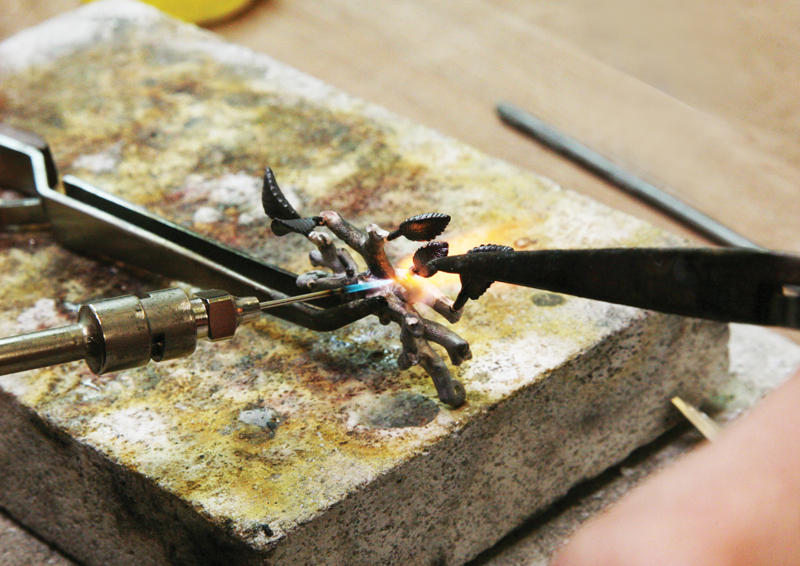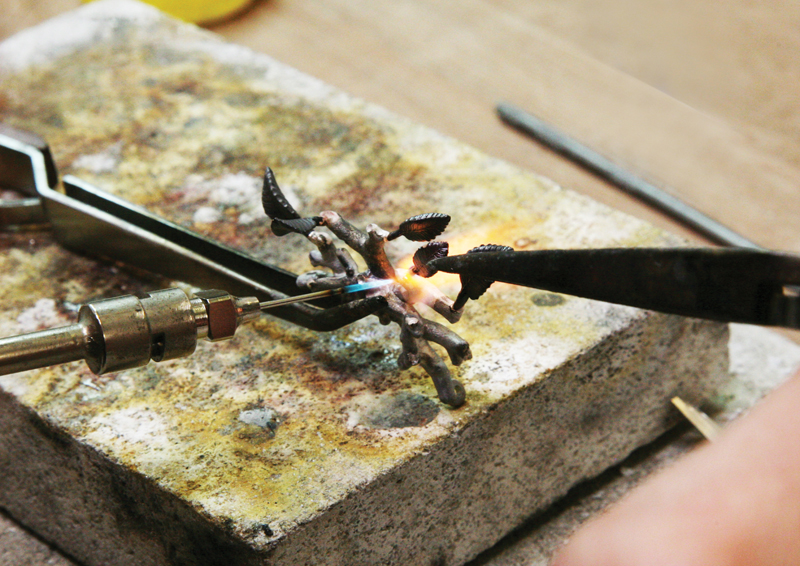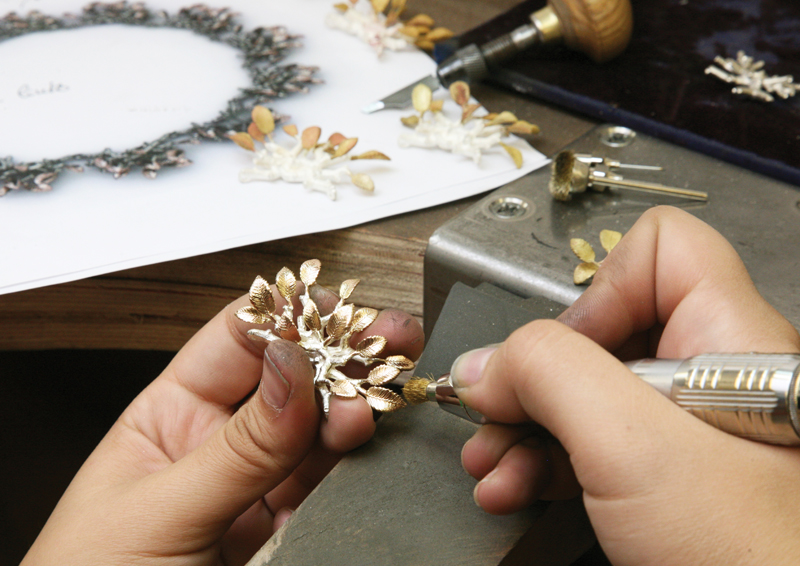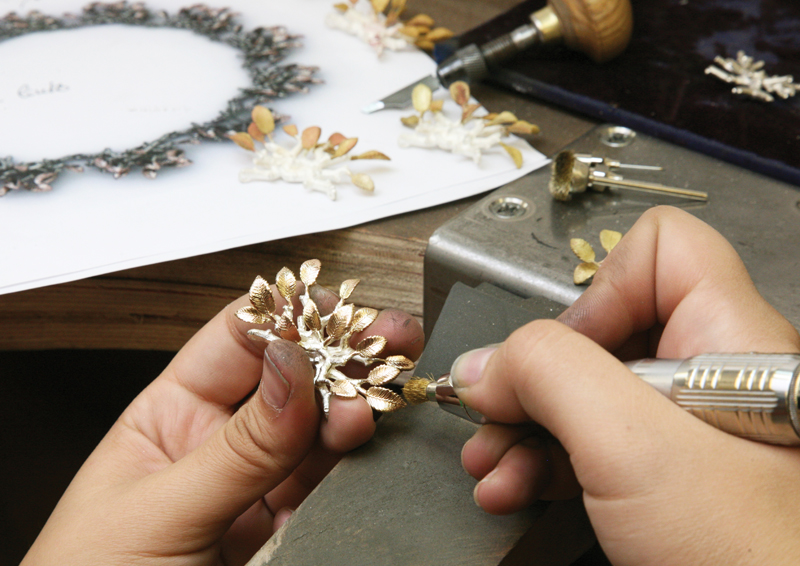 Can you give us an example of old and new skills being use together?
Last year we created a neckpiece for the film Snow White and the Huntsmen. It was made up of lots of individual components that I sculpted digitally and was able to scale to varying sizes. It was a lovely process because we had to assemble it using a lot of model making techniques which the workshop weren't aware of. It was nice for me to be able to pass that knowledge on.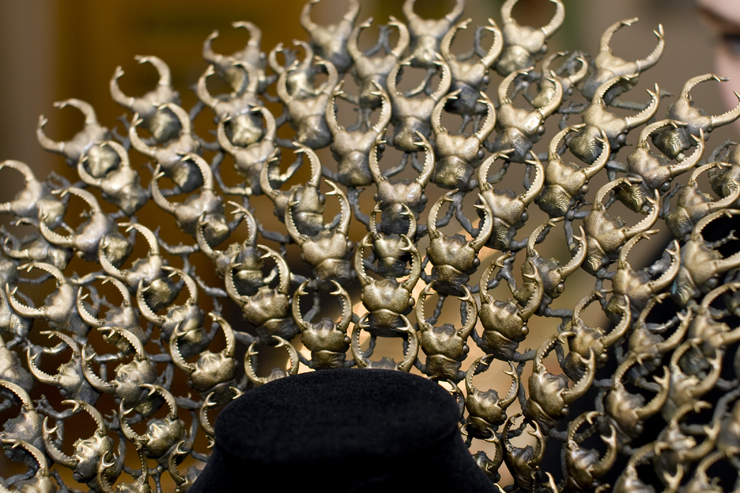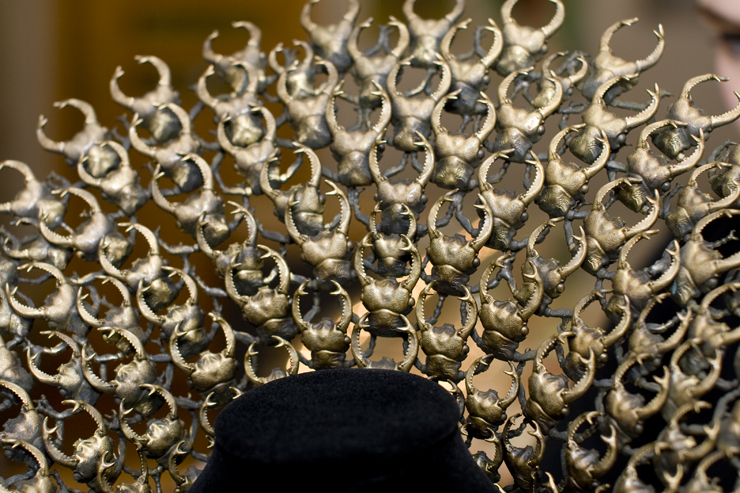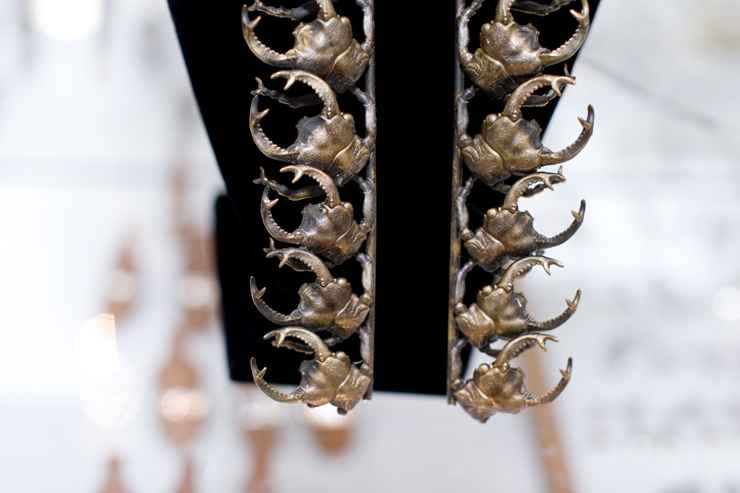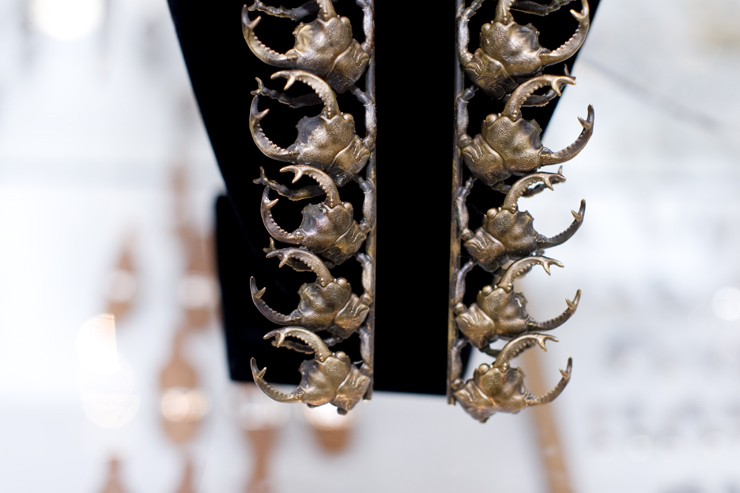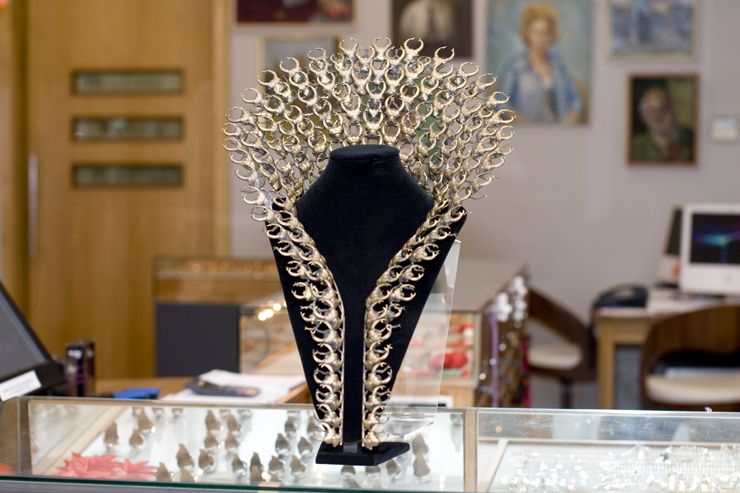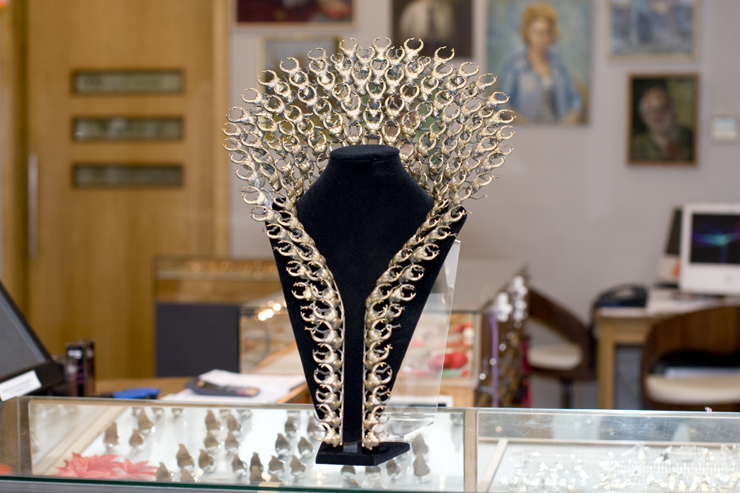 Tell us about how the collaboration came about?
We were commissioned to create a piece for Johnny Depp's Barnabas Collins character in Tim Burton's film Dark Shadows. It was really successful and whilst on the film set I met Colleen Atwood, the costume designer who does all Tim Burton's films. She was also working on Snow White at the time and commissioned me to create a collar for Charlize Theron who was playing the evil queen. Colleen is great – I really like her. She came in to the studio with a scribbled fashion drawing with a and a box of beetles saying 'I want a collar based on bugs.'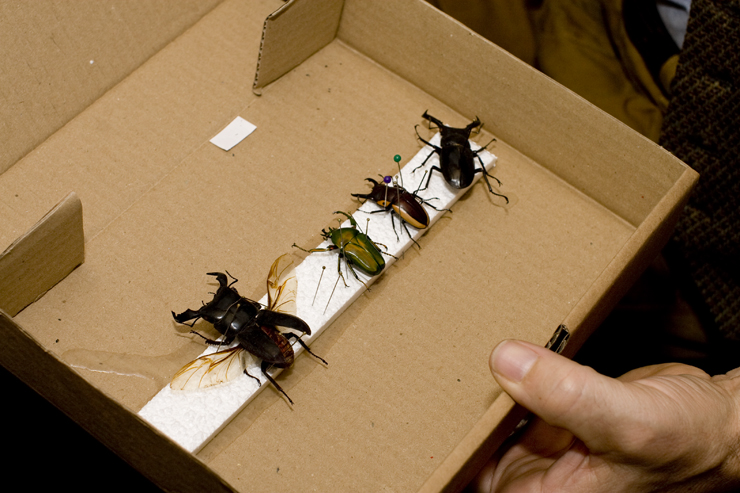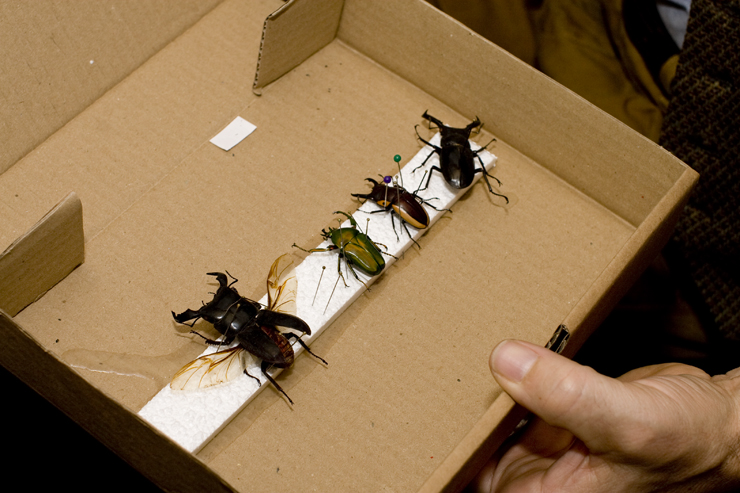 What is the highlight of working on a project like that?
Working with another bunch of creatives is great – it's very liberating. Stepping out of our comfort zone of making traditional rings and bracelets was very inspiring. It led me to create our latest collection 'beneath the leaves' as I thought that the bug forms lent themselves really well to jewellery.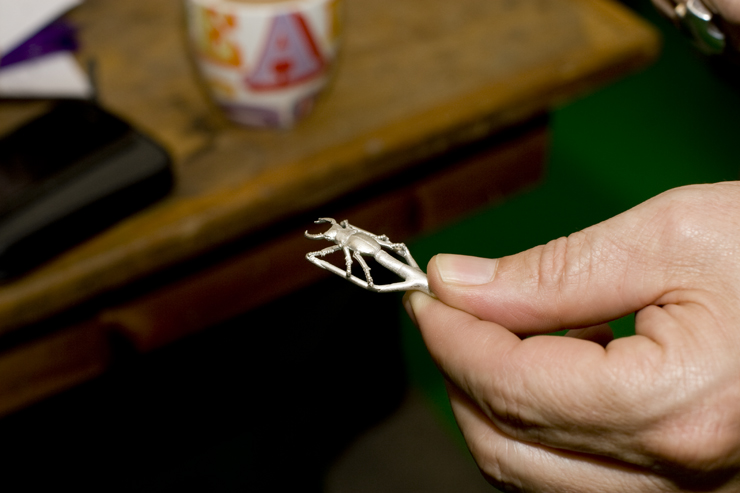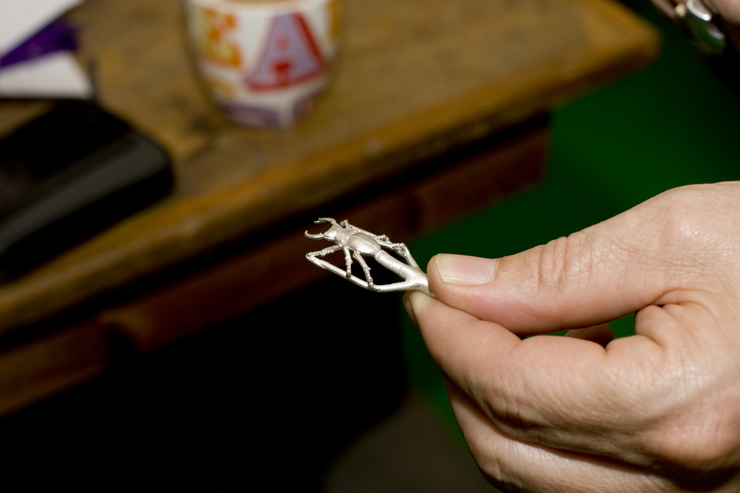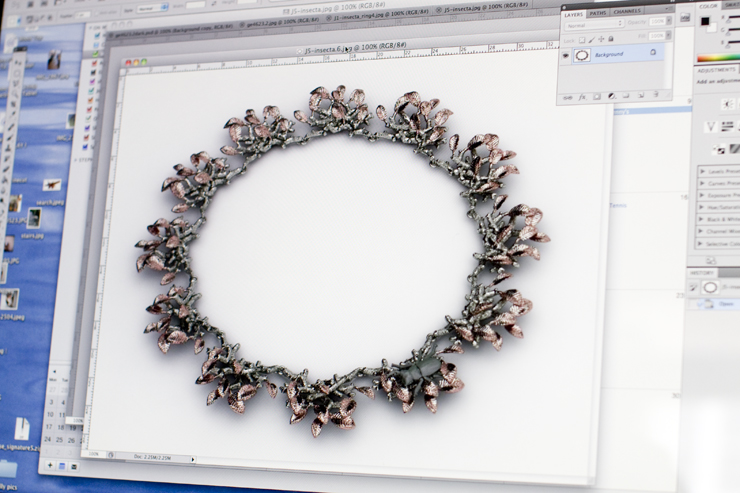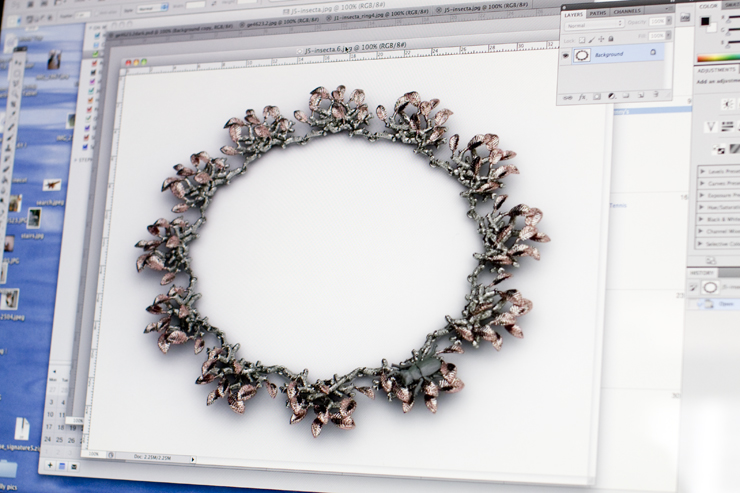 How have you carried on with the beetle theme?
We had to make it less extravagant as it has got to be commercial but I wanted to have some fun with it so I have created some pretty over the top pieces. I have used three elements to build up the collection, a branch, little leaves and the beetle. It is inspired by our great British woodlands and celebrates the dark and glamorous appeal of the incredible stag beetle and the natural beauty and history of the chestnut tree.