Roja Dove stands alone as the world's most innovative fragrance creative and the industry's most respected perfumer. Recently asked to act as international ambassador for the 'GREAT Britain campaign' alongside ambassadors such as Vivienne Westwood, Victoria Beckham and Kate Moss he told us of his 'pride in being British'. An advocate for all that sparkles from the crystal buttons he sews onto every shirt, to his trademark crystal perfume-bottle caps, he not surprisingly also has a penchant for diamonds – a passion he inherited from his beloved mother. Following the launch of his latest fragrances Enigma Parfum and Enigma pour Homme we met Roja in his pied-a-terre to get a glimpse at the jewellery he is rarely seen without. Claiming jewellery to be 'the most personal expression of one's self' Roja shared the intimate stories that surround his collection, the inspiration behind the brand and the difference between finding the perfect piece of jewellery as opposed to the perfect scent.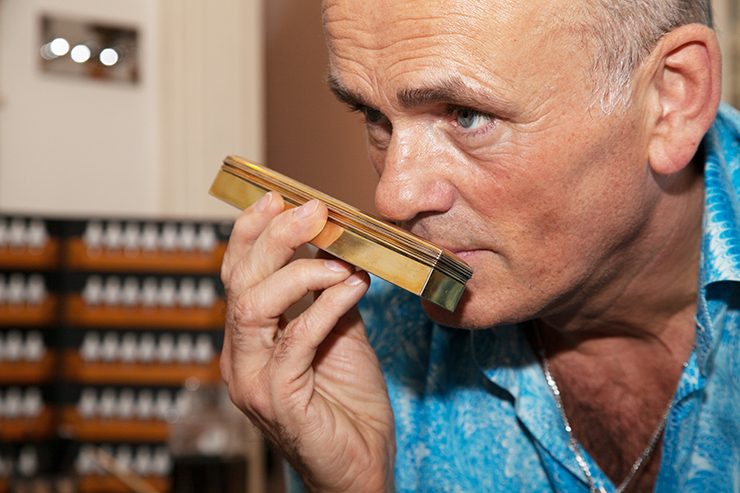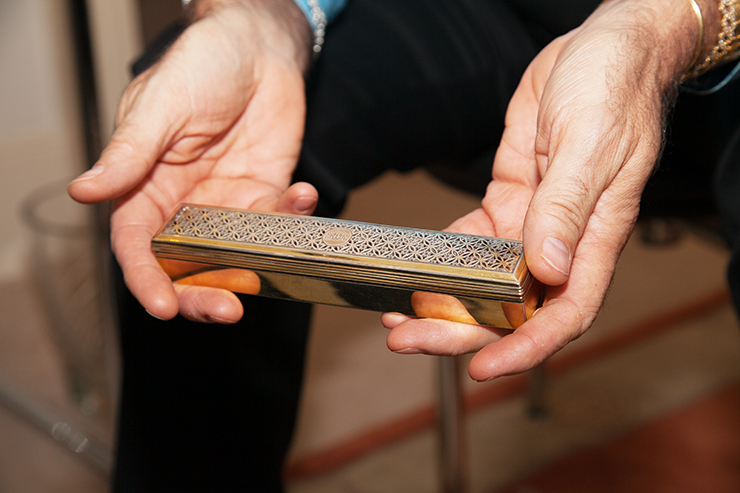 Where did your passion for perfume come from?
I fell in love with perfume when I was six or seven years old when my mother came and gave me a kiss goodnight. It was that simple. She was going out for dinner and I just remember this wonderful scent, her face powder and this image of a gold lame dress, back-lit in the doorway of my room. I think it was at that moment that I was put on this path and I'm lucky because I walk a path I know I was born to live. Of course I had no idea that there were such things as perfumers but I used to spend all my pocket-money on little bottles of perfume.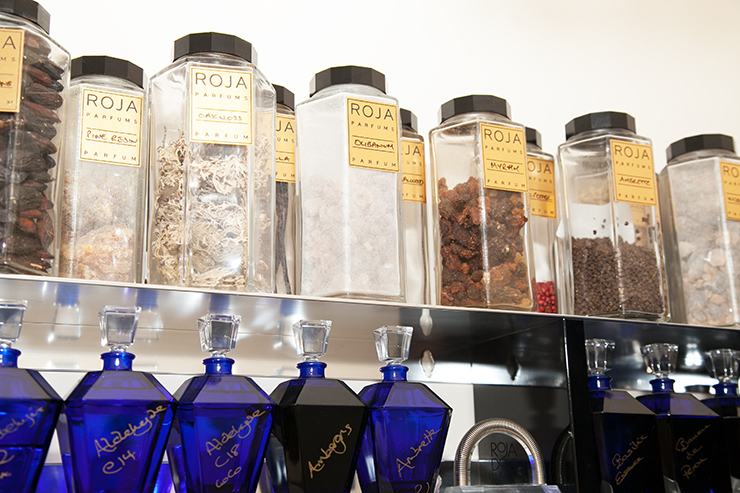 How did you break into the world of perfumery?
I was offered a job by Guerlain when it was a family house owned by three cousins. At that time Guerlain was like the Vatican of perfumery; being part of it opened every door in the industry. I worked with Jean Paul Guerlain who was the greatest perfumer working and living at the time. In 2001 I started my own business; I opened the first haute perfumery in the world alongside creating bespoke perfumes for my customers. In 2011 I launched the Roja Parfums range. We don't advertise; we spend the money on what is in the bottle. Some of the raw materials I use cost ten times the price of gold!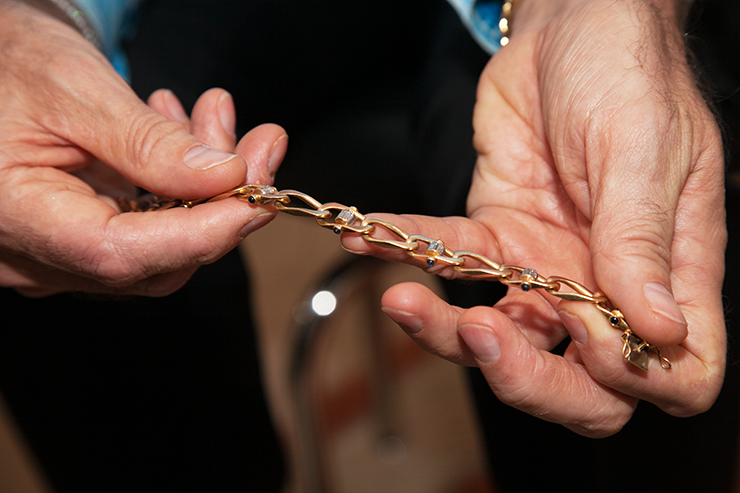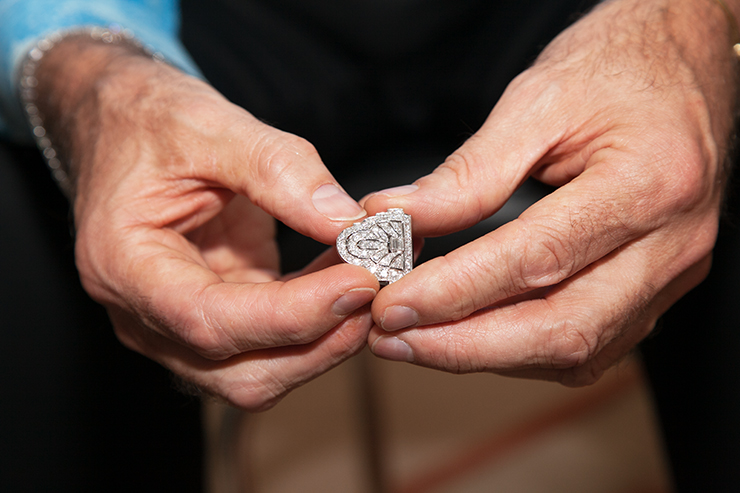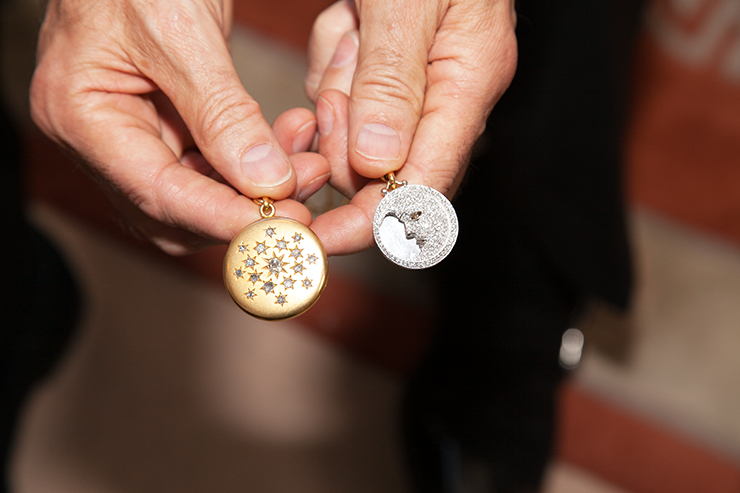 When did you first fall in love with jewellery?
My mother also influenced my love of jewellery. She had the most enormous collection — a few pieces of which I now own. When she went jewellery shopping she used to take me with her and one of the first things I learnt from her was how to look at diamonds. She used to say 'how many colours can you see darling?' When my mother died I saw a diamond ring with spectacular stones. It was something I knew she would have loved – exactly what she would have bought had we been together and so I bought the ring in her memory.
How many colours can you see?
Under the right light they are the most brilliant and the most dancing stones I own.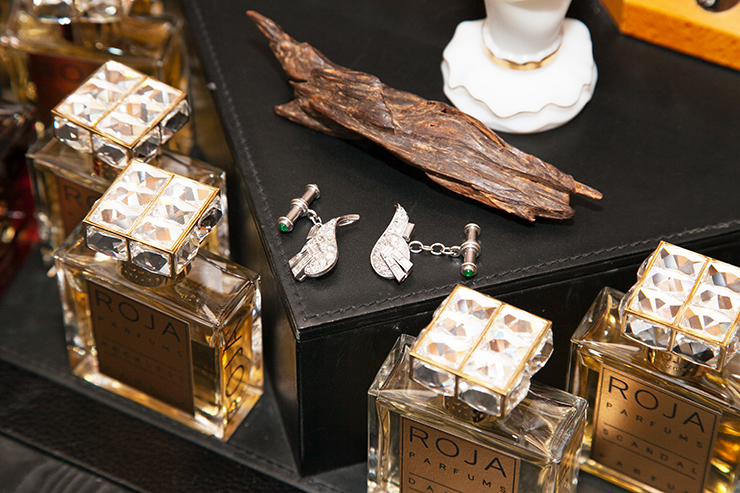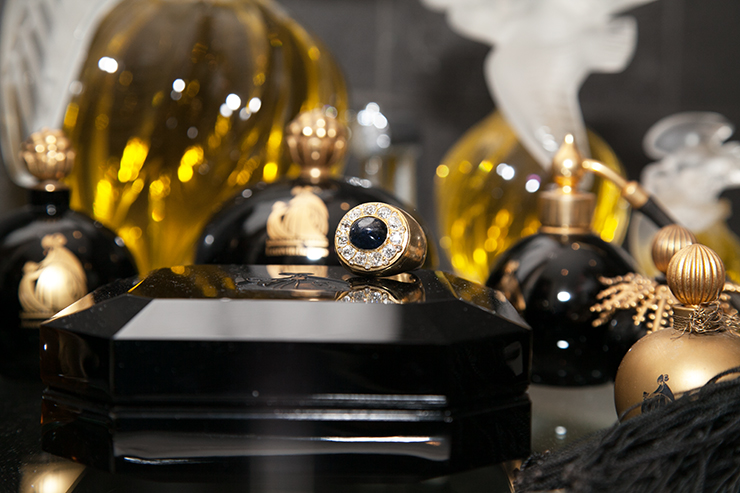 Tell us about the jewellery you inherited from your mother?
I have a pair of cufflinks made from earrings that my mother would have worn for lunch or a casual supper. For a more formal occasion she attached a spray of diamonds that clipped in. I also have a sapphire and diamond ring that is very special to me as it was the clasp from her pearl necklace that could also be worn as a brooch. I was sitting looking at it and decided that it should be a ring. What the jeweller managed to do is astonishing; he has been so empathetic towards the shape of the original piece of jewellery. I love this piece and on it feels quite papal!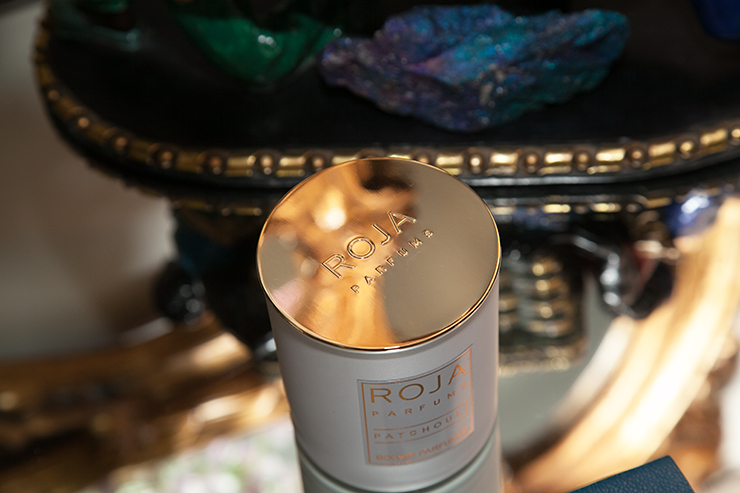 Does your love of jewellery filter into your perfumes?
The scent reckless was inspired by a line I saw in a book describing a woman who said 'reckless maybe, foolish never'. I imagined this woman who always is impulsive, always followed her heart, took risks but never allowed herself harm. I had this idea of her sitting in a theatre in a half-light with a wonderful low neckline with a huge shimmering diamond necklace. I translated this by using an aldehyde that makes all the other ingredients shimmer. There is also a very strong reference to my love of jewellery in the gold against white branding for Roja Parfums which comes from my love of yellow gold.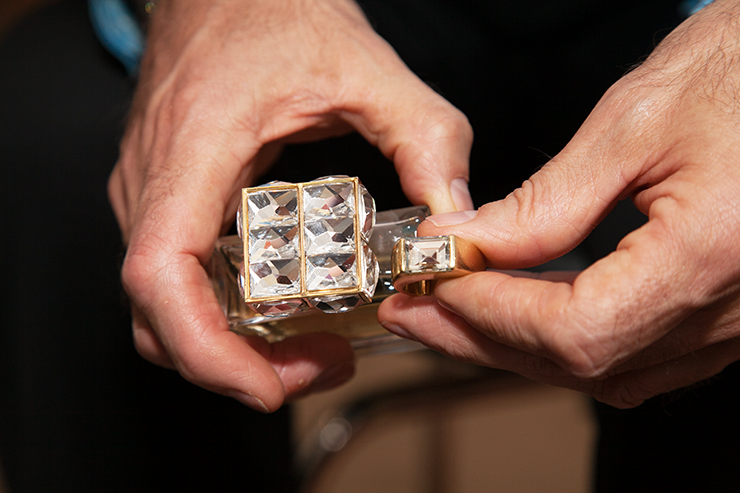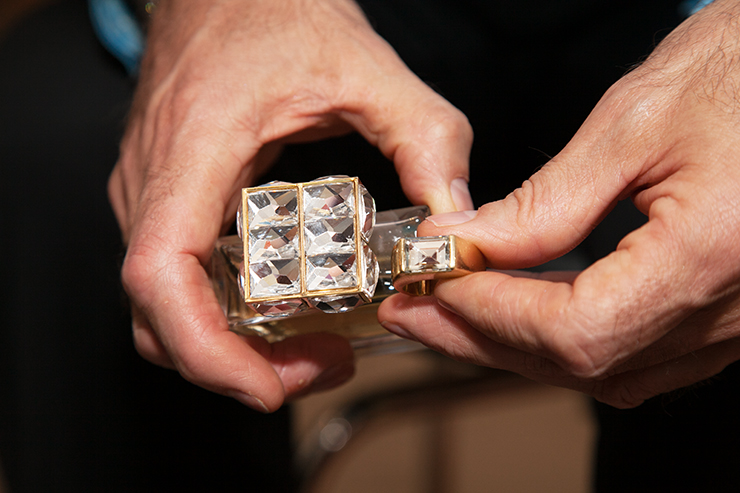 Your jewellery bottle caps were inspired by a diamond, tell us more about the significance of that?
People talk about stones having energy, but when you sit and look at a diamond they are absolutely hypnotic. The most decadent thing I own is a diamond that came from a woman's engagement ring. I became totally mesmerised by the fancy emerald cut so I bought it and had it placed in a simple, strong, masculine setting. If you look you can see absolutely totally into the stone as it is as clean as a whistle inside. Anyone who knows my work will recognise it to be the inspiration for the crystal caps that my bottles are recognised by. If you are out and you ever see a woman get a bottle out of her bag, you will know it is mine because the crystal caps will catch your attention.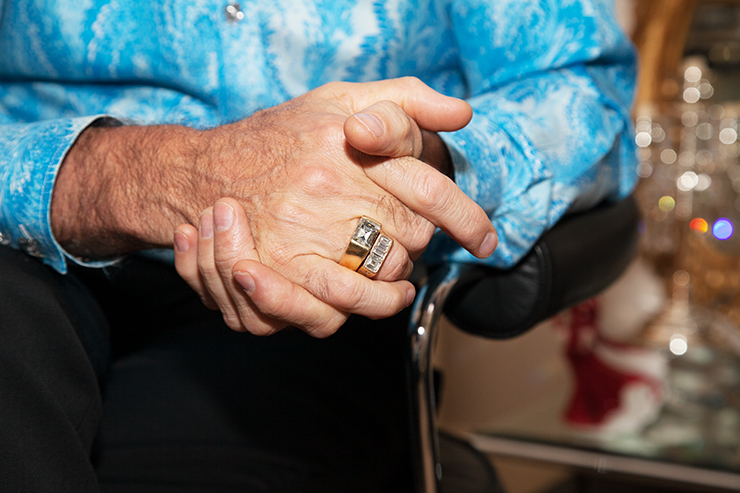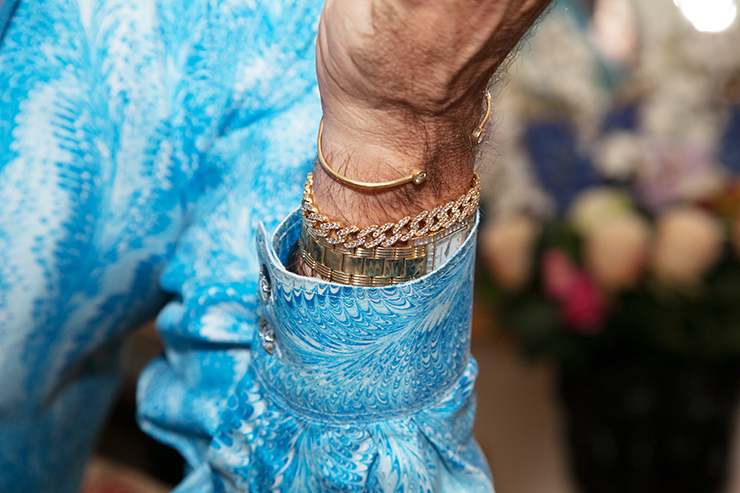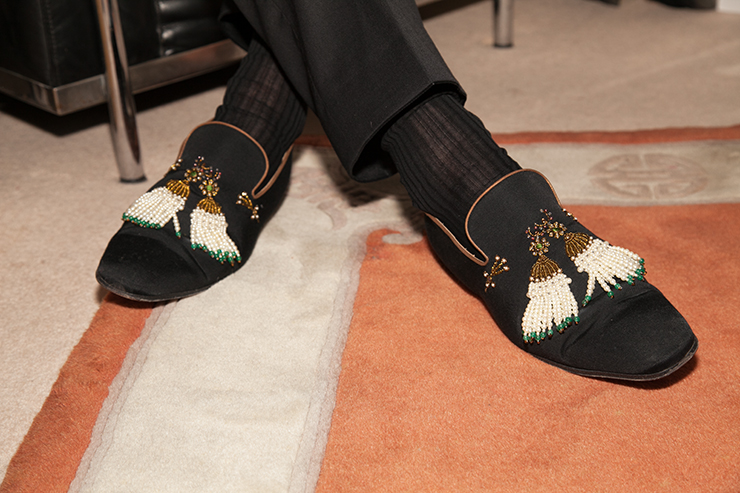 Tell us about the jewellery you wear?
Anyone who knows me will know that jewellery is very much part of who I am. Jewellery for me is always about a person, place or marking an event. When we opened our first concession in Bergdorf Goodman I bought a piece to celebrate that. When the twin towers fell down I flew out to New York and went down to that part of town. There was one old rickety jewellers left standing and it had a closing down sale. I went in and bought a quirky cheap pendant with little green diamonds because I thought there was something quite fabulous about this old shop that survived this hideous event. I had the diamonds set into an existing ring to remind me that there was hope when the world nearly came to an end. We all love things for very different reasons. For me I love the life a piece of jewellery has had and the life it has with you.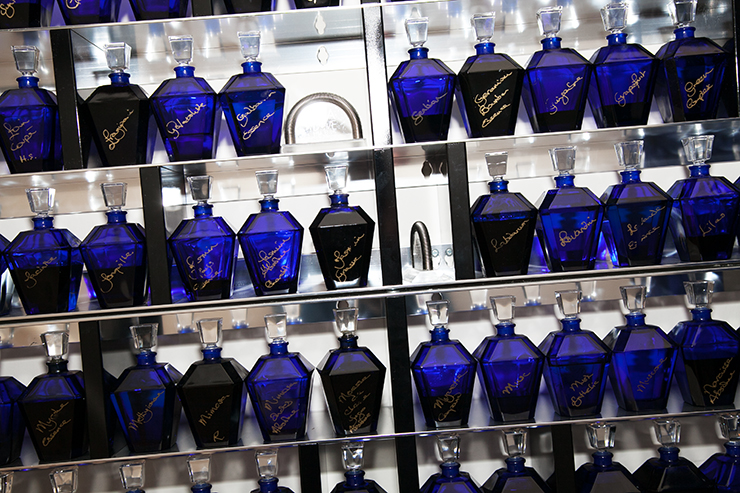 Talking about personal things that define someone, finding the perfect scent can be a challenge– why is that?
There are a couple of reasons. Firstly you don't smell with your nose, you smell with your brain. It is an old wives tale that your skin can alter the perfume. You may like something on a friend but when you smell it on yourself you do not. That is because it is like putting someone else's personality on. Think of red lipstick – it is such a personal thing for a woman and you can only wear it if you feel comfortable. The same goes for a piece of jewellery. The second reason is we are all so seduced by marketing – often perfumery does not live up to the promise, marketing creates a boulevard of broken dreams. Once you find a scent that works for you it will never let you down.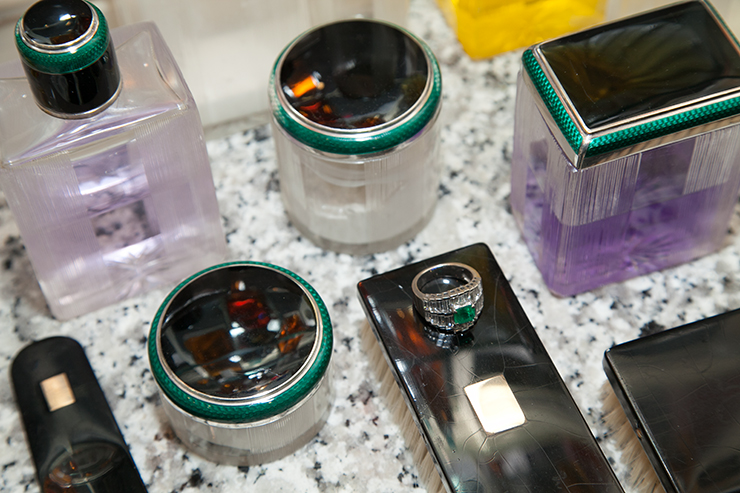 What would your advice be to finding the perfect scent or piece of jewellery?
Scent should be selected with the eyes tightly close and your mind wide open. Perfume is caressed with your sense of memory. Jewellery on the other hand – you need to hold, touch, feel and look at with your eyes wide open.