We are delighted to introduce this debut collection by London-based designer Jessica Naylor Leyland who has today announced the launch of her new website. We met with Jessica to find out more about the fine jewellery brand which was born out of a desire to create pieces that she wanted to wear. Inspired by her love of gemstones and the work of leading 20th century jewellers, she has created a collection of timeless designs.
What made you decide to go down the jewellery design route?
At University I studied History of Art. Then I realised that I could study my passion which was gemstones so I enrolled at the Gemological Association the moment I left. I didn't even go to my graduation; I couldn't wait to get to gem school. I spent a year there and qualified with my FGA a year and a half ago. I decided to make my own collection because I couldn't find anything out there that inspired me or that I wanted to wear.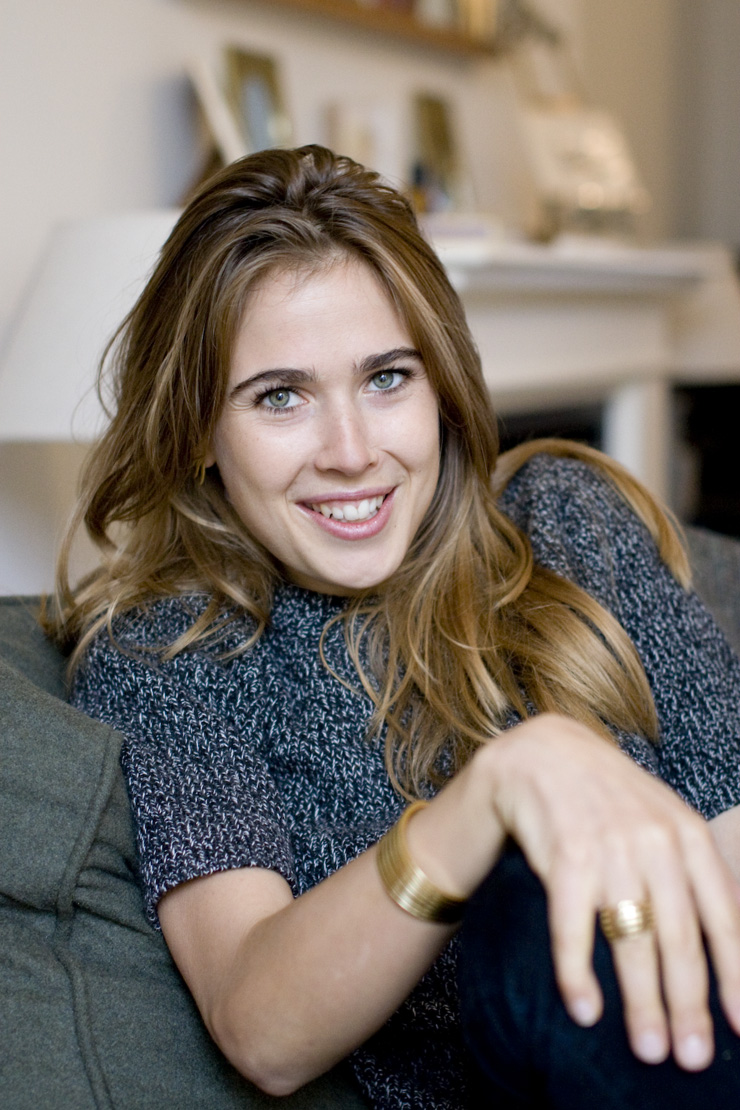 What was it that you were looking for?
I love looking back to the old glamorous days. It's not about having lots of money: it's just about having a certain 'je ne sais quoi' I guess. That heyday in Paris and London where people really took great care over what they wore and how they exuded themselves. I wanted to design a collection that is timeless and can be worn by anyone regardless of age.
Who are your main influences?
Jewellers Rene Boivin and Suzanne Belperron are hugely inspiring. Fulco Verdura is probably my favourite designer of all time; he was just such an artist. His archives are something that I really aspire towards. I love the bold quality of jewellery from the 30's 40's but I think my designs are quite reminiscent of the 70's as well.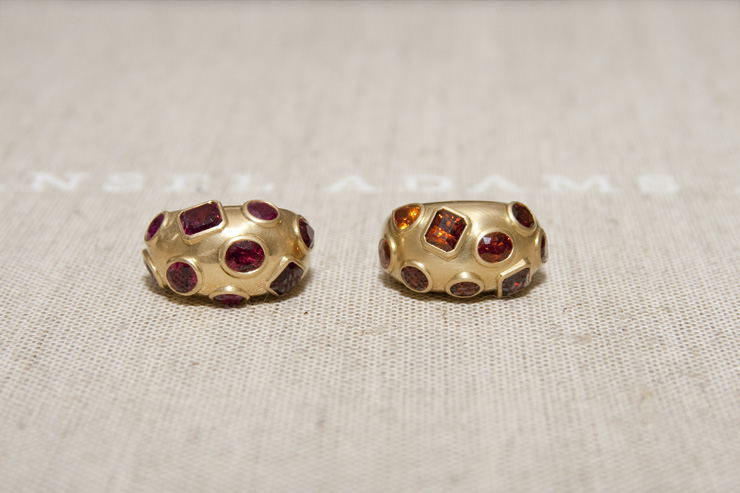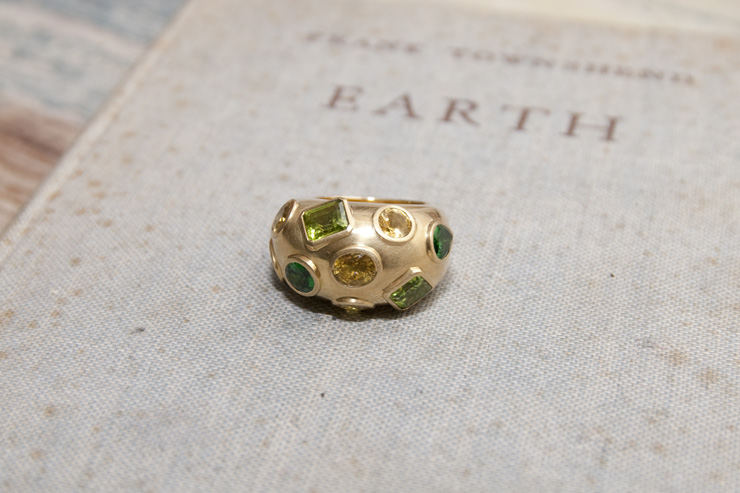 There are three main themes running through your first collection, the first being 'four seasons'. Tell us more about the idea behind these pieces.
It is a series of rings that each represent a different season. I wanted to create something colourful so I chose stones that reflect the elements of each season. For spring I chose lovely fresh greens including tsavorites, Sri Lankan sapphires and peridots from Arizona. The piece is all about the stones which are set simply into solid 18k brushed gold.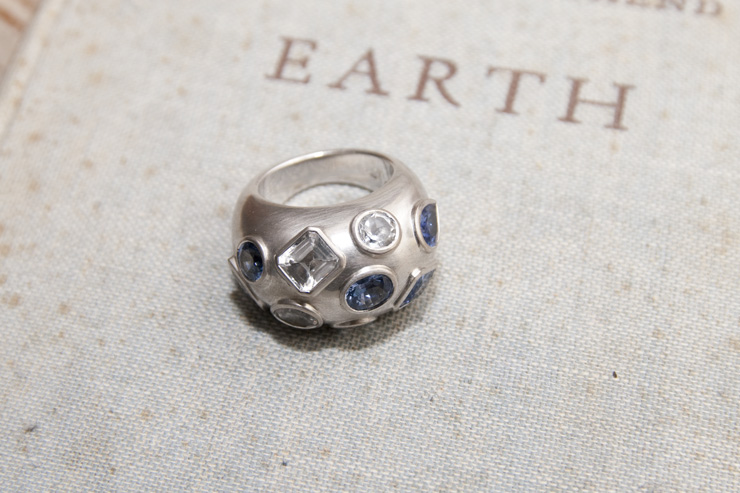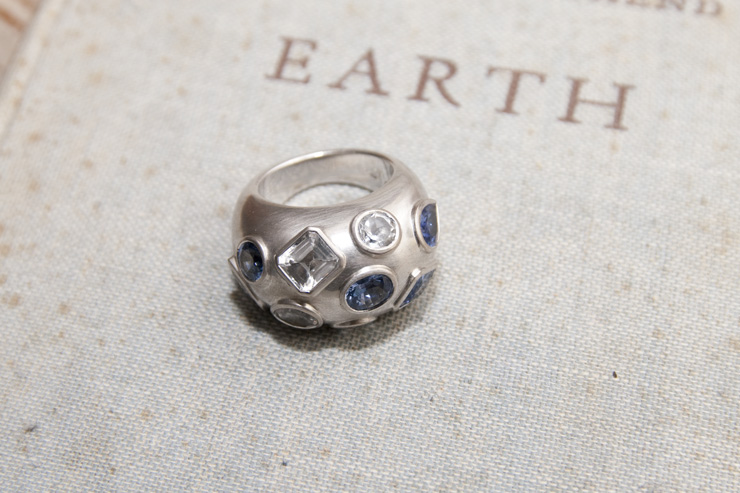 Where did the idea for your 'set in stone' necklace come from?
After I finished my course I worked for Bentley and Skinner. The first piece I ever sold there was a Victorian 'regards' ring. I had seen them before but I didn't actually know what it was. Traditionally 'regards' rings contain the following stones; Ruby, Emerald, Garnet, Amethyst, Ruby, Diamond, Sapphire that were mounted in that order so that the initial of each stone spelled out the word 'regards'. I just remember thinking that it was such a lovely idea so I decided that I would create a necklace along the same lines.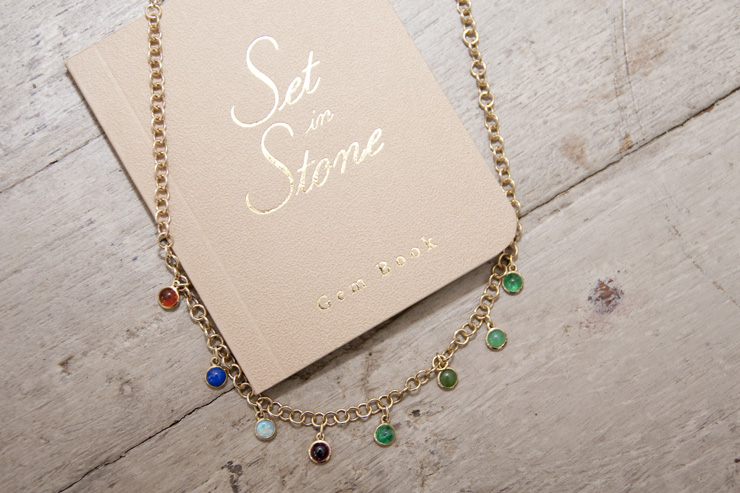 Your necklaces are bespoke which allows the customer to create a secret message or spell out a name using the initials of the stones. Tell us what is special about that.
We are so lucky these days; so many new mines are opening making lots of different stones available to us. I can make up the whole alphabet with the only anomaly being X. When someone buys a piece from this collection they also receive a small book that lists the stones alphabetically. The person receiving the necklace can then use it to decipher the message. On a personal note it's nice to share my passion for stones and for people to realise there are so many great stones to choose from.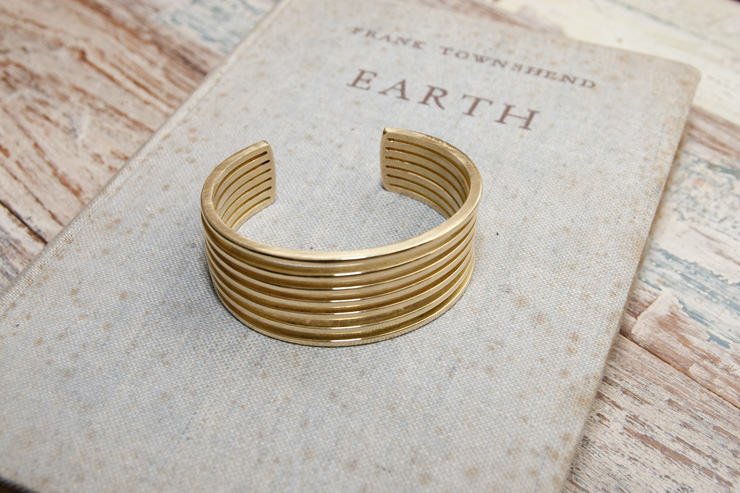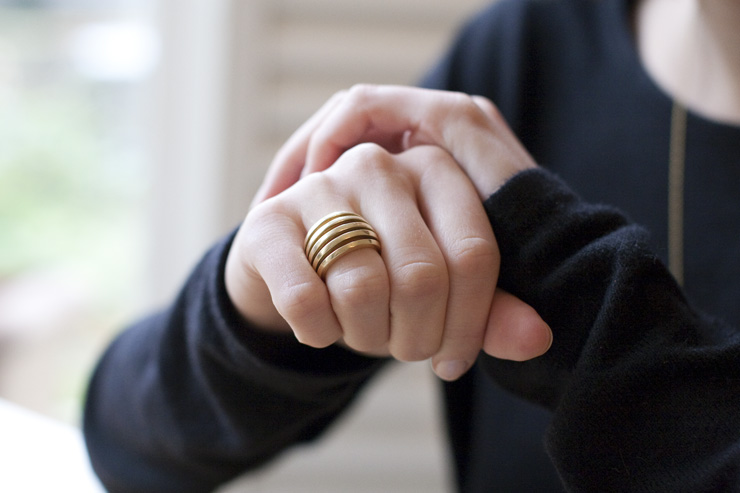 The first pieces you made (above) were a matching ring and cuff tells us about those.
I have called them 'The gold ring' and 'The gold cuff' because I am so proud of these two pieces. They are so feminine and yet so strong. I think they look as if they could have been dug up on some sort of archeological dig. They could have been made 1000 years ago or today. I love that.
You have spent some time working with Joanna Hardy for the Jewellery Editor. How did that influence your work?
She has been such an influence on me in my appreciation of antique jewellery. Her biggest thing is to always look at the back of a piece first. If jewellery is not made beautifully inside and out; you can't refer to it as fine jewellery. All my pieces have a certain weight to them and feel good when you hold them or feel them against your skin. Working alongside Jo made me realise that all luxurious jewels should feel delicious even if you are just holding them in your hand.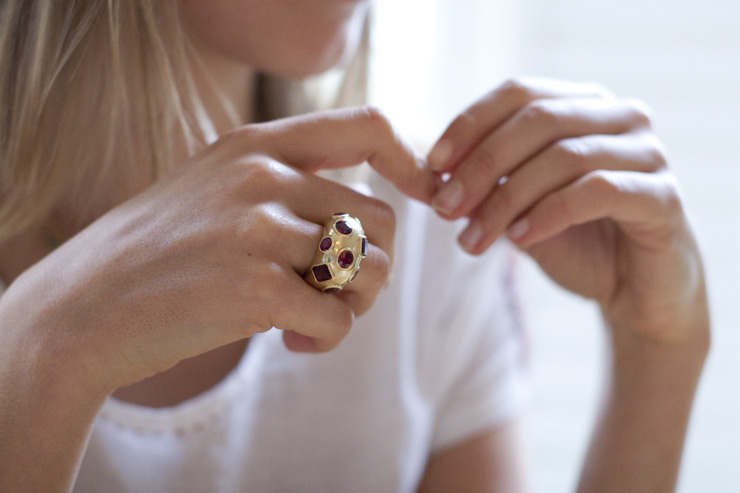 Alongside fine craftsmanship and quality materials, British-made is another factor that is central to your brand. Why did you make that decision?
Firstly because I live in London and I love being able to visit my jewellers easily and secondly because I believe that manufacturing in this country is really important. It's fantastic that the government are beginning to fund more apprenticeships. Of course it is more expensive but I know that no one is going to come back to me saying that something is faulty because it is made to such a high standard. This collection is 100% British made and I'm so happy and proud to say that it is.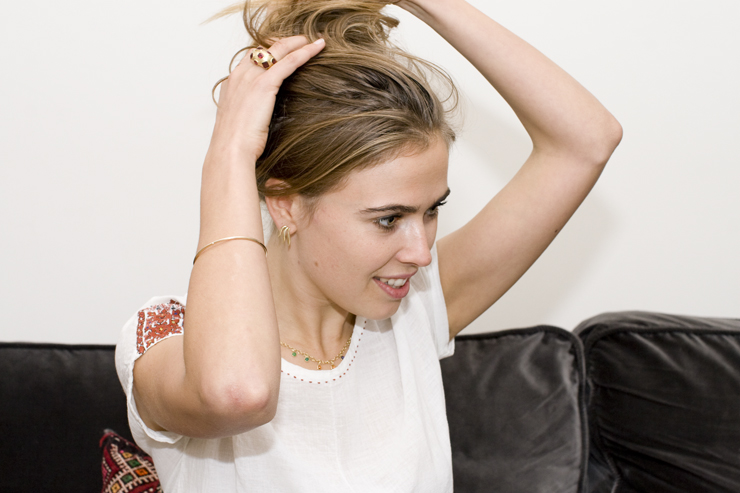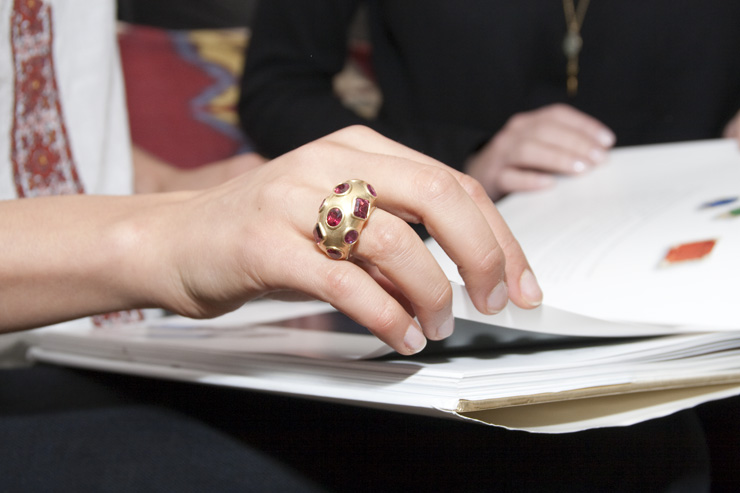 How would you describe your personal jewellery style?
These days I only wear my own jewellery but I have always loved textured gold and coloured gemstones. I love to wear fine jewellery that is bold, elegant and has an element of fun.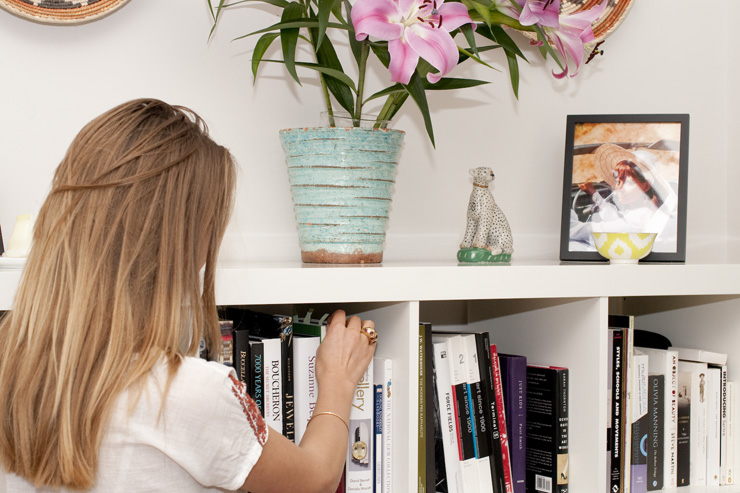 What is next?
I want to create a really important pair of earrings. It's hard for younger people to wear statement precious earrings so I want to create a twist on that. I'm starting the design course at the G.I.A. in January to learn to draw technically. From there I hope to develop my work and continue to find craftsmen that I can work closely with. I hope that my jewellery will become part of many people's jewellery boxes and carry on to be timeless pieces for the next generation.