We first met Clarice Price Thomas at the EC One Unsigned competition last year, where she was chosen as the winner for her intricate and beautifully crafted collection 'Time.' Daughter of a watch-maker, Clarice uses traditional techniques to make cogs classically used for watches in precious metals and places them into a jewellery context. Selected by Professional Jeweller to take part in Treasure at London Jewellery week this year Clarice has set the industry buzzing with her stunning fresh designs.
Tell us about how your father got into making clocks?
He trained as an engineer when he was seventeen so technically he learnt a lot of skills for working with metals. Afterwards he specialised in watch and clock making. Nowadays he works for jewellers in Norwich repairing watches such as Cartier and Omega. I think he would prefer to make things and be a lot more creative but he has to support a big family of six and four daughters!
You don't have a formal training in Jewellery Design. How did you learn the techniques?
I have always been creative. I made my first pair of silver earrings when I was ten as a present for my Mum. I can't remember thinking 'this is what I want to do' but my parents picked up on it when I was really young. I grew up around Dad's workshop so it just happened naturally; I read a lot of books and picked things up as I went along. Anything I didn't know I'd just go to my dad. He sometimes didn't know either but together we worked it out. I definitely inherited an engineer's hat from my dad; I'm always thinking about what machine I can use to make a process quicker. I love machines and that is probably why this collection came so easily.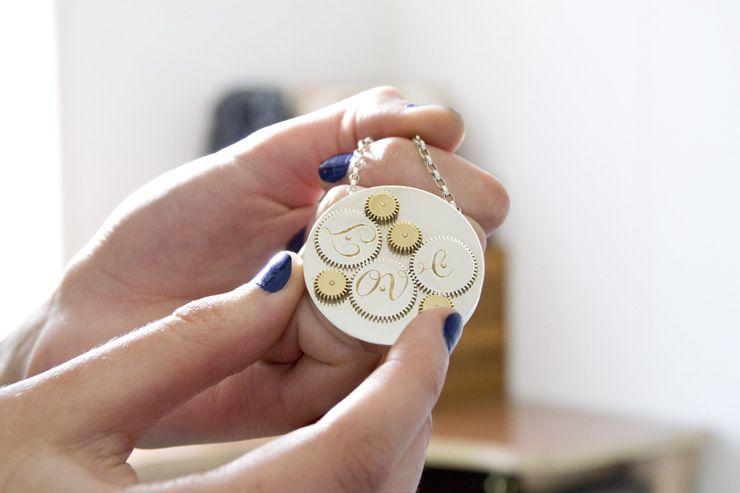 At what point did you start exploring the theme of clocks. Was there a pivotal moment?
I moved to London and did a short course at Holts Academy for which I had to come up with a final piece. My design process is a little bit strange. I have ideas and rather than draw them or explore them any further I make what comes into my head. I had an image of the word love engraved into cogs that spin round so I went to dad and said 'I want to make some silver cogs.' He asked why I didn't just use some existing ones but it was important for me to make them up in silver rather than just use old parts. I wanted to create something really beautiful. Everything else followed on after that.
How are the cogs made?
I mount a silver rod on a milling machine and then cut teeth all the way down it, so effectively you end up with a really long gear. There's a lot of maths involved with working out how many teeth you can get out of each size of rod. They are then cut on the lathe and hand finished. You have to get up close to appreciate the precision and the perfection but I feel really passionate that every piece has a high finish and is really sharp and crisp so that it stands out.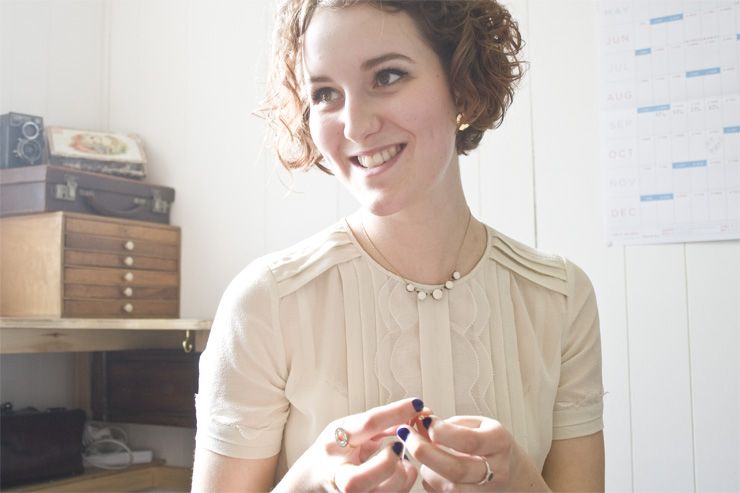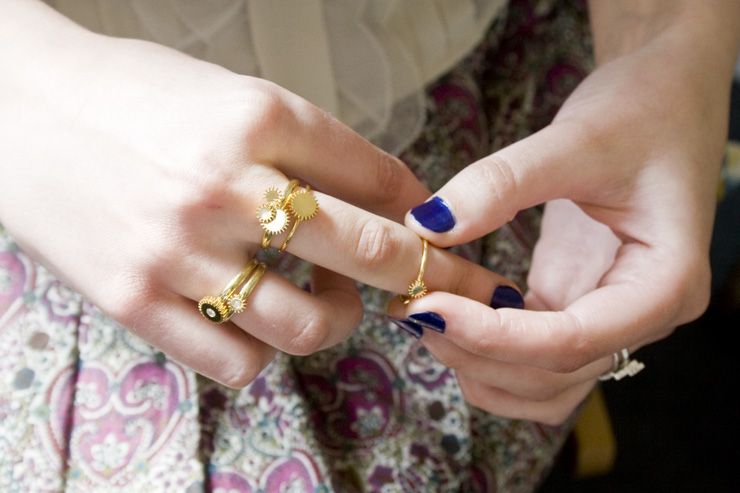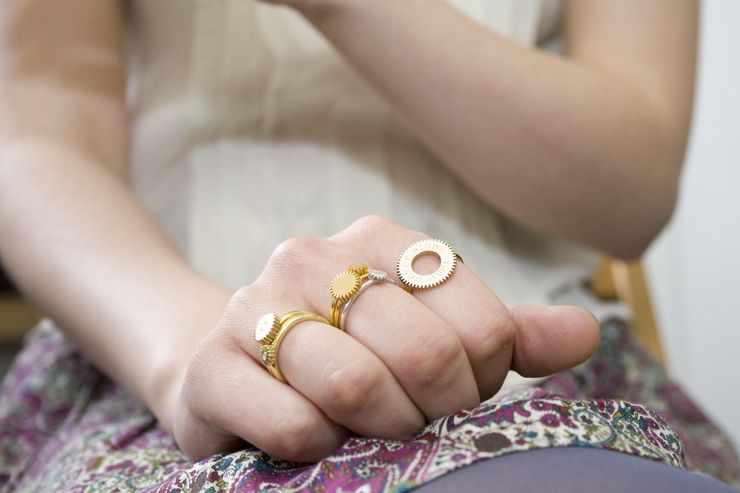 How do you describe your personal jewellery style?
I wear key pieces. I always wear my opal necklace that was given to me by my Grandma, a gold signet-style ring that my Nan left me when she died and an opal ring that my Dad bought me. I'm very sentimental about my jewellery. My boyfriend has given me some amazing pieces that I wouldn't have picked out but because he gave them to me it makes it really special. I wear jewellery that I feel comfortable in, that I really love and can look at and think of someone special. I like to think that if people buy my jewellery as a present for someone the recipient would feel the same way.
Tell me about winning EC One last year and what that has done for your caree
I almost didn't apply for EC One Unsigned because I didn't go to University and I was up against some really talent designers. For that reason it has been amazing because I didn't learn things about setting up a business or how to design or price a collection or make it commercially viable. It's been great having people who are so knowledgeable advising me. It has given me the confidence and opportunity to establish myself in the industry which I couldn't have done so quickly without EC One.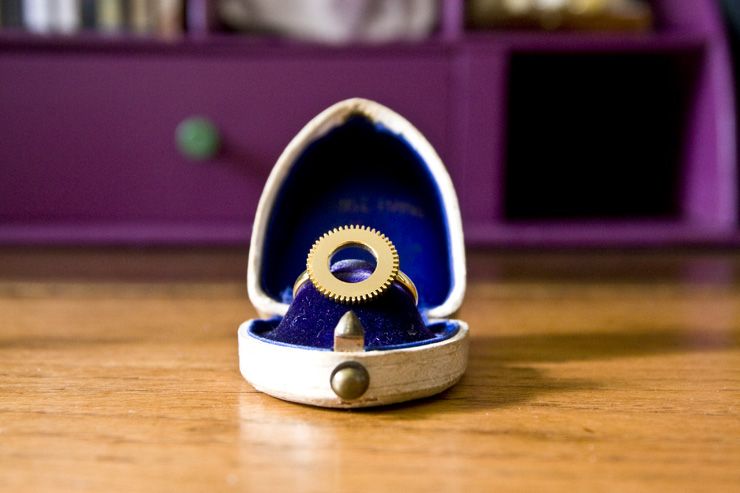 This time a year ago I emailed Jess asking her if she needed a hand in the workshop. I have always loved her work and I saw a picture of her and thought 'she looks so cool, I want to know her'. I worked for a couple of weeks and she offered me a job working one day a week. She told Claire about me so I work one day with Claire as well. It's so inspiring to work for brands that have achieved so much but are still small enough that I get to work with the designer, understand them and understand their product. They are both so lovely and have introduced me to so many important people.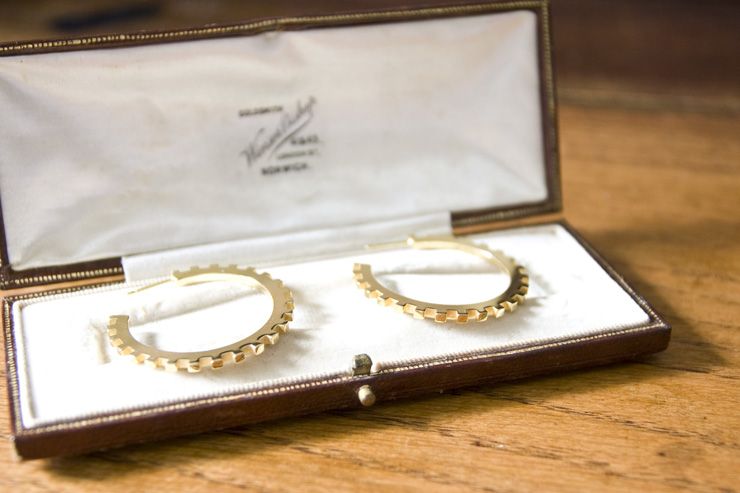 You are taking part in this years Treasure exhibition. Why is that important for you?
I won my stand at Treasure through a competition run by Professional Jeweller. This is the first time I'm exhibiting my debut collection at a show so I'm really excited. It'll be so fantastic being surrounded by so many talented jewellery designers and to be situated in the beautiful Somerset House. It's such a fantastic venue so I'm hoping that it'll attract lots of traffic to the show. I'm really looking forward to meeting customers directly, hearing people's feedback and hopefully making some sales.
To celebrate London Jewellery Week and the launch of her new website Clarice is offering a 10% discount until the 30th June on everything on her online store. Click on the link and enter the code 'LOVECPT' at the checkout.
Treasure exhibition opens tomorrow and runs untill 17th June at Somerset House.