In the year since graduating from Central St Martins Rachel Boston has had an abundance of success, completing a diploma in diamond grading and launching her debut collection which has since gained ten stockists and appeared in several fashion publications. You only have to meet the half  Venezuelan, London born designer and try on the pieces from her eponymous brand to realise why. Cool and sophisticated she creates beautifully crafted and highly refined jewellery that is inspired by nature, contemporary culture and her love of high fashion. We were delighted to be invited to Rachel's east London flat where she cooked us a Venezuelan breakfast of  'arepas and huevos pericos' and gave us an insight into her journey so far. 
How did you get into jewellery design in the first place?
My father is a diamond broker so I was surrounded by jewellery as a child. He has a particular interest in Indian jewellery so we travelled there a lot when I was younger. The adornment in India is insane; being surrounded by it and having access to all my dad's amazing books got jewellery into my system. From the age of eleven I made my friends charm bracelets out of bottle tops and cracker toys.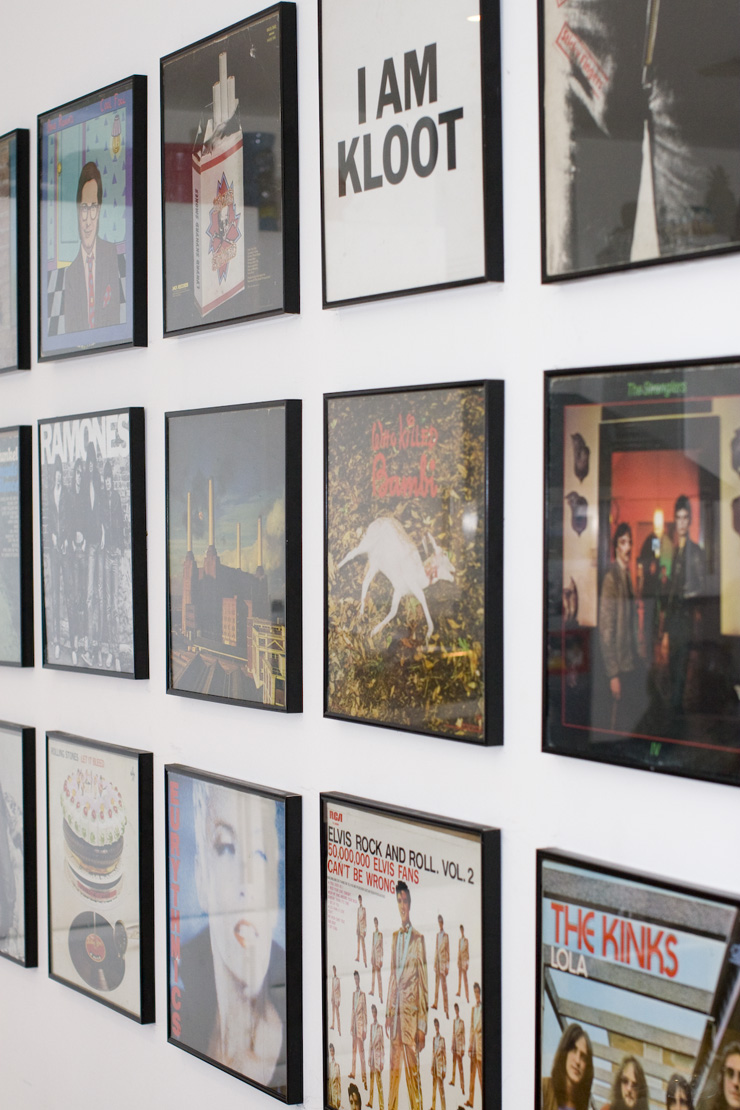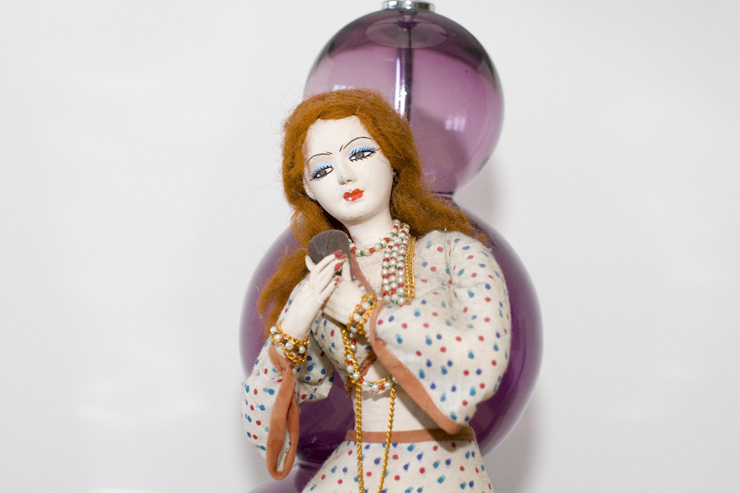 What is the inspiration behind your debut collection?
It was based on my graduate collection which was inspired by beetles, insects and scorpions but wasn't as fine as I wanted it to look. I got a bit lost trying to be "arty" and didn't stay true to myself but it got a fantastic reaction and made me decide to launch my own collection so I can't be down on that.  For my debut collection I have taken the same inspiration but re-interpreted it in a way that I felt was true to the sort of jewellery I wanted to wear. It's based on nature but there is a strong concept behind the collection. I spent a long time looking at how insects defend themselves in the natural world which is why it is called The Protector.  It was about taking something so aggressive and making it beautiful. It's an outward projection of confidence.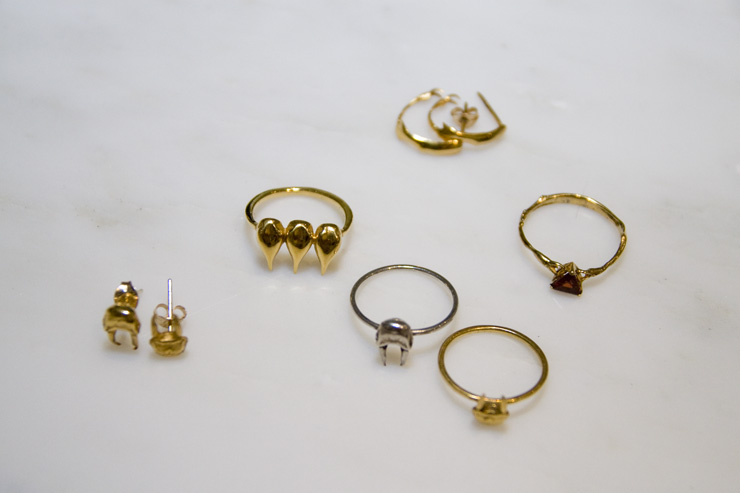 What was the inspiration behind the lookbook?
There were so many different inspirations. It didn't end up how I had initially envisioned it as it wasn't meant to be so forlorn and down cast but as we were shooting it just happened naturally. It really works because you get the sense that this really fragile girl is being protected by the strong tattooed guy.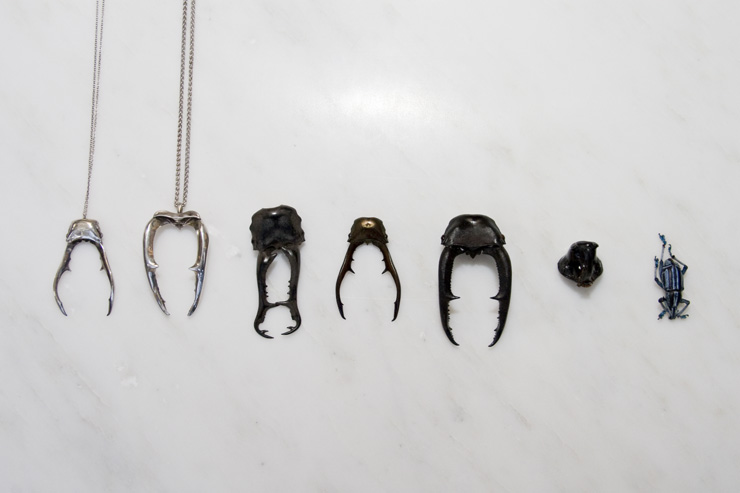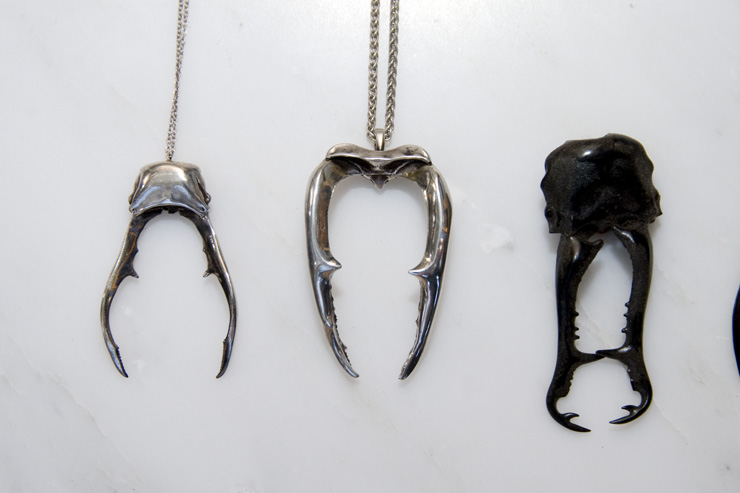 Tell us about the process of your work?
All my pieces are cast from beetles or beetles parts that I source from insect collectors. Once cast all the work is done from my bench at home. I love the process of changing and refining an object to create something beautiful. The large insect leg earrings were made from two legs of a giant goliath beetle that I cast, shaped and soldered together into a new form.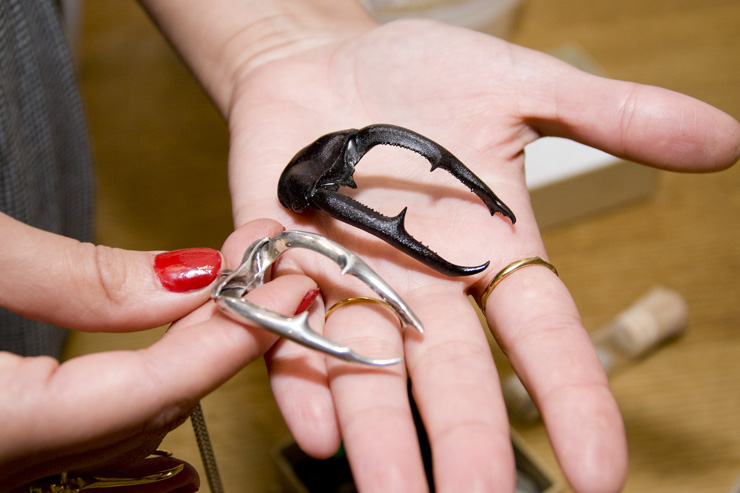 Last year you launched a collective called Aurum with some of your fellow students. What sort of opportunities does it present?
The five of us have one set goal; we all want to see our jewellery worn and loved. It's very hard as a young designer to get into trade shows as it is so expensive. We split the cost by five and cut the risk by five. and we all look out for each other. It's not a competitive group because we are all very different. I will constantly ask them for an opinion on my work; it is great to be part of a group and get their feedback.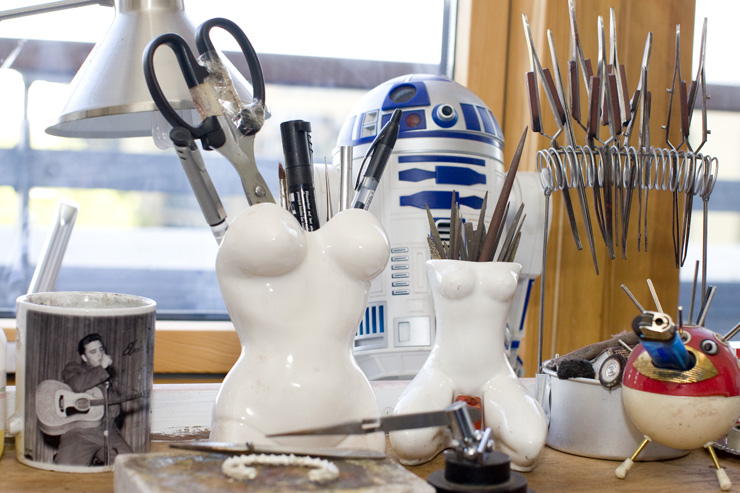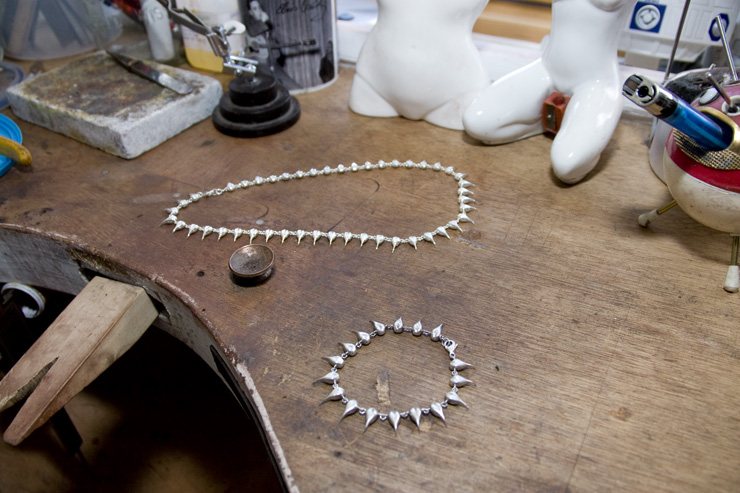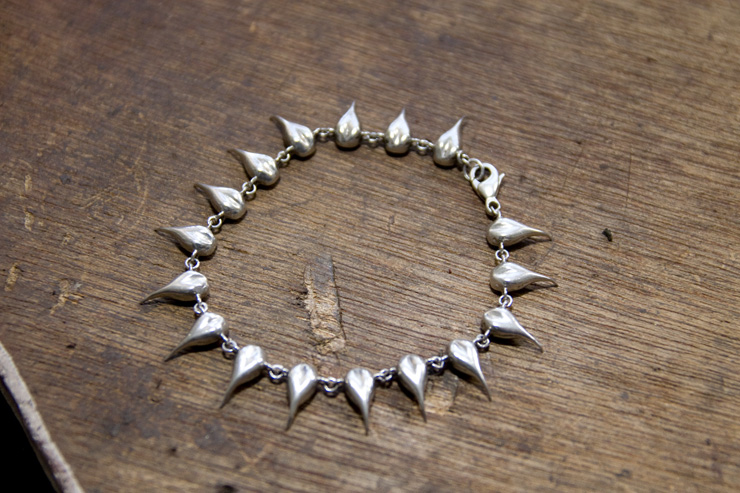 Do you design for anyone in particular?
My customers have been a real mixture of people. I have had very sophisticated older ladies who like beautiful things and then I have had emo kids who love insects. I love that everyone see's my pieces differently and can look at the jewellery and apply it to themselves. I was surprised by how many men have bought my jewellery too. I'm constantly surprised by who buys the pieces so I wouldn't like to have a set customer in mind.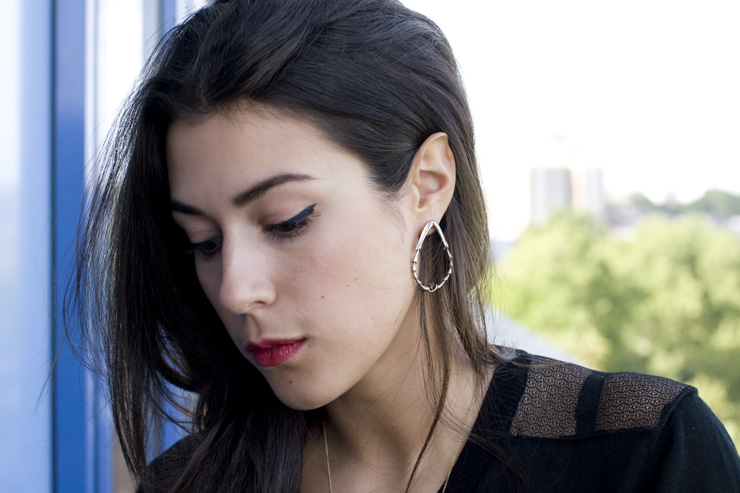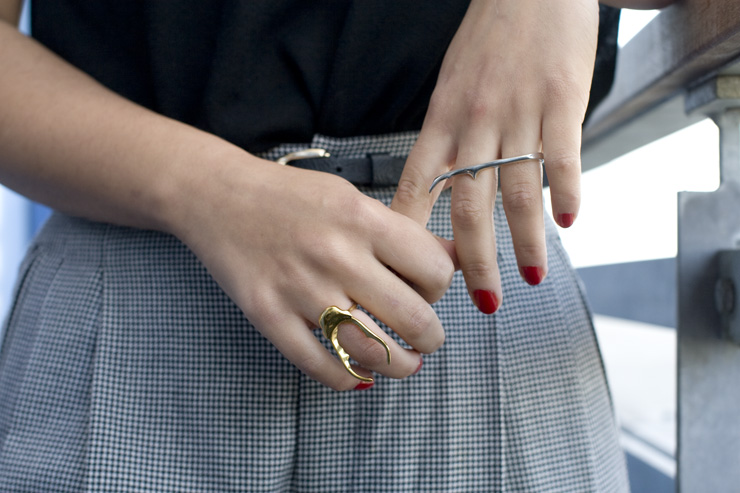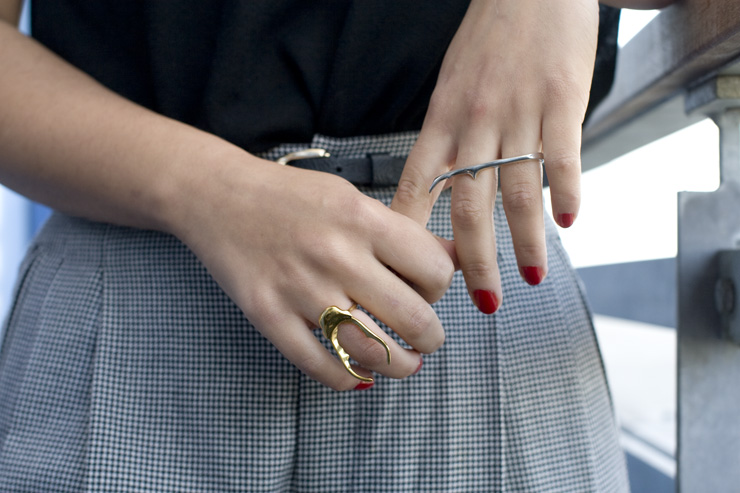 How would you describe your personal jewellery style? 
My personal style changes from day to day; one day I'll wear nothing but my angular sharp jewellery and the next I'll wear massive gold hoops from the market and the chunkiest tacky gold necklace I can find. My weakness is mainly for rings and earrings, I love bracelets and bangles on other people but I find myself getting claustrophobic in them so I try and stick with a statement ring like the Medium Stag Ring or the Scorpion Sting Ring.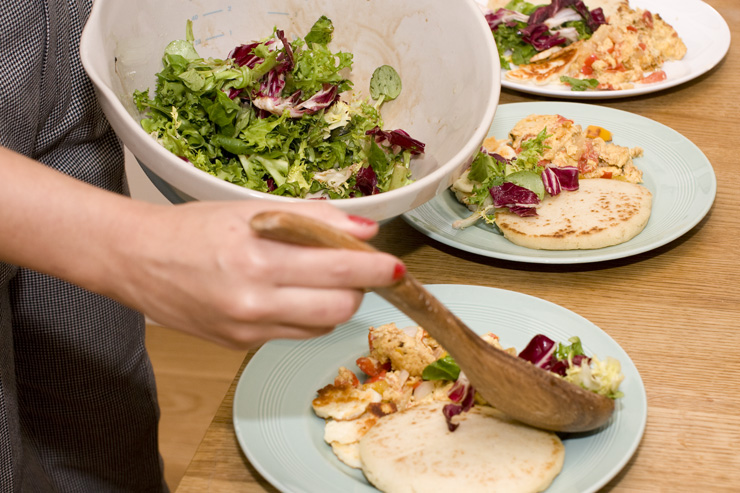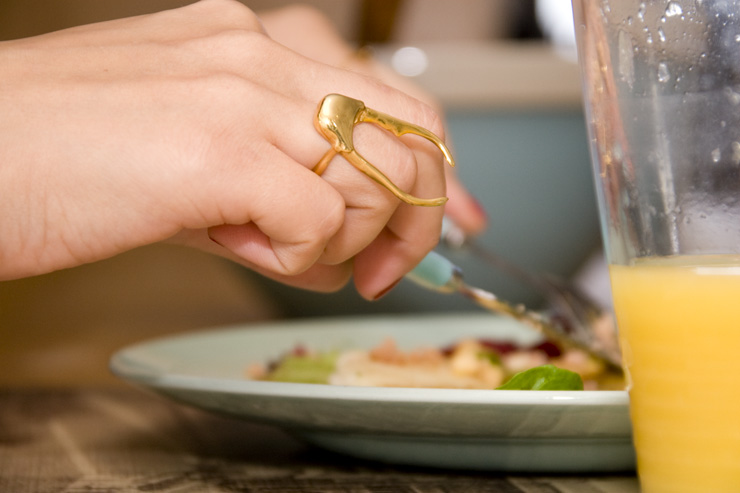 What is your biggest excitement been since launching the brand?
I think the most exciting thing was the first time I saw my jewellery in print. Seeing it made me realise I wanted to keep seeing it in print and doing well.  It's all the little successes that make it worthwhile. You might not hear anything for a while and you wonder if you are going in the right direction then all of a sudden, in one day, you get emails and meetings from some amazing influential people. I haven't been doing this a year yet and the lookbook was only launched in June so the response has been overwhelming. I'm so happy that this is what I decided to do.