Antonia O' Brien is a superwoman. Somewhere in between TV presenting, (where she covers events from the Baftas to fashion week) and writing for several publications (including a style column for the Daily Mirror) she has also found the time to launch Bees and Taylor, a new and exciting personal styling service that has already gained some reputable clients. We delve into her personal collection of jewellery and ask her to share her personal style.
How would you describe your jewellery style?
The jewellery I wear is both fine and super sized. I wear my finer jewellery for everyday. For an event I like to make a statement. If my dress is quite classic or not particularly exciting, I will try to say something with my jewellery.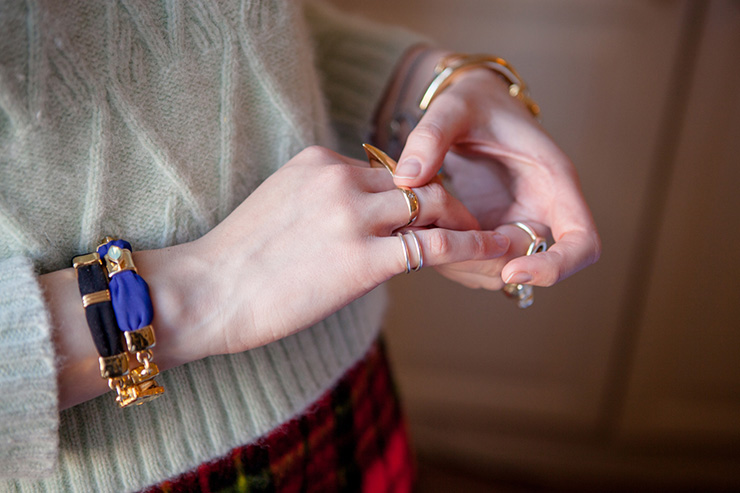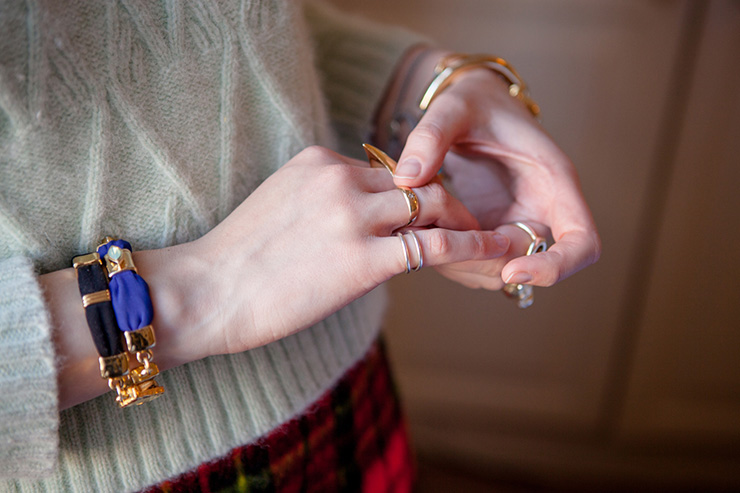 Is your jewellery an afterthought or quite pivotal when styling an outfit?
Jewellery is not the first thing I think about but it is definitely the last. Everyone says you should always look in the mirror and take something off before you leave home. I normally put something else on.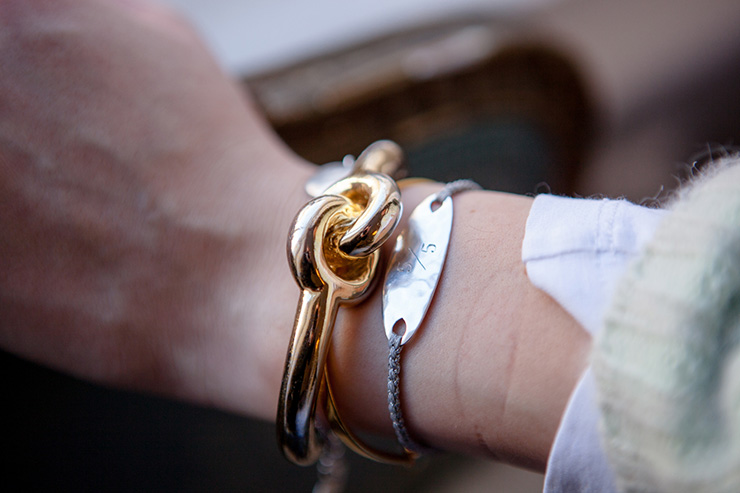 Are there any pieces you never take off?
I wear two pinky rings by my friend Anneka from Spanner and Wingnut, a diamond gypsy ring that my sister gave me for my 21st and a silver bracelet by Monica Vinader that is engraved with '5/5' because I am the youngest of my siblings.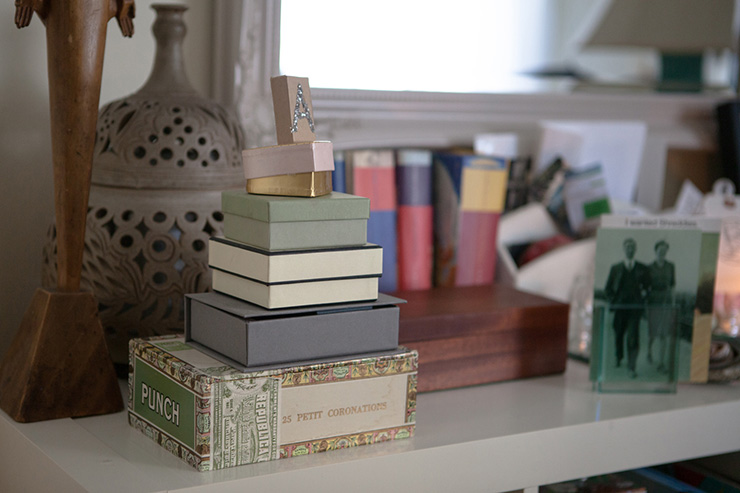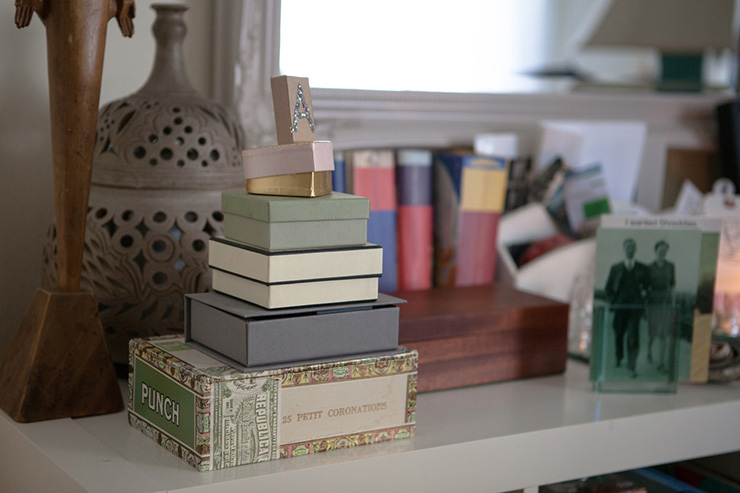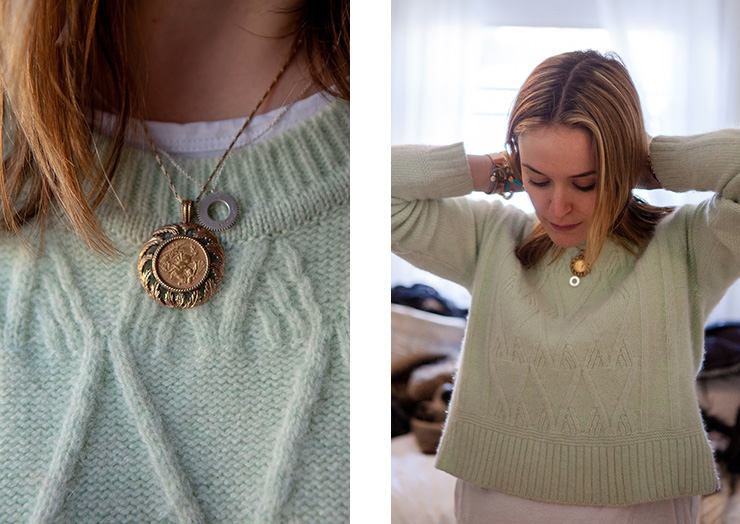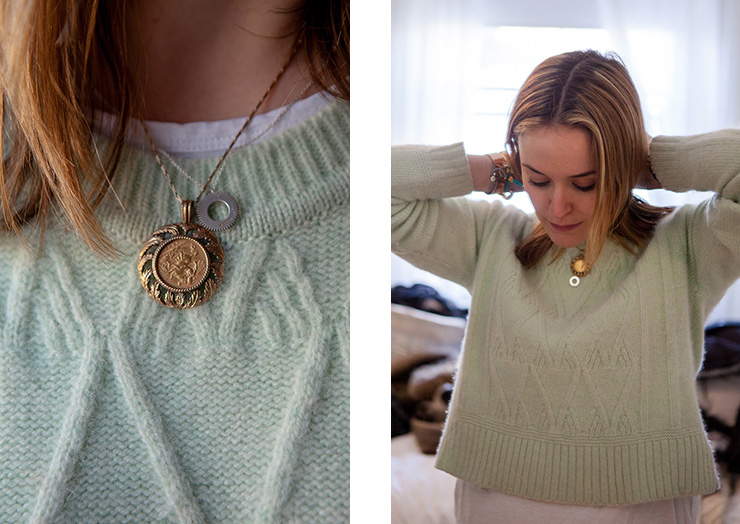 What are your earliest memories of jewellery?
My granny is a magpie. She's 96 and she is still collecting jewellery. I used to dress up in her brooches and silk dress gloves which had amazing matching clutches. I knew even then that they were really precious and I probably shouldn't be touching them. Especially not when crayoning lipstick onto my lips.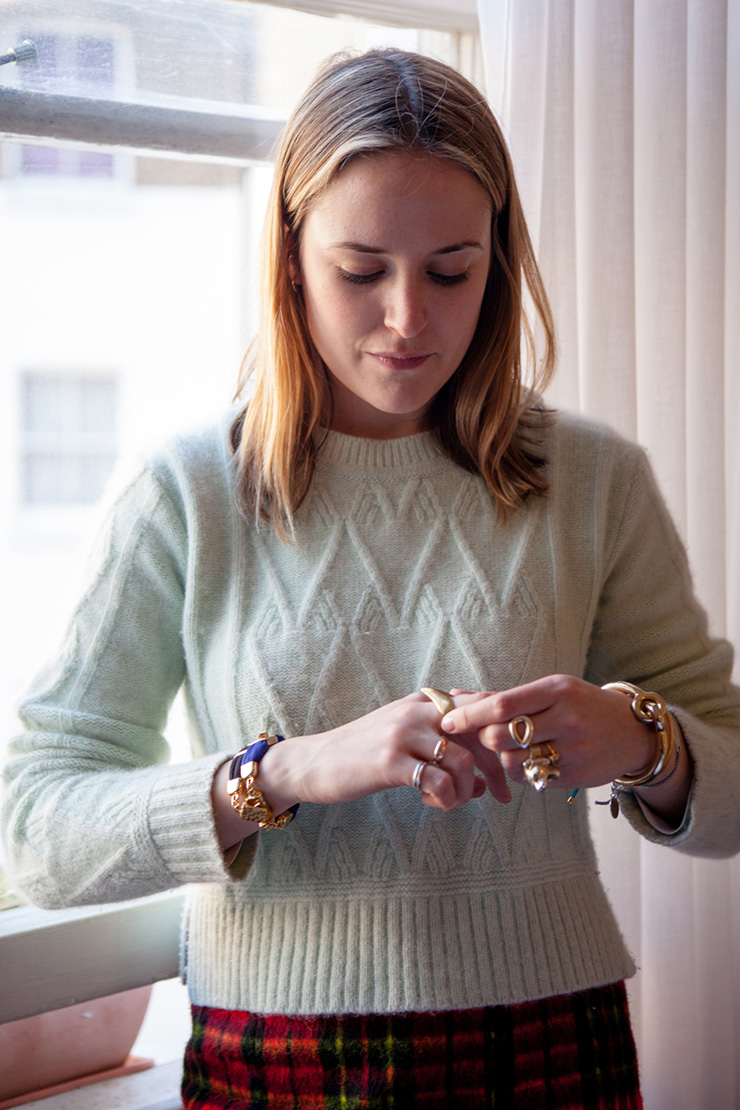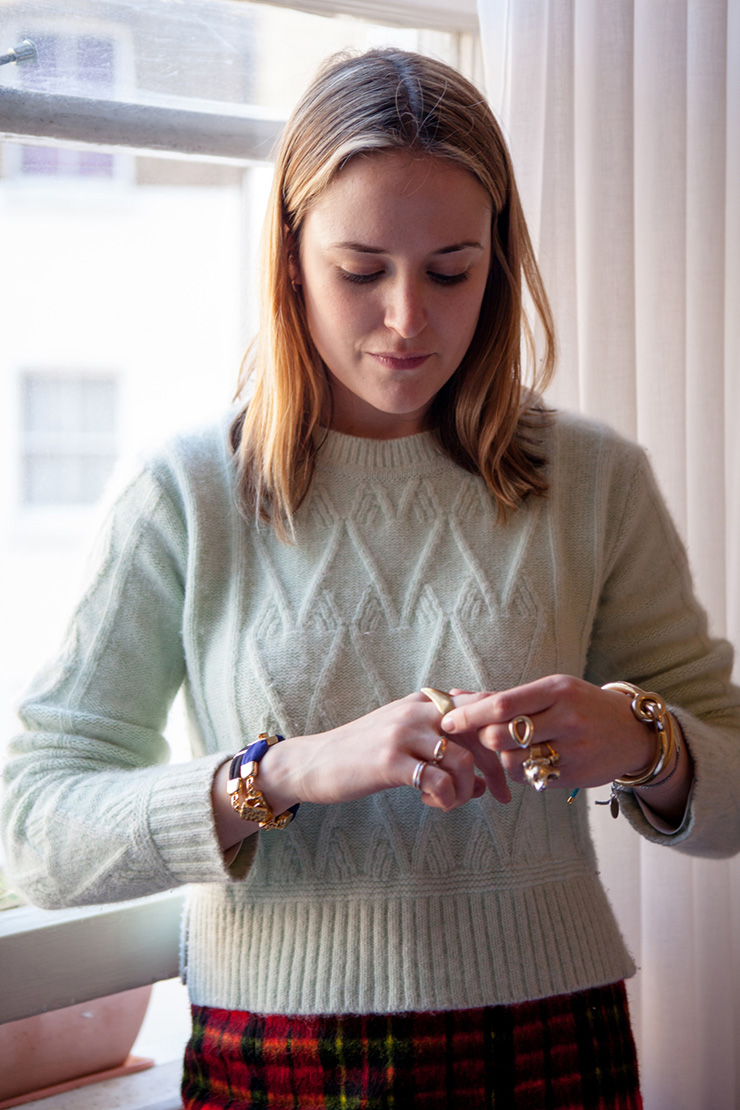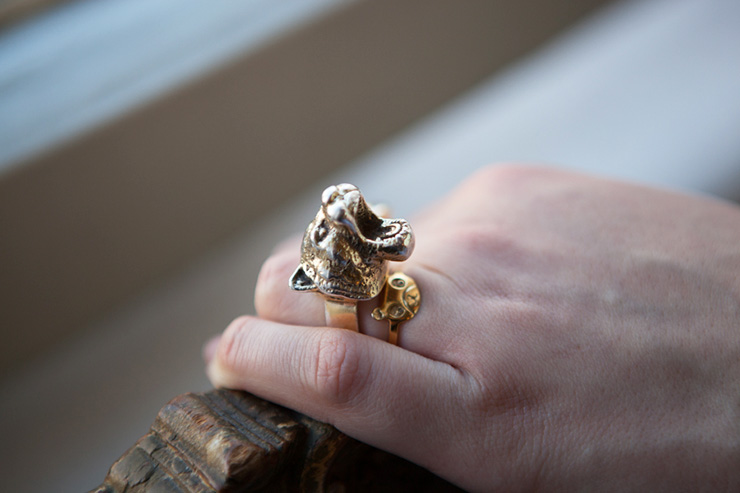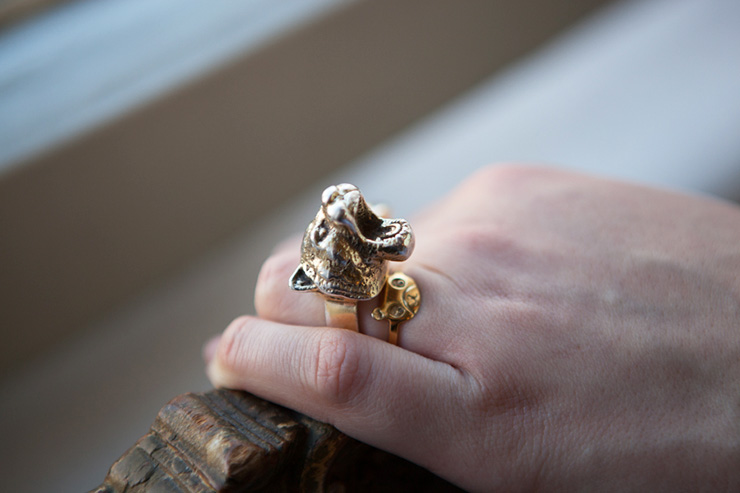 When did you start collecting jewellery?
I travelled to America to see my sister and stupidly my fine jewellery was in my suitcase which was looted. I had to start from scratch with my collection. The first piece I bought was the Emma Franklin tiger ring which I now feel naked without.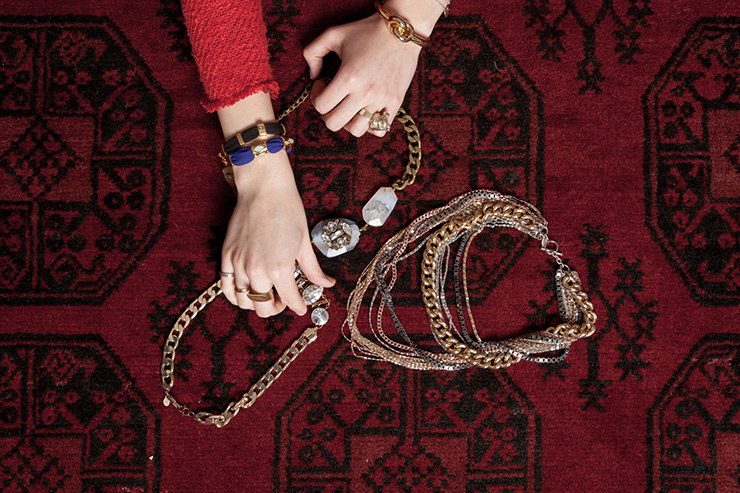 How do find designers you love?
I love the jewellery at Darkroom and Matches.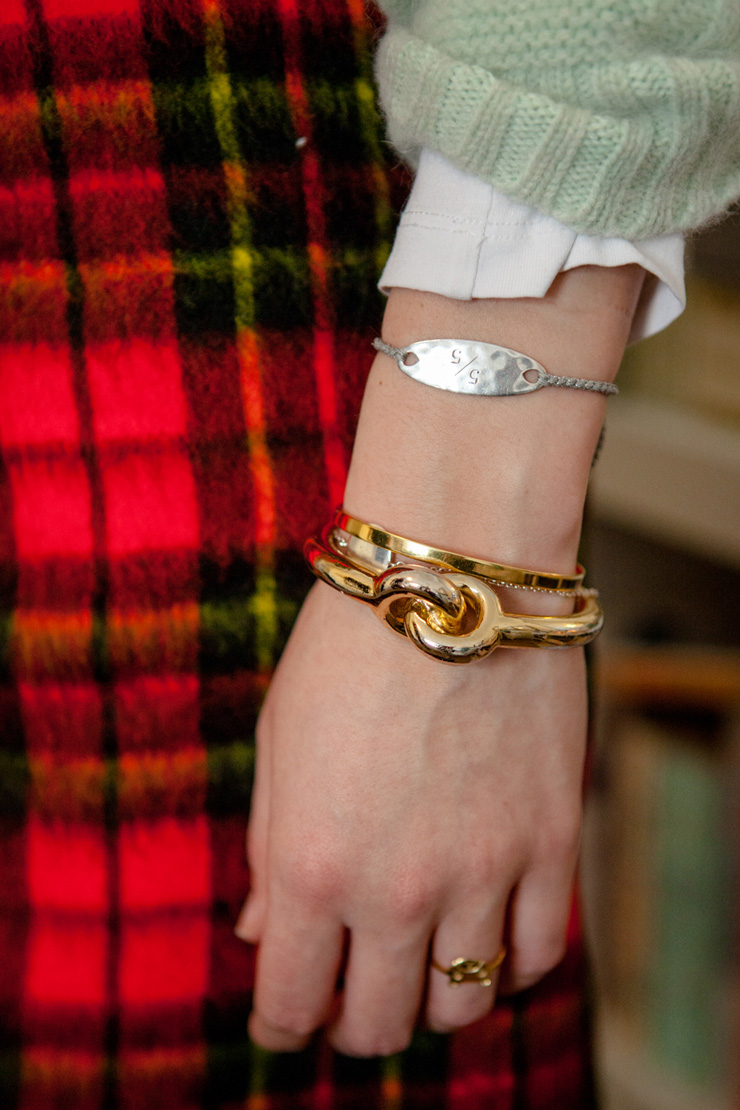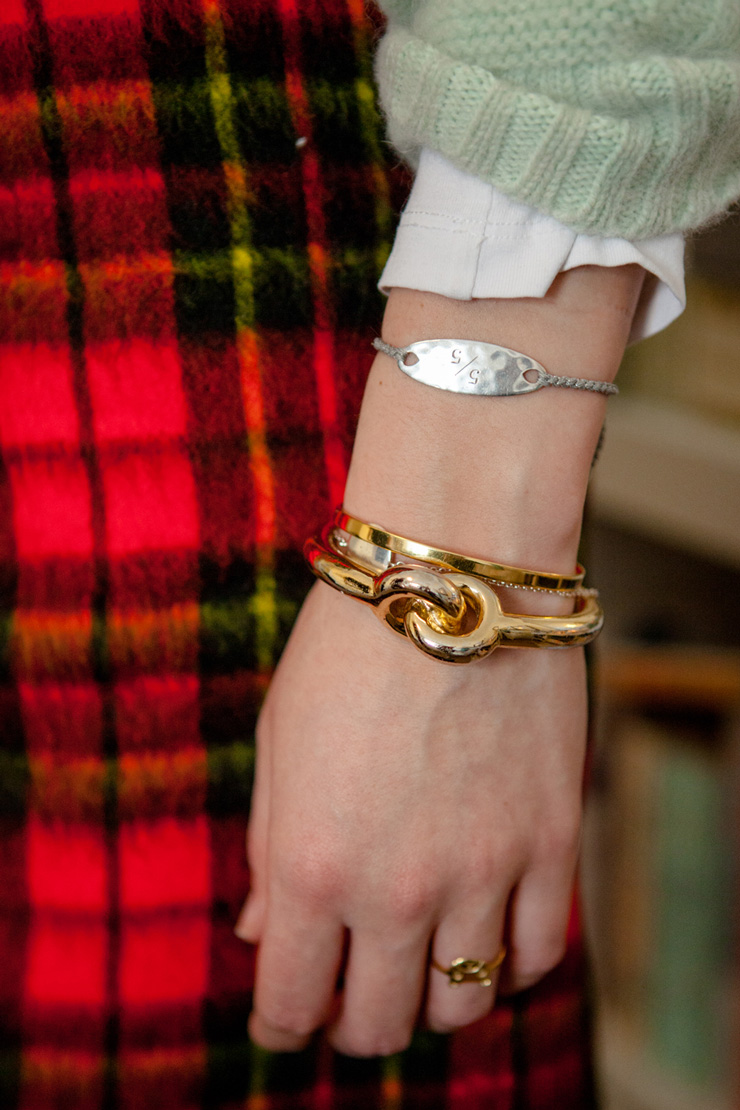 Who are your favourite designers and are there any pieces you are currently coveting?
My favorite designer is Jessica McCormack 100%. Her jewellery is amazing – I was lucky enough to borrow the Winged yellow diamond earring for covering the Oscars on televison last year. On my wish list are the diamond safety pin earrings by Genevieve Jones and one of Tessa Metcalf's claw rings.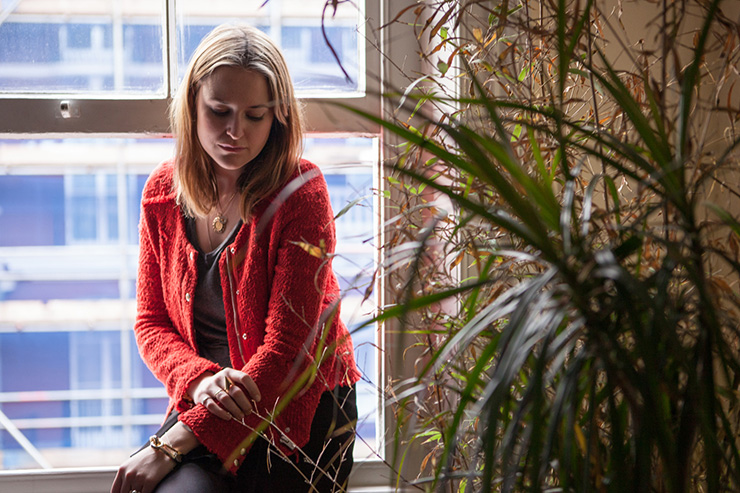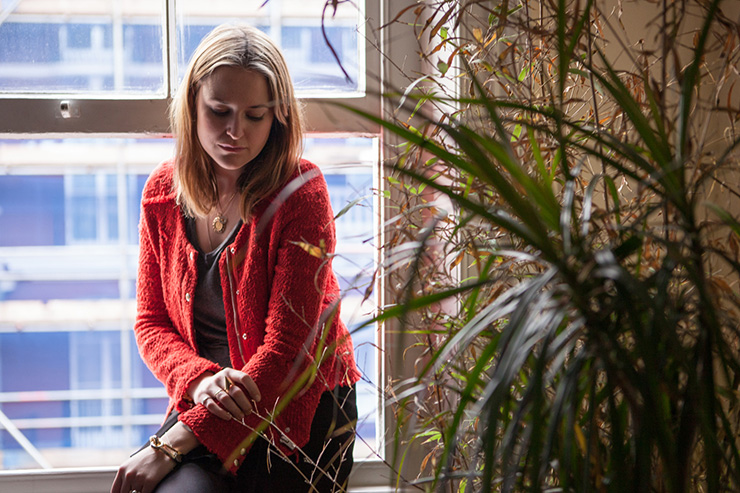 2 / Hannah Martin Spur ring, Gypsy ring, Spanner & Wingnut pinky rings 3 / Giles and Brother Archer cuff, Monica Vinader Ava Friendship bracelet 5 & 6 / Penny farthing necklace inherited from her Granny, Clarice Pryce Thomas Cog pendant 8 / Emma Franklin Tiger ring, Zoe and Morgan bear ring 9 / Necklaces by Anton Heunis