Valerie Messika did not grow up playing with toys like most young girls. Instead she played with diamonds that her father, a key player in the diamond trade, brought home from work. Founder of the luxury diamond jewellery brand Messika, which launched it's flagship store earlier this year, Valerie's passion for diamonds is infectious. Her playful designs, which include sheets of diamonds that resemble silk and "skinny bangles" that twist, come from her desire to continue to play with these fabulous stones. Dressed in a white leather jacket, denim jeans and her "everyday" diamonds, she exudes energy as she tells me how lucky she feels to work so closely with her family and in something she loves. Here Valerie shares the inspirations behind her latest high jewellery collections and takes us on a journey from her childhood to today.
You launched Messika in 2005 but when did your love affair with diamonds begin?
I grew up with diamonds. My father is one of the most important people in the diamond industry. He used to bring stones home, so instead of playing with dolls or toys, I played with diamonds. He would ask me, 'which one do you prefer'. He encouraged me to express what it was that I loved about each stone.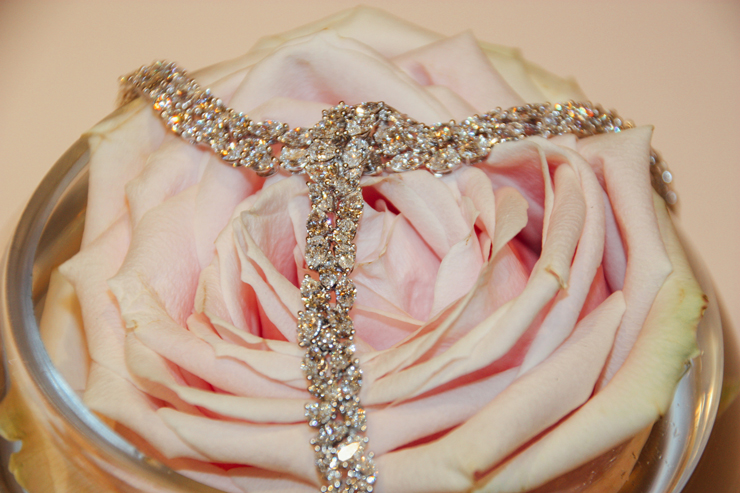 How did your father get into the diamond industry?
When he was 15 years old he did an apprenticeship learning how to repair watches. One day someone came in to the workshop with a packet of diamonds. For my father it was love at first sight and he is still in love. When he doesn't see diamonds, he gets nervous. He remembers so many stones. He thinks they are like women; each have their own beauty inside.
How did you feel as a young girl playing with diamonds?
I liked that they were shiny but I was not aware of their value. I grew up with a huge respect for diamonds but I was not afraid to play with them. It helped when I launched my business because I was not afraid to experiment with them.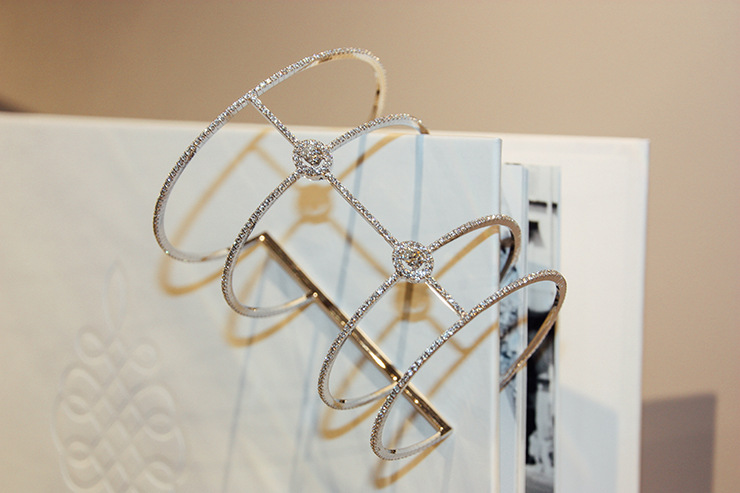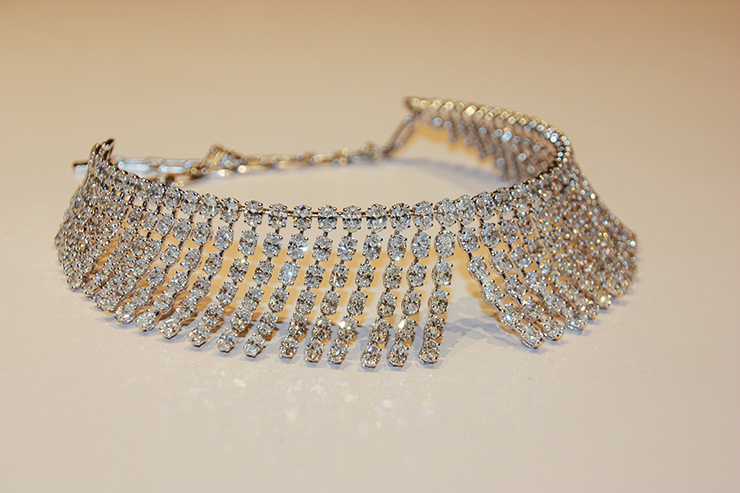 When did you start making your own pieces?
I created my first pieces 15 years ago for my mum and then started making jewellery for myself. I wore the pieces all the time and people loved it. That is when I realised there was an opportunity to create a brand that produced diamond jewellery for everyday, that could be worn with casual clothes and that women could buy for themselves.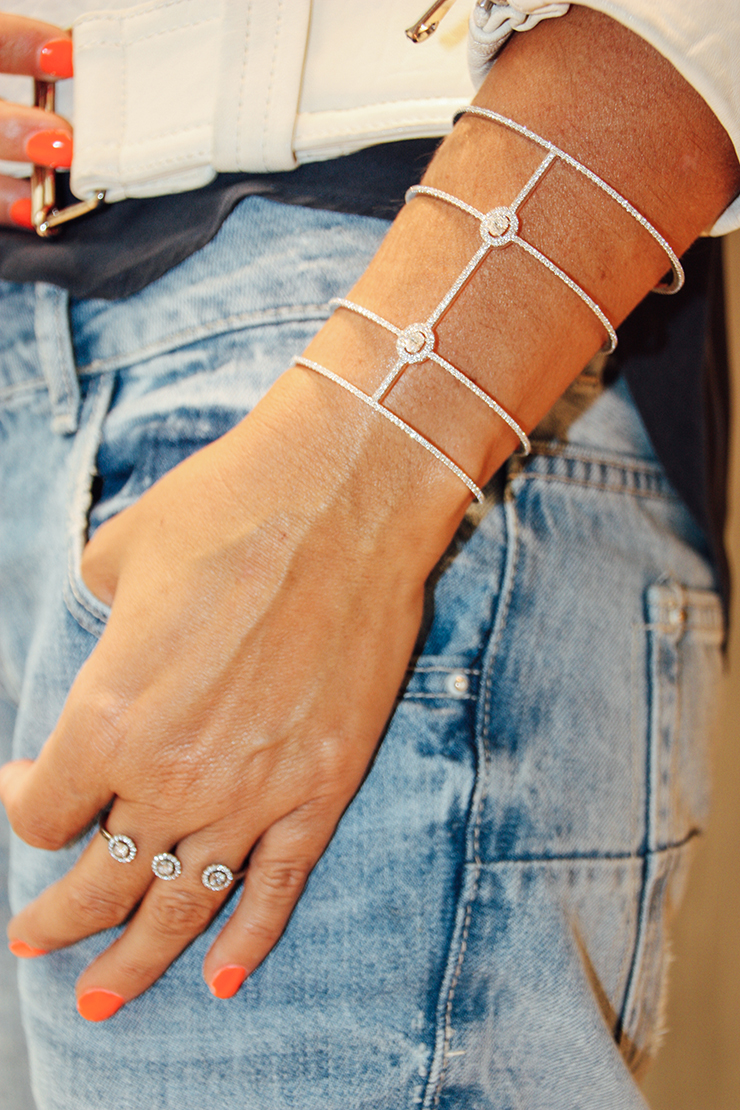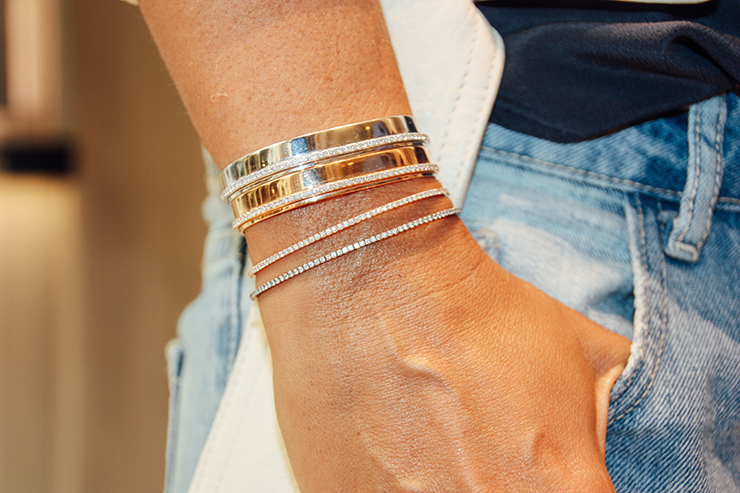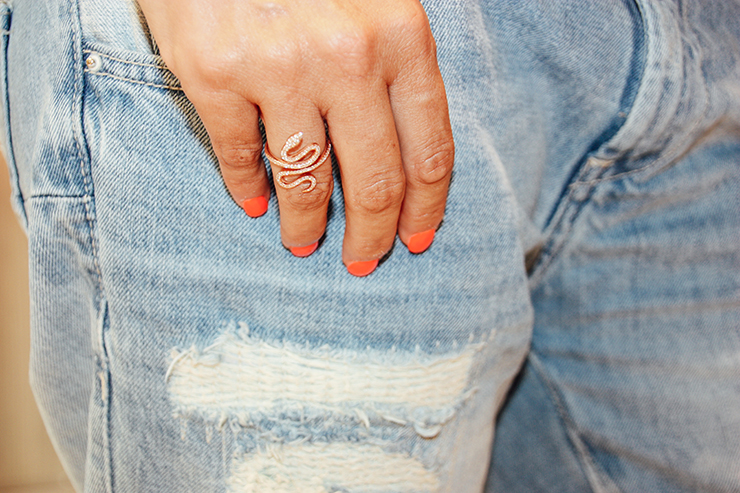 How did people react to diamonds for everyday?
At first people told me 'diamonds are for wedding rings and to symbolise important events,' but through my playful designs more and more woman understand that this is not the case. A lot of people tell me that they are not a "jewellery-person" but feel they can relate to and wear our pieces. Recently I was outside a very trendy cafe in Paris and I spotted a beautifully dressed woman with two Messika bracelets on. She was not my friend, she was not my mum – she was somebody who had bought our pieces and into the ethos of the brand. It was a moment of satisfaction and confirmation that I am on the right path.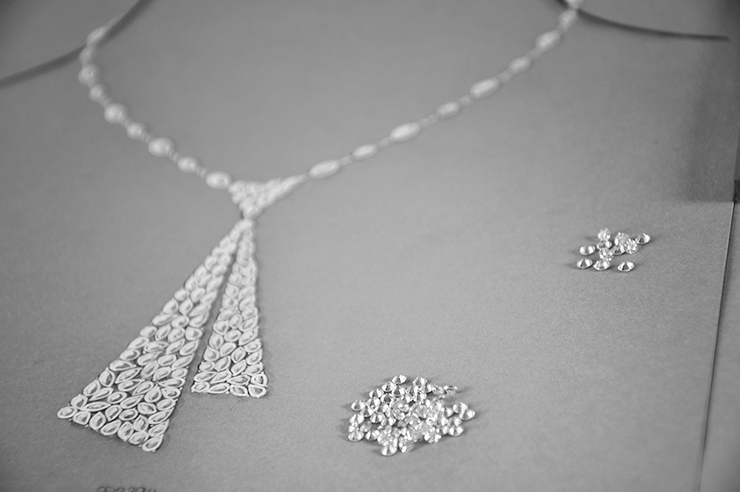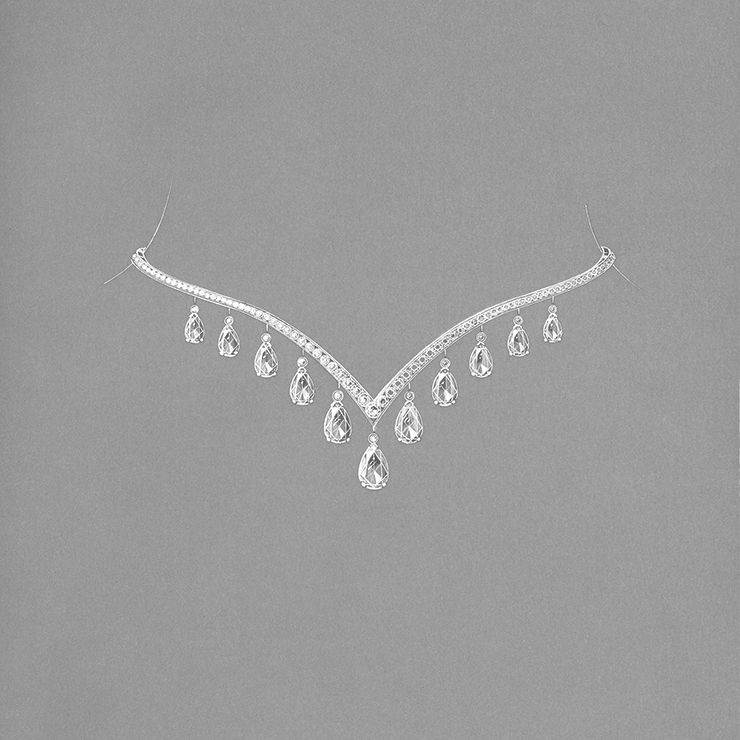 What is the process when making a piece?
My cousin and I create the pieces together. We exchange ideas until the moment that we both agree. If we don't agree, we have not finalised the design. Sometimes we start with a sketch, sometimes with a stone. We cut the sketches up with scissors and I wear the paper designs to see how they relate to the body. I'm very inspired by women from all different eras: Kate Moss, Marilyn Monroe and I design with them in mind. Then it is all about the production and modifications. We spend a lot of time working with the craftsman, making sure every thickness is right. The tinniest of details can make a difference.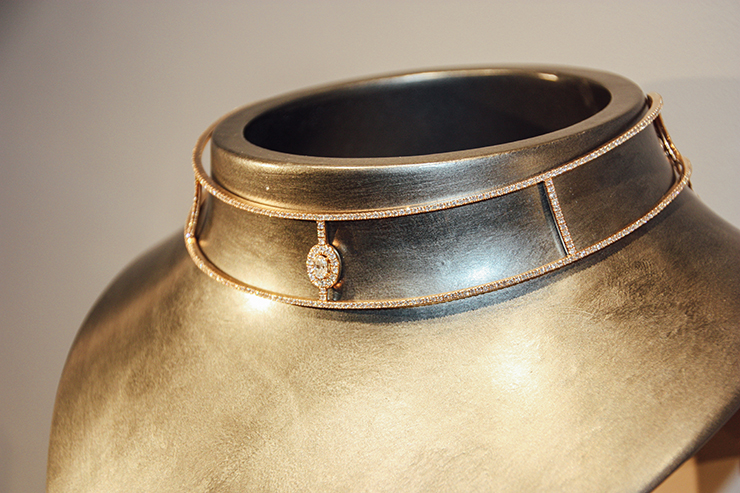 You recently launched four high jewellery collections using bigger stones – tell us why you decided to move in that direction.
When I opened my shop this year, I had a huge boutique to fill and I wanted to show people that we are specialists in diamond jewellery, not just every day fashion jewellery but larger pieces too. My brother and father started a rough diamond company, so we can now say that from the rough to the jewellery in shops – it is a family affair. These larger pieces are a celebration of that.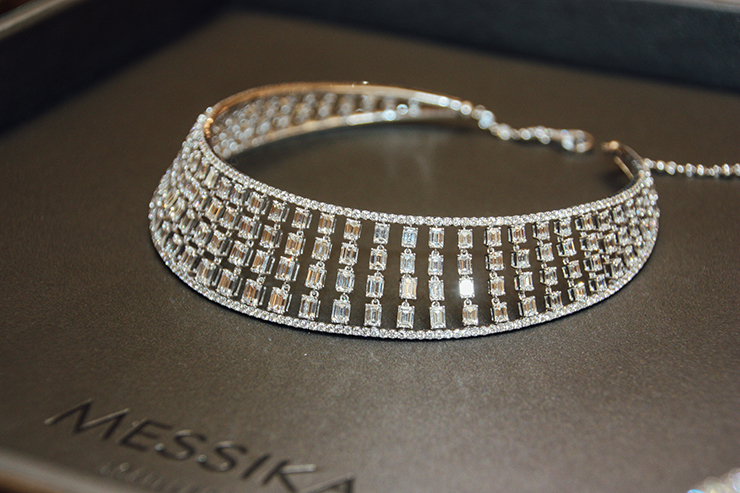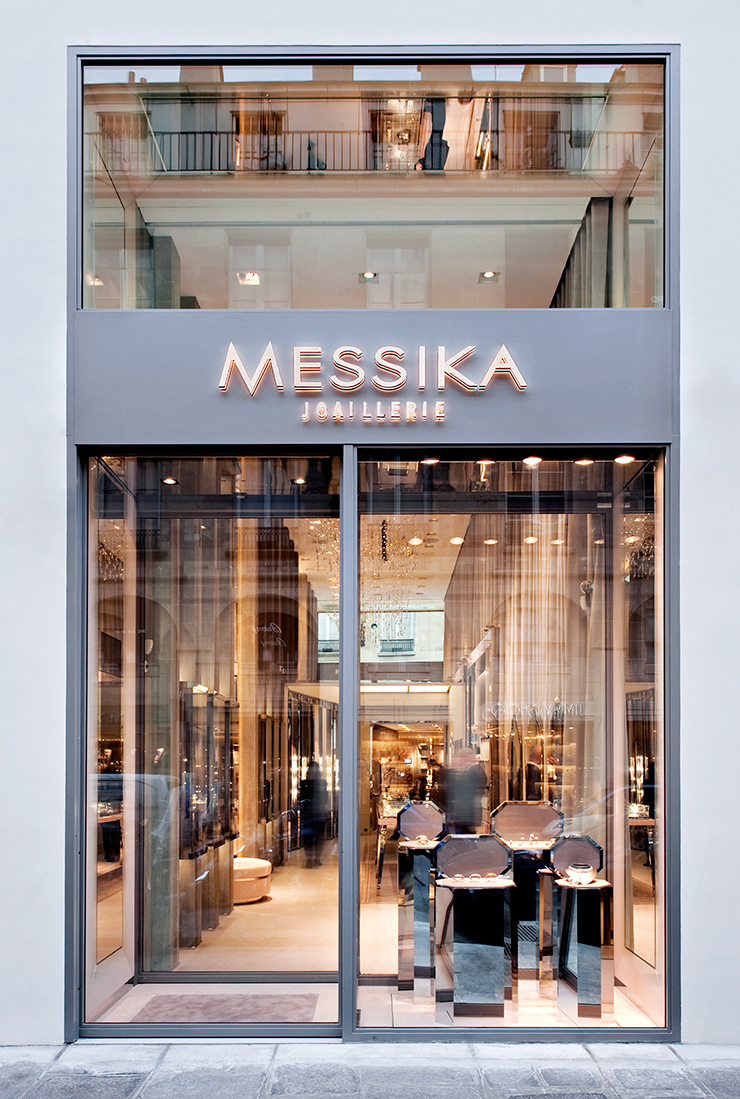 Tell us about the concept of the new boutique.
The boutique is very long so we decided to design it like the Orient express. There are small tables where you can speak privately with your husband or friend. There are also dressing rooms for people to try pieces on in private. The idea was to make it a welcoming, warm environment so that the diamonds are accessible for people to come and try on.