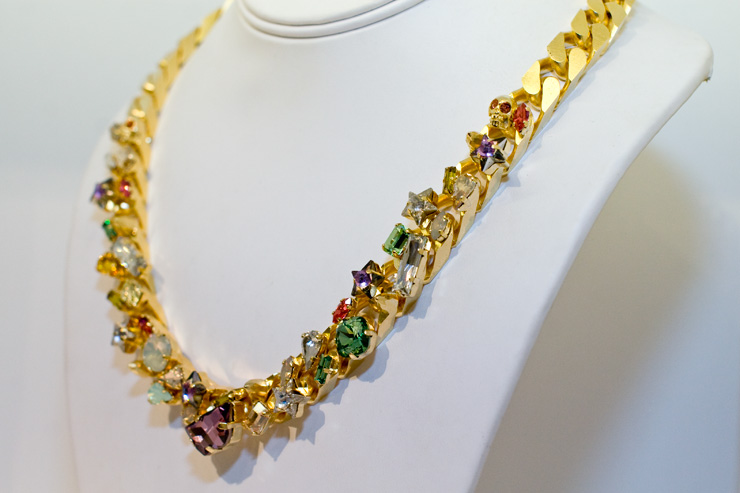 Last month we were invited to meet with Sloan Mandell, creative director of the  jewellery brand Michael Spirato at W29 Studio in New York.  Working closely together Sloan and Michael launched his first collection in their legendary lower east side boutique 'Exhibitionist' in 2001 and quickly attracted the attention of the music and fashion industries alike. Playful yet sophisticated, Michael Spirato jewellery is the perfect blend of  rock and roll motifs, art deco shapes and a tantalising palette of Swarovski stones. Here Sloan gives insight into their journey, the highs and the lows that ultimately led to the success of the brand today.
What were your backgrounds?
Back in 2000, before fashion collections went online immediately after they were released, I was working in trend forecasting. It was a really cushy job you basically had to travel and go shopping. Mike was working for a jeweller named Mark Spirito who sold old lady jewellery at Bergdorf Goodman.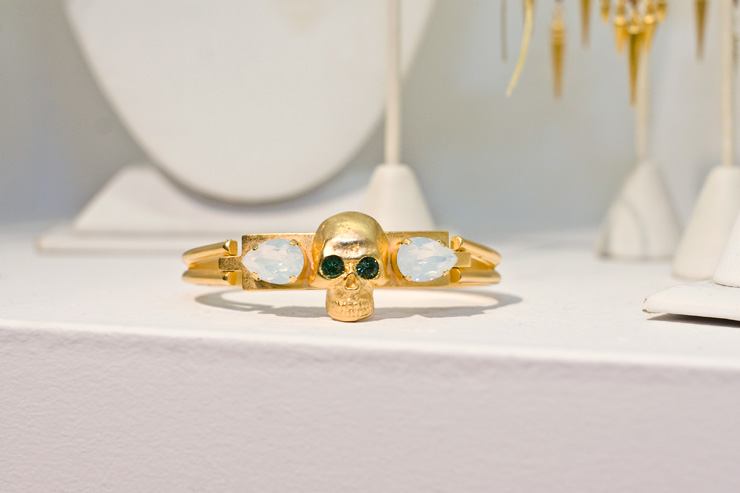 How did the first collection come about?
Michael started making stuff in his living room and when we showed people they were freaking out over it! We were drinking on Orchard street one afternoon and across the street from us was a huge condemned after-hours club.  We went in and there was nothing but a disco ball with a light shining on it. We thought 'this is the place' and decided to set up a store. We cleared it out, built a jewellery studio for Mike and went all over the place buying clothes and accessories. Everybody in the city came to our opening party from Patricia Field and Patti Wilson to all the big names in photography at the time. We had only been open for three days before September 11th so all of a sudden our whole business model had to change.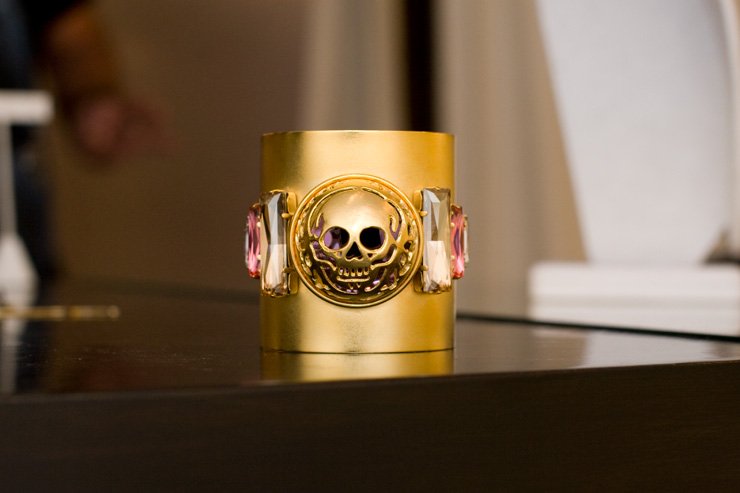 How did September 11th change things?
I couldn't support all these Designers so we had a sale and everything went within six hours.  We were left with some cash so we decided to put it all into the jewellery. Luckily at that time two of my friends Kurt and Bart were hired to take Britney from "Disney" to "sexy" and we became her jewellers. Every week there was a video or press conference; she was the biggest star in the world so it very quickly led to recognition in the music industry. It just kept snowballing; Pink, Alicia Keys and Biance all started wearing our jewellery.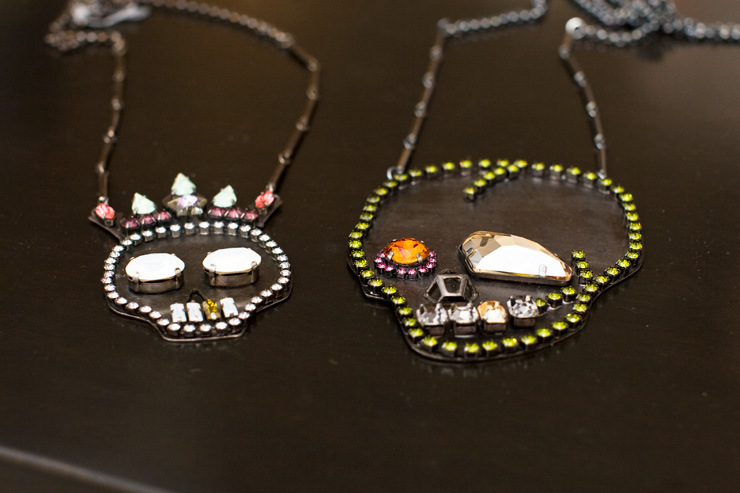 What effect did this have on the brand? 
Britney wore our jewellery for a cover shoot for Japanese Vogue and suddenly there was a bidding war from two Japanese distribution companies. It was a lot to take in, one minute we were opening a little store on the lower east side and the next we were getting orders for hundreds of thousands of dollars. I don't know how we did it but it was a lot of fun and it kept going like that for about five years until 2008 when the economy got weird.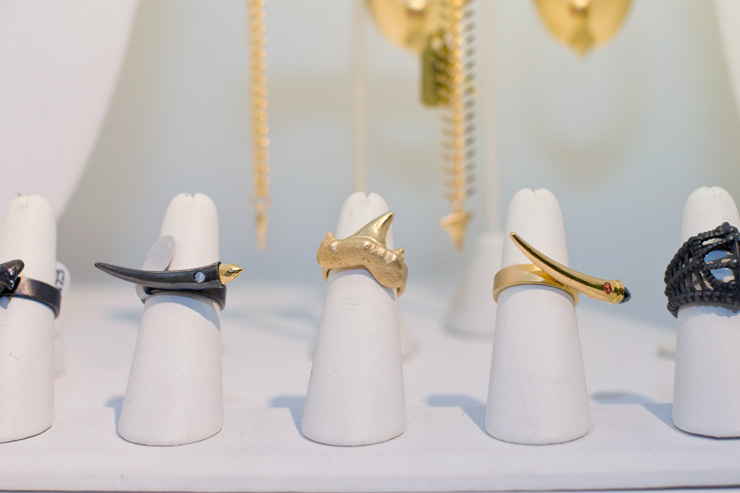 How did that effect business? 
Japan fell off. Its very hard to stay at the van guard of things when there are new cute kids who haven't been written about yet.  We had been asked to put together a brand for Sears (the grandfather of all American retail chains) so we created a collection called rock and redemption that was hard rock and roll themed. It was launched in 200 stores and by the next season it increased to 600. Unfortunately Sears then stopped doing all their jewellery but we had enough feedback and money to put back into the company. We took a step back, re-evaluated, put a collection together and came to meet Suzanne Rehnstrom, founder of W29 Studio. We have been going for four seasons now and we are stocked in a lot of great stores such as Sucre NYC and Love Adorned.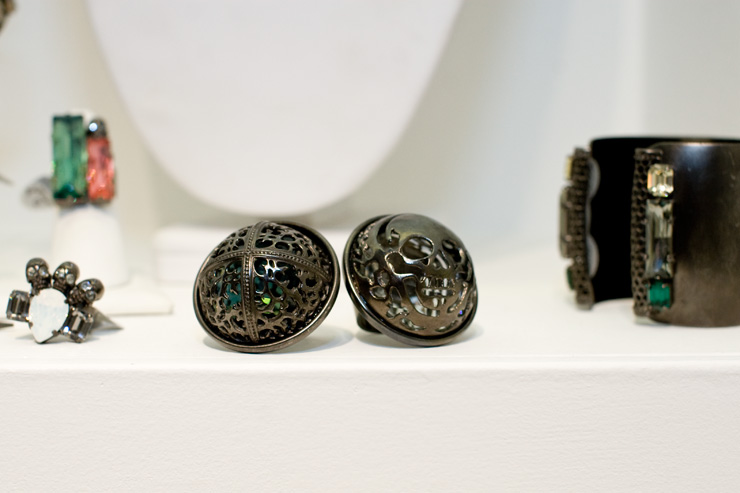 What are your roles within the company? 
Mike makes everything here in the studio by hand, from initial sketch, to polishing and setting the stones.  He designs big pieces and sculpts the shapes in wax and I help with merchandising the pieces so we make sure they are what people are going to buy. I definitely have an opinion and we have different outlooks so the balance between us is good.
How would you sum up Michael Spirato jewellery today?
We have been going with the catch phrase 'punk rock with a modern luxury sensibility.' We create fine and costume jewellery using vintage Swarovski and Swarvoski crystals in interesting colours and cuts. The tusk, fishbone and double skull are themes we have been using since the beginning of the brand and have always really worked well for us.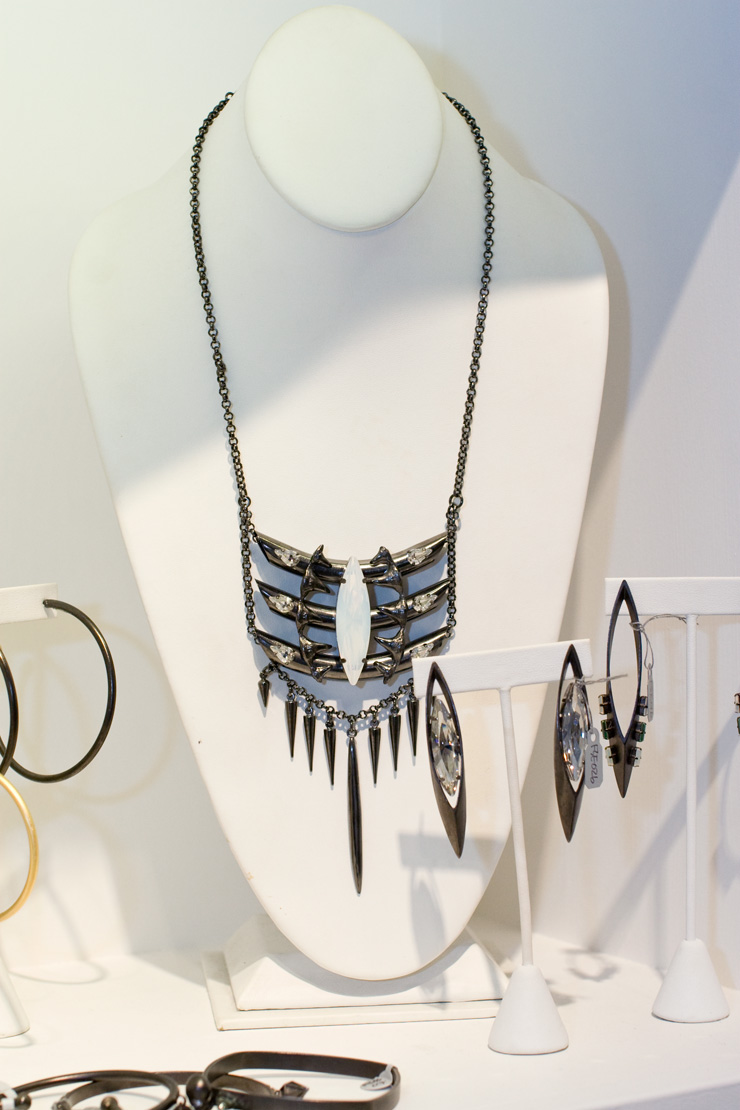 How would you describe the people who wear your jewellery? 
I always thought we would have the Rock and Roll kids and the people who like edgy fashion but I was surprised that the young soccer mums who want something cool also buy our jewellery.  I feel like its not really age targeted; my mum will wear one of our giant crosses and some skull earrings and you don't think 'what is up with this old lady?!' It's when the grannies want to take it from the kids and the kids want to take it from the grannies you know you are on to something good.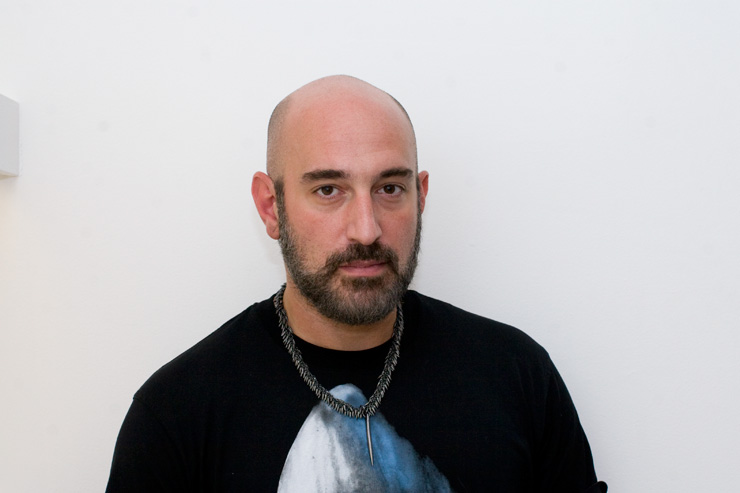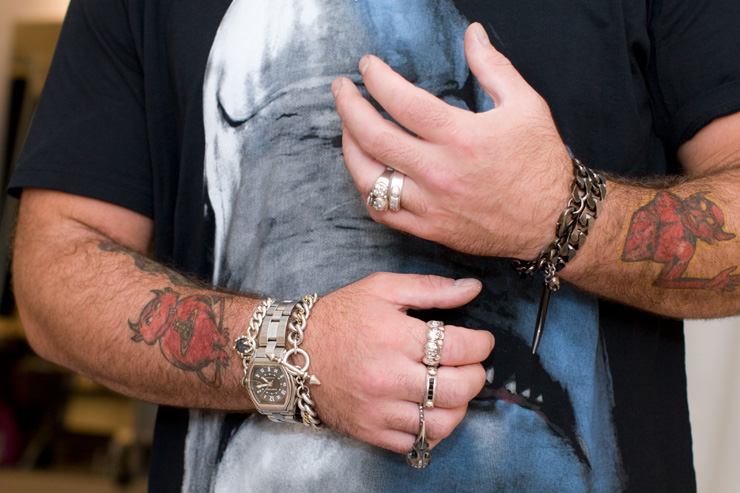 How would you describe your personal jewellery style? 
Heavy stuff that I can really beat up because I am a really big brute that bumps into a lot of stuff! I cant do delicate. I have a really great collection of pendants. I only wear Michael Spirito; it would be sacrilege not too. I have all my favourite bits from the archive collections.