A few weeks ago we were delighted to be invited to Lucas Rarities; a London-based jeweller specialising in period jewellery, to meet with their director Sam Loxton. Although they represent some of the most well know jewellers such a Cartier, Sam was keen to share with us work by who he would describe as being amongst the best designers of the twentieth century. These are the jewellers with which his true passion lies and after an hour or so of looking through their beautiful collection it's not hard to see why. From the beauty and craftsmanship to the history that surrounds each piece Sam explains to us why we should be appreciating this jewellery as art. 
Tell us a bit about your background?
I got a placement at Bonhams when I was fifteen as my father was a builder and was putting the staircase in. I continued to work as a porter for them every Sunday in the hope of getting a full-time job. Sadly I didn't but instead I worked for a small auctioneer in Crystal Palace. Whilst I was there I applied to two companies. One was to be a paper keeper at the national art library at the V&A as my real love at that time was old books but I also wrote to Christies in the hope they had something. The lady wrote back and said there was space in the jewellery department so I started at Christies in 1997 where I worked as a Porter and studied for my FGA.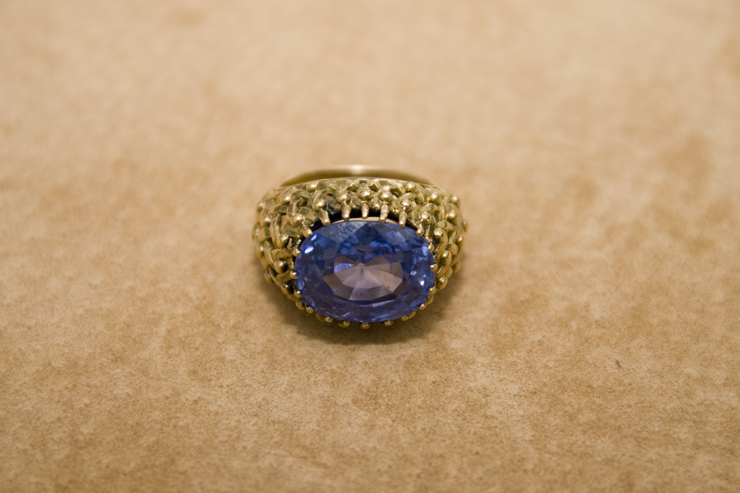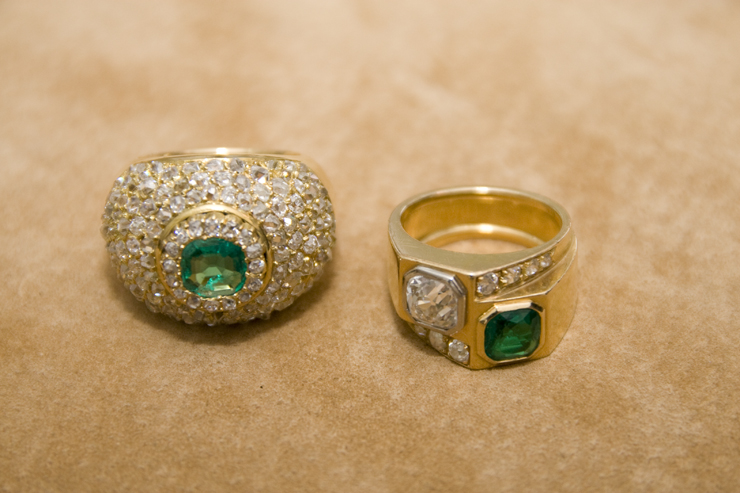 What was your role and how did you get to where you are now?
They had a sale every two weeks so I had to set everything up and tag all the jewellery. We were seeing tens of thousands of pieces a year so it was a great opportunity to handle jewellery in volume. I was offered a job by one of their dealers where I went on to work for seven years until I met Dominik who had set up Lucas Rarities in 1999.  He asked whether I would help set up a London office 5 years ago and the business has gone from strength to strength.  I greatly admire him. He has another company in Germany which was founded in 1693. It is one of the oldest family firms that are still going and he is the 12th generation so he has a great pedigree.
What periods do you sell jewellery from?
The earliest jewellery I have is some Georgian jewellery from the turn of the 1800's and we buy and sell from any period up to late 70's. I specialise in jewellery from the 1900's early deco to 1970.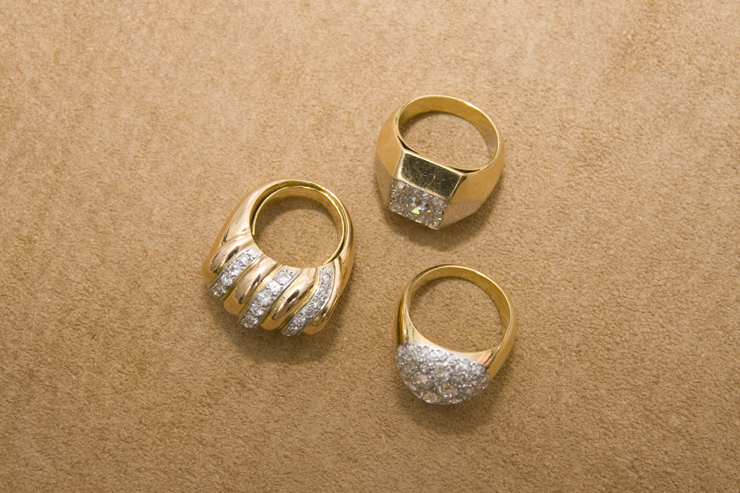 Where is the biggest market for antique jewellery?
There is a great atmosphere in New York. There are more people and there is a real buzz. Paris is busy as there is a real concentration of dealers geographically. The traders in LA tend to hold onto the pieces they buy for the shows so there is not a lot of interaction between them. London is a combination of all three and has a very sophisticated market. Most of my clients know about the designers and what questions to ask. New York is split into the people who are educated about the jewellery and the people who just want to buy beautiful pieces.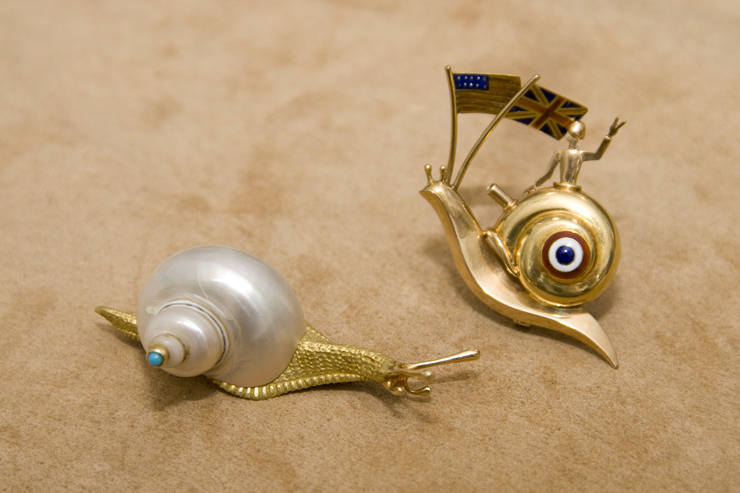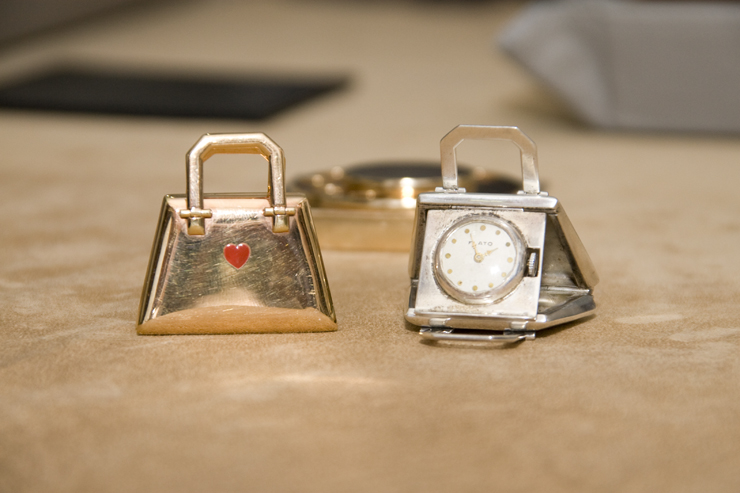 You are very passionate that jewellery should be viewed an art form why is that?
Why should people pay millions and millions of pounds for fine art and not appreciate jewellery in the same way? People have a different perception of jewellery but I really believe that it should be seen as art; not just something that is worn as an adornment or social status badge.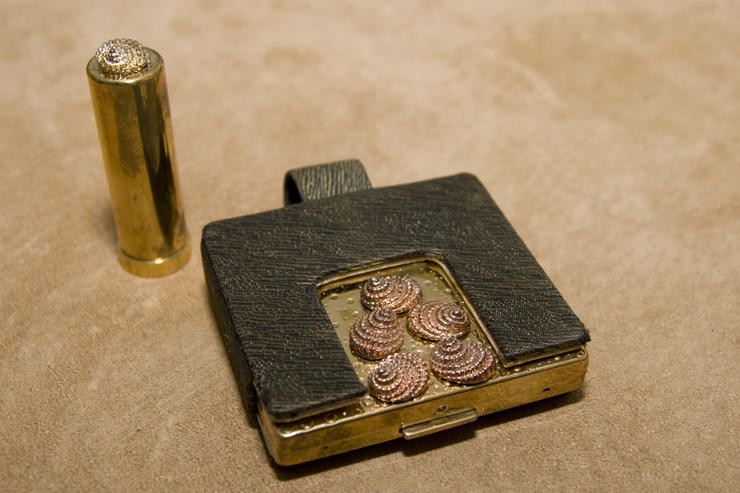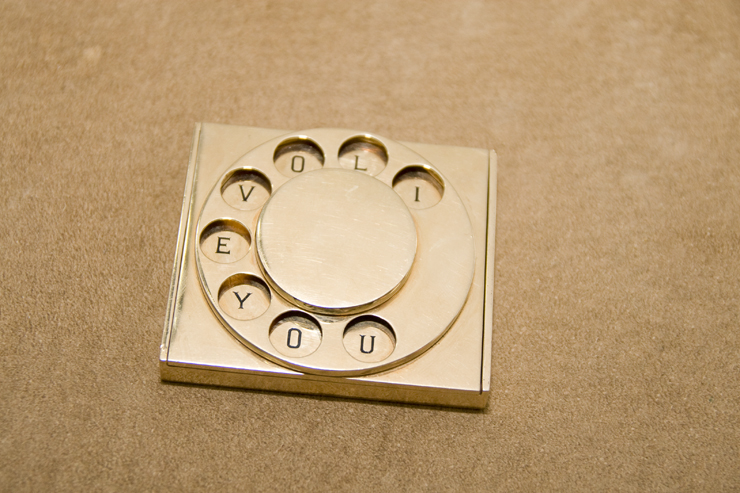 Tell us a bit more about these particular designers and why you perceive their work to be art.
They were all doing something unique and pushing boundaries at the time. Belperron really believed that her style was her signature and she never made anything twice. So in that sense it is art; each piece was unique and a variation on a theme. Flato was different he did mass-produce some of his jewellery but his concepts were so brilliant. He was well-known for his deaf and dumb cufflinks (below) where you could get your initials spelt out in sign language. He also made a series of playful compacts from silver gilt (above).  Adverts at the time featured loads of perfectly manicured hands holding his cases had the caption 'no woman should be without Flato' and he was right. His hand brooches are still so current they are oversized and very tongue in cheek.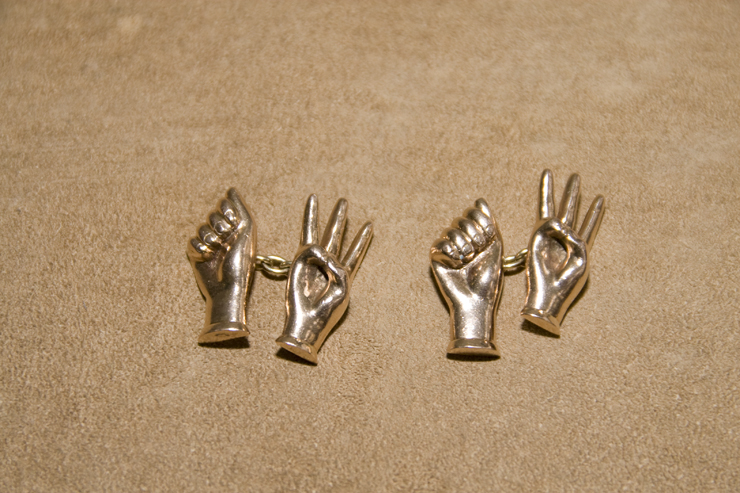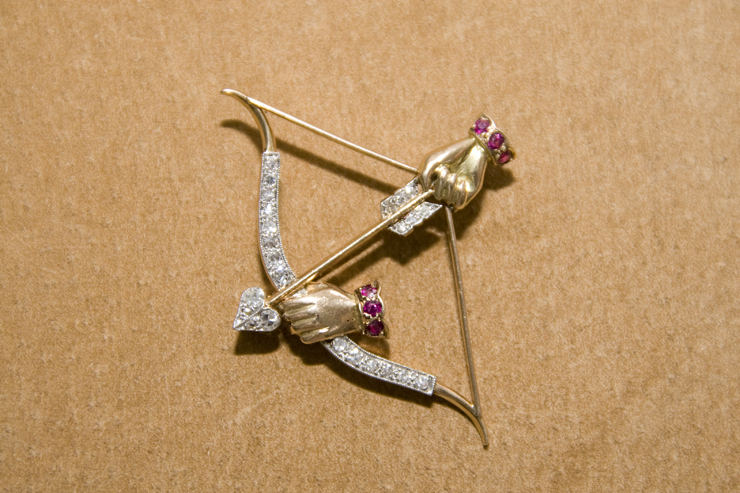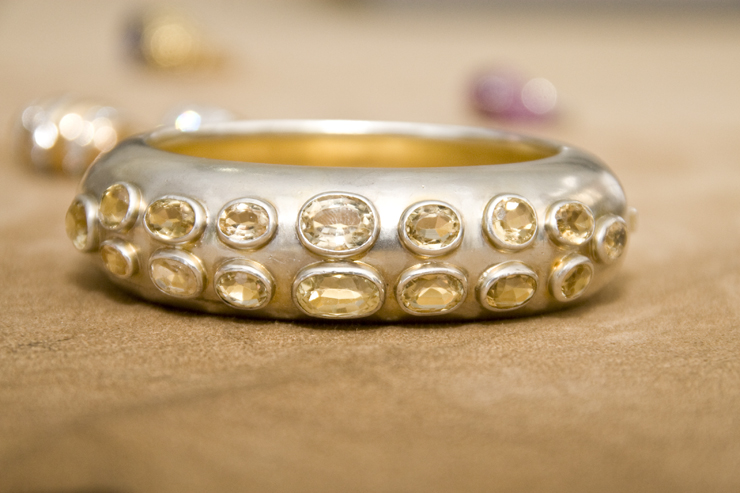 What was it that was making these designers push the boundaries?
In the 30's there was depression followed by the Second World War and I think it drove people to come up with new ideas. The world was ever evolving and they evolved with it and beyond it. For Belperron I think it was experimentation. I have one of the earliest pieces (above)  that she designed when she was working for Boivin. It strikes me as something of an apprentice's piece. She was 21 when she made it and I think she has really thought about how she can push the materials. For Flato it was definitely a Hollywood influence. He was reacting to the glitz and glamour of the 50's. He also had a pretty chequered personal life, which had a direct impact on his design. He was imprisoned twice and each time he was released his style changed. They all had a lot of commissions so there was a lot of customer influence as well.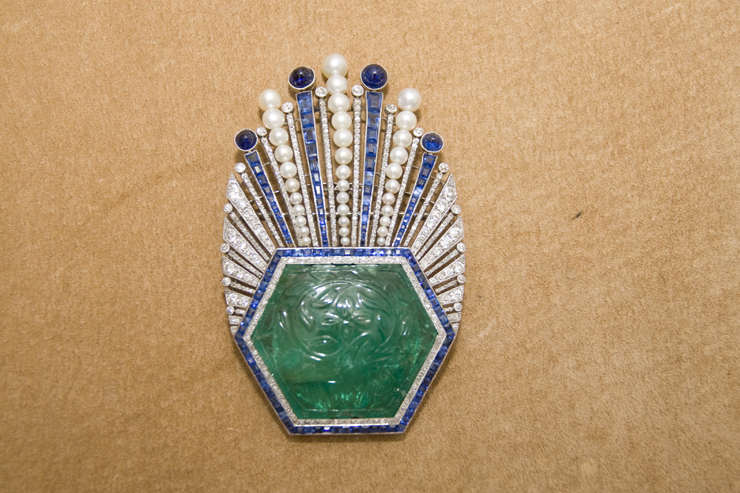 Did the designers themselves make reference to jewellery as art?
They knew they were doing something different to the companies such as Cartier and Van Cleef and Arpels but I don't think they saw themselves as artists. Perhaps a movement though as there was a lot of inter-relation among them. Paul Iribe who made the emerald turban brooch (above) was really influential in taking deco to America. He was engaged to Chanel later in his life and through Chanel he would have met Vedura and Flato. Millicent Rogers who was a collector was a client of Flato, Vedura, Boivin and I'm sure Belperron. She would have travelled to Paris and bought over some of the ideas from the American designers as she was very influential with the design. Paul Poiret who Iribe had previously worked for was Madame Boivin's brother so there is no way they didn't know each other. Belperron worked for Boivin and although they had different style you can similar motifs going through their work (below)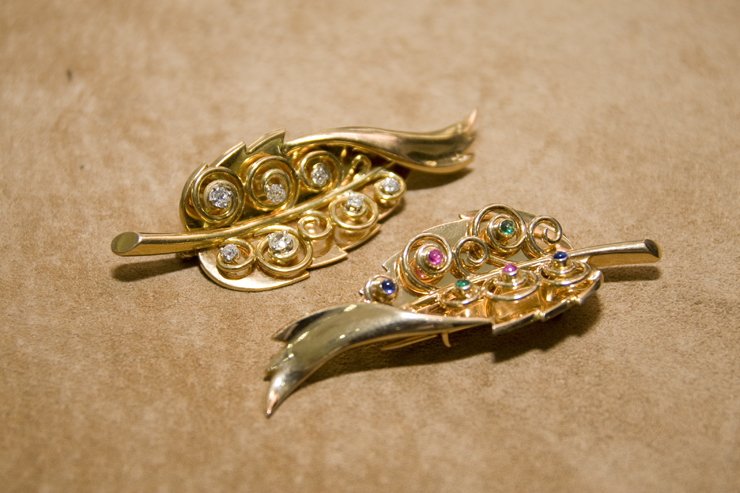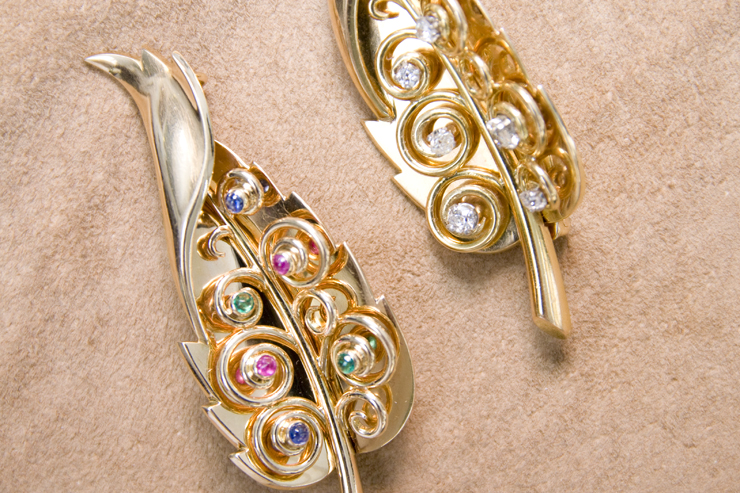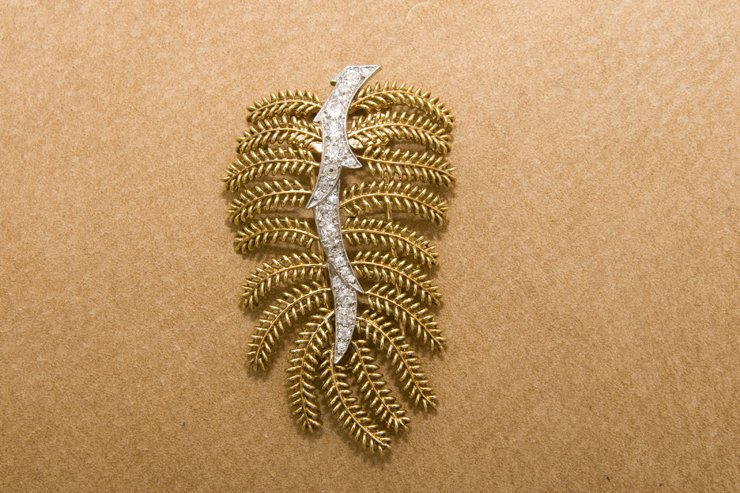 For you where does the Value lie?
The greatest test for a piece of jewellery is how it feels in the hand. It might sound cliché but it is great to think of the people who have held it before, which parties they wore it too and to see that it is so well made it has withstood the test of time.  The most important thing to me is that people look at a piece and realise the beauty and art of it. Often if it is not signed by a company like Cartier people don't give it the same respect but that is changing. The emphasis now is on quality. I think people are finally appreciating that it doesn't need to be signed to be a great piece of jewellery. It's just by research and learning about the history and techniques at the time that you get a greater appreciation for a piece. Belperron never signed her work but she used a particular carat of gold that had a slightly different colour.  If you ever see one of her pieces next to other jewellery you can identify it by buttery look of the gold. It's things like that give it great value.