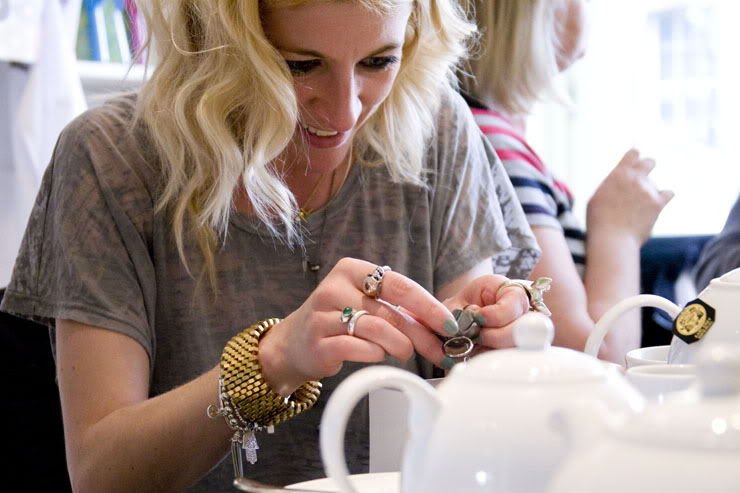 Last week we popped over to Camdem lock to meet with Laura McCreddie, editor of  Retail Jeweller magazine. Not only do we love her style but she also has a jewellery collection to die for. Over a giant pot of tea and some delicious carrot cupcakes we discussed her penchant for rings, the latest design talent and the problems the industry faces with copycat jewellery.
How did you get into jewellery journalism?
It was fluke really. I studied at city and then worked for a few different magazines in areas such as alternative health and literacy journalism. When the job came up at Retail Jeweller I was already working at Emap on beauty. They decided to make some changes and consolidated two teams which meant for eight months I worked across beauty and jewellery. They sold the beauty magazine and my editor went away for nursing time so I got control of Retail Jeweller.
What is it that you love most about the jewellery industry?
It is one of the few industries that you get to meet such interesting, creative, brilliant people. Everyone seems to have something really interesting to say and for a lot of people their career paths into the industry are fascinating. You also get to spend every day playing with amazing jewellery;  its every girls dream. It's a wonderful industry to be in. I love it.
How would you describe your own personal jewellery style?
It has evolved since I started working for the magazine. I had a few bits and pieces before but like most people I bought from the high street because that's all you know and you have this perception of jewellery stores and designers being where you would go for a special occasion. The best thing about working in the industry was becoming aware of the designer-makers. I do try if possible to wear British designer-makers because they are the people we need to promote.
It seems to be a really exciting time for the jewellery industry at the moment why do you think that is?
Things are starting to change.  We have got this amazing hub of British talent. Designers like Tomasz Donocik who does some seriously high end pieces that makes you go wow also creates pieces in silver which means people can buy into his work. People are becoming more and more interested. I certainly know my friends and family that are buying less high street and spending more money buying something a little bit different that they are not going to see on other people.
Copycat jewellery has been in the news a lot lately. Do you think cases like Tatty Devine's jewellery being imitated by Claire's accessories will have an impact?
What happened out of that was that a lot of people found out about Tatty Devine and thought why I would want to buy something from Claire's accessories when I can have something made by two very cool designers. The way they handled it was a brilliant example of how to use social media to boost your publicity and highlight the problem we have in this industry, with the high street ripping designers off. Unfortunately I think it's always going to be part of this industry.  To prove you got there before the big high street giant is a lot of time and money that young designers can't afford but what you have got to hope is that if even two more people find out about Tatty Devine, then in turn they can tell their friends.  All you have to do is do some research and in some cases only spend maybe £20 more to get designer craftsmanship and quality rather than something that is mass produced.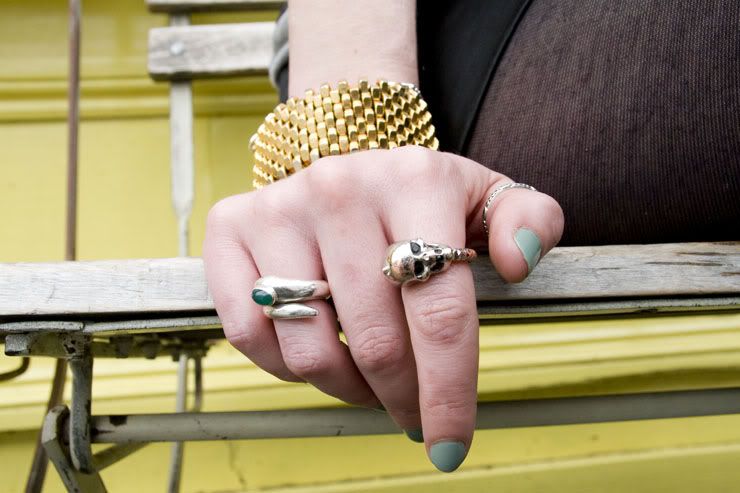 Who  are the new or up and coming designers you have your eye on at the moment?
I absolutely love Claire English in particular her mouse-about collection. Clarice Price Thomas is a recent graduate whose father is a clock maker so her first collection has all been inspired by clockwork and watch mechanisms. There is an amazing necklace made from cogs that fit together and as you spin them they spell the word love. She's very cool.
Do you have a piece you are most coveting?
There are quite a few. Yunus and Eliza sky scraper ring is incredible. I'd really like some more Reid Peppard. I have one of their rings but I'd really like some of the serious big pieces – that would be amazing. There is a Bjorg claw-ring that I desperately want, I have an obsession with rings which I need to wean myself off as I have to remember I only have eight fingers and 2 thumbs!
(2) Bremont Watch (4) Clarice Price Thomas earrings / Long necklace by William Cheshire (6) Reid Peppard canary bone ring / FS Augusta faceted pig ring / Laura Gravestock love ring (7) Alice Menter Isla cuff / Alexander Mqueen ring