Jess Wood, Fashion Features Director for Marie Claire magazine, is a girl after our own heart. When we first got in touch to see if she was interested in sharing her amazing collection of costume, fashion and fine jewellery her response was 'any excuse to talk jewels.' Talk jewels we did and here Jess shares her favourite designers, top style tips and her love for a bit of D.I.Y.
Where did your passion for jewellery first come from?
I have always loved fashion but when I was younger I wasn't particularly interested in jewellery.  That changed when I got my first job as a fashion co-ordinator for Glamour eight years ago and I got a gold medallion and horse necklace by Mawi. I fell in love with it because it was just slightly bigger than anything else out there at the time. Jewellery wasn't massive back then, there was high street and there was fine jewellery but not much in between, so I thought it was amazing. Every season since then I have been inspired to buy a couple of pieces from the shows.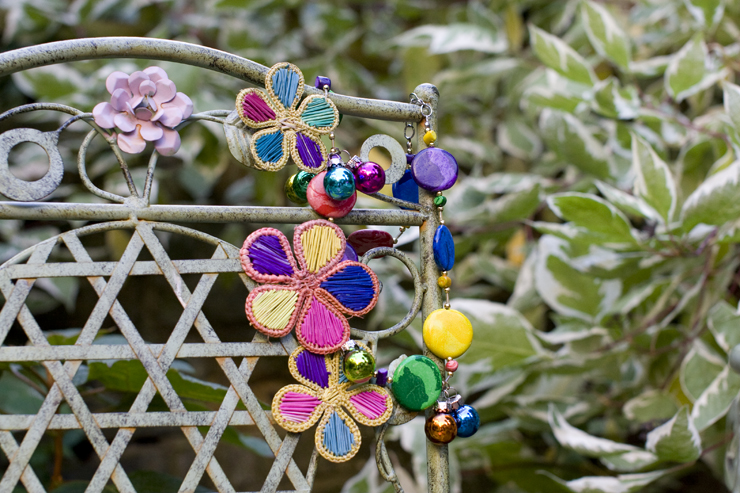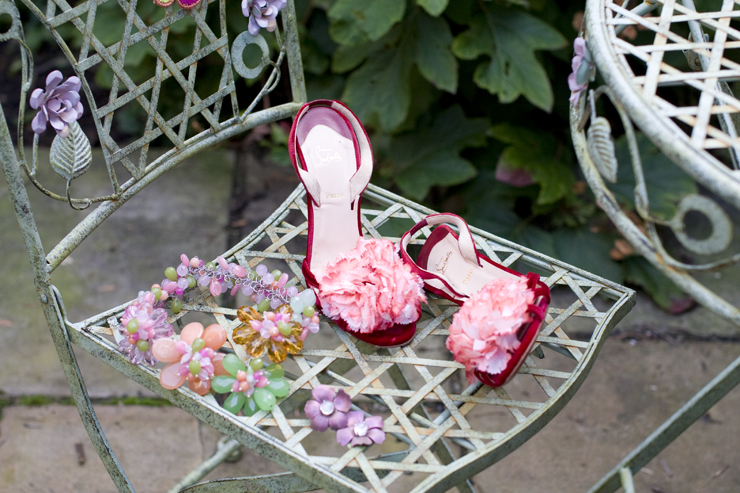 How would you describe your jewellery style?
More is more! Definitely. Everyone says you should look in the mirror and think 'what one thing can I take off'; I don't do that ever! I love decoration, surface embellishment, colour and big shapes and the more the merrier. If I have a big necklace on and I have earrings that match – why not put them on too?
Do you have any jewellery you never take off?
My engagement ring 'Daisy'. When my husband and I got engaged I knew I wanted a ring by Fiona Knapp. I had seen her jewellery on a shoot and adored her chunky style. When I sat down and designed it with Fiona she told me it was not an every-day ring but I wear it every day. There is something about the big cabochon petals that really appeals to me.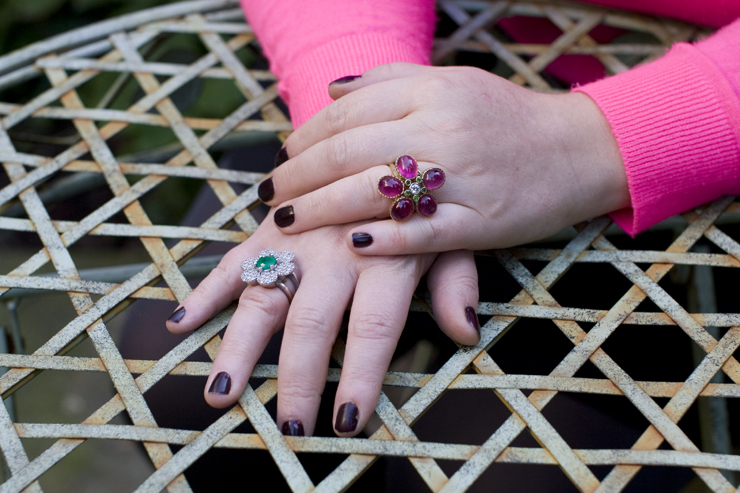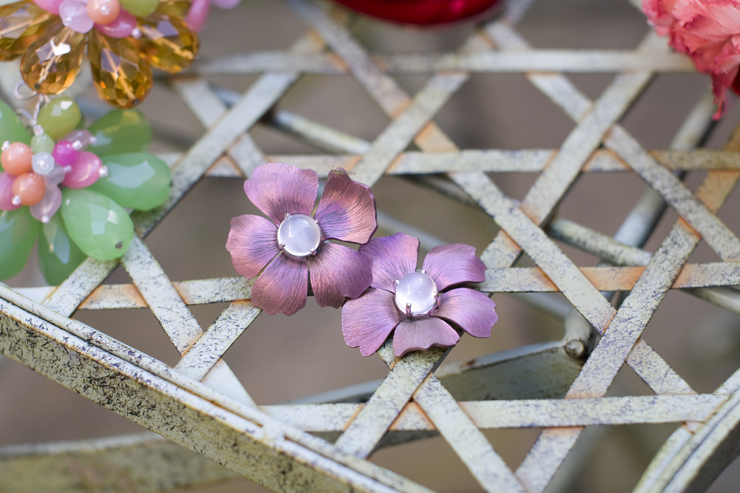 What is the relevance of the flowers that are so prominent throughout your jewellery collection?
It sounds very girly but I don't have a girly dress sense at all.  The flower obsession started with my engagement ring and then my gorgeous mother-in-law went to her favorite jewelers and designed me a ring based on 'Daisy'. She is Columbian and in Columbia it is all about diamonds and emeralds. My mother-in-law has an amazing collection that she inheritted from her mother so she wanted to keep the columbian jewel obsession alive. She chose a big central emerald surrounded by lots of small diamonds.  I was not expecting it at all; it really was the best surprise. I've named it Esmerelda which is Spanish for Emerald.  After that I collected more and more flowers and bought these Astley Clarke earrings (above) for my wedding day.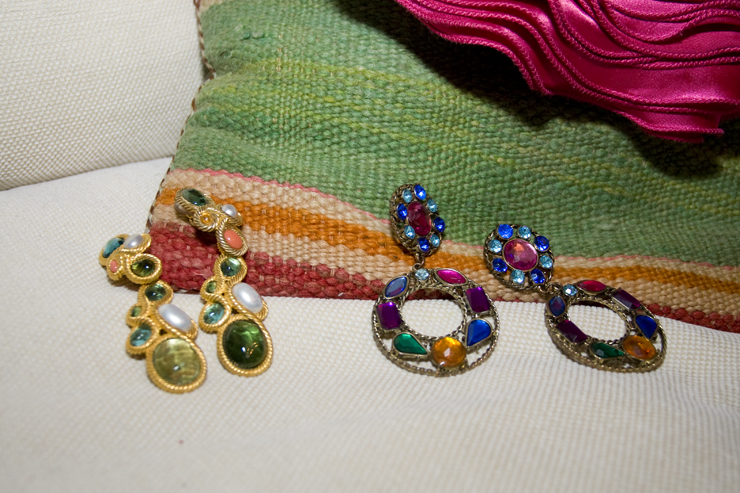 Who are your favorite designers?
I have loved Mawi for years. It's so me, I love her style, I love her colour, every season the designs get more and more fabulous. I still wear the gold medallion necklace I mentioned. I can wear it with anything without having to think about my neckline or hair length; that for me makes it a great necklace. I love oversized costume jewellery and anything gold, crystal or neon. Dannijo, Tom Binns, Alexis Bittar and Shourouk are all brilliant for this.  Zoe and Morgan are also a favorite. They made my wedding ring and when I had my daughter my husband bought me their star ring to match.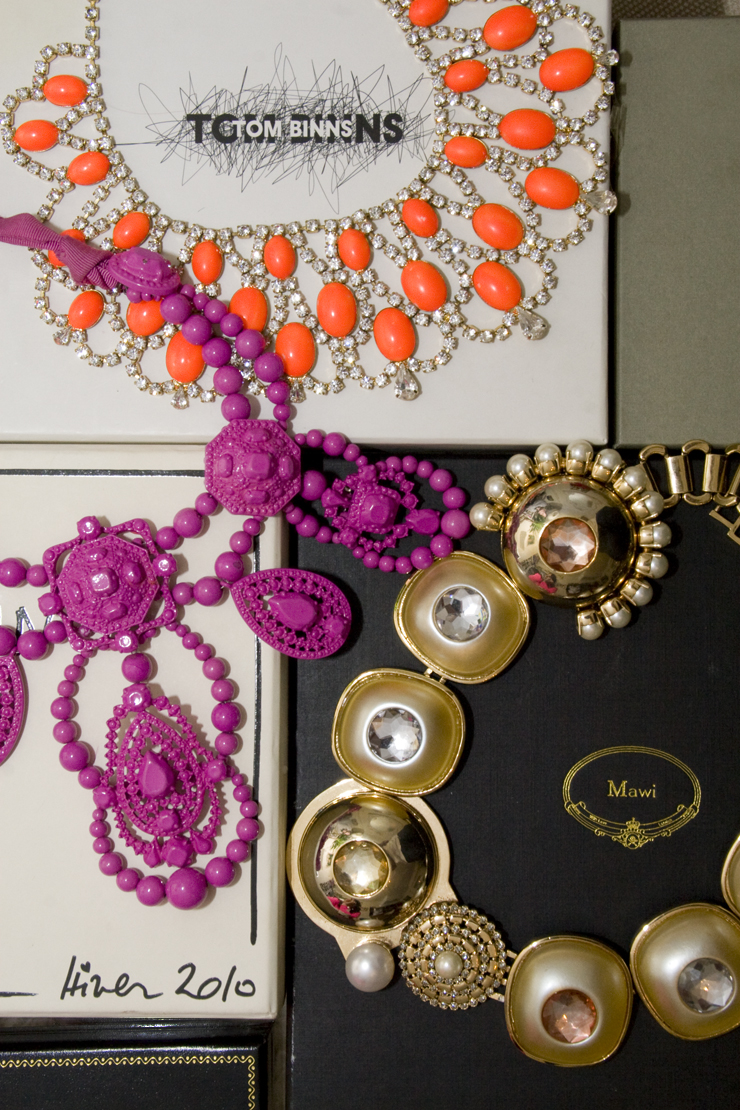 How do you store your jewellery?
It is really hard to store jewellery. When most of your pieces are quite big its impossible to fit them into a jewellery box. I like to keep things in their original boxes. For all my necklaces I made a big rail with butchers hooks which I try to keep organised. Silver goes on one hook, chunky chains or beads on another.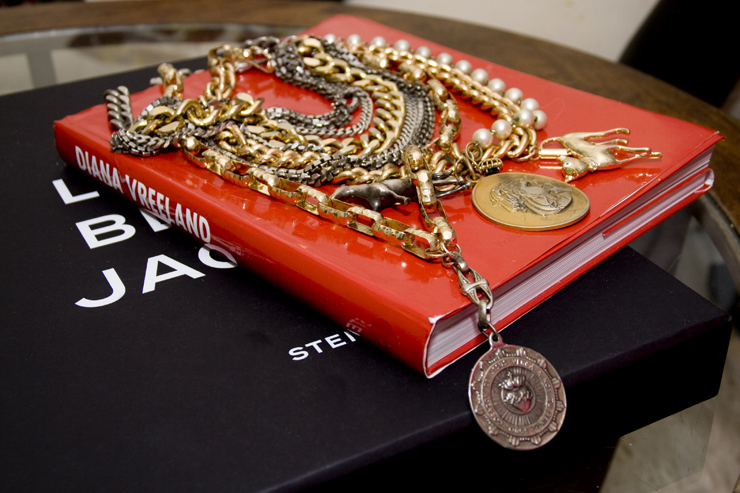 You customize a lot of your jewellery why is that?
I look at a piece of jewellery and think 'I love that but it could have a bit more!' I did a one-day jewellery course which I highly recommend to anyone who loves jewellery. Once you know the basics you can add anything you like.  I have recently added christmas tree baubles to one necklace and updated the gold medallion necklace by Mawi (above) with a dog charm from Anna Dello Russo's new collection for H&M.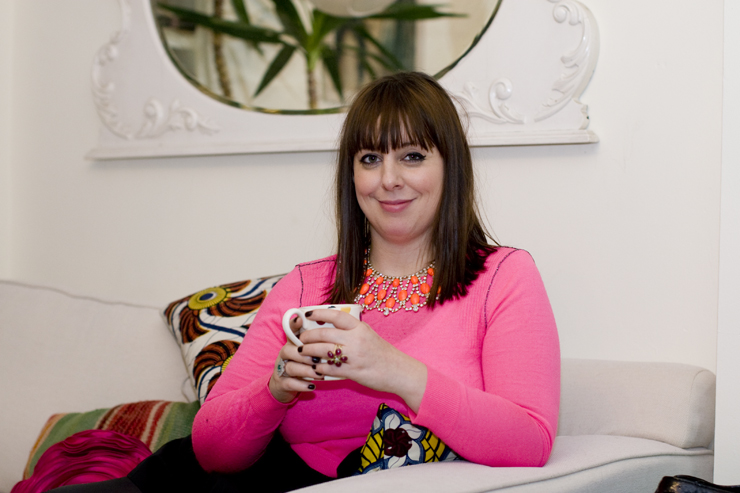 What would your jewellery style tip be?
Choose something really fab; don't be afraid to wear something a bit different.